Camping Gear Reviews 2017
Link to the trip to the White River Campground at Mount Rainier at the end of this page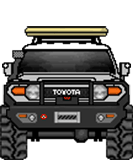 G'day, and welcome to some of my new gear I have collected over the past few years.
Most of it though is from ordering new stuff since winter.
I am pretty happy with my gear for the most part, but I think for next year I may be ordering one of those Kanz Field Kitchens to replace my chuckbox I have had since 2010.
It is very heavy, and takes up a lot of room in the rig, and the Kanz is a bit smaller, and way lighter.
I apologize for a new pictures being out of focus, some I had to grab from a video that I had shot, and well they were not too much in focus when you use the Print Screen command from the keyboard.
You will also notice I give most if not all reviews a big two thumbs up because I do not like to buy something more than once, so I tend to spend more $$$ as in "Buy once, Cry once."
I absolutely deplore buying gear that lets me down!
I will also link my vacation URL at the bottom of this page.

Collapsible Dish Drying Rack Drainer, Plastic, White with Gray, One Piece, Small, Compact, 15 x 11.5 Inches with Utensil Holder
Prepworks by Progressive Collapsible Dish Tub
Going to go with two thumbs up on the two of these

I keep both of these in my largest Alu-Box.
What I like about them is they collapse and take up less room than full size wash basins and drying racks that I have used in the past.
There is not a thing I would change on them, unless they could do the dishes for us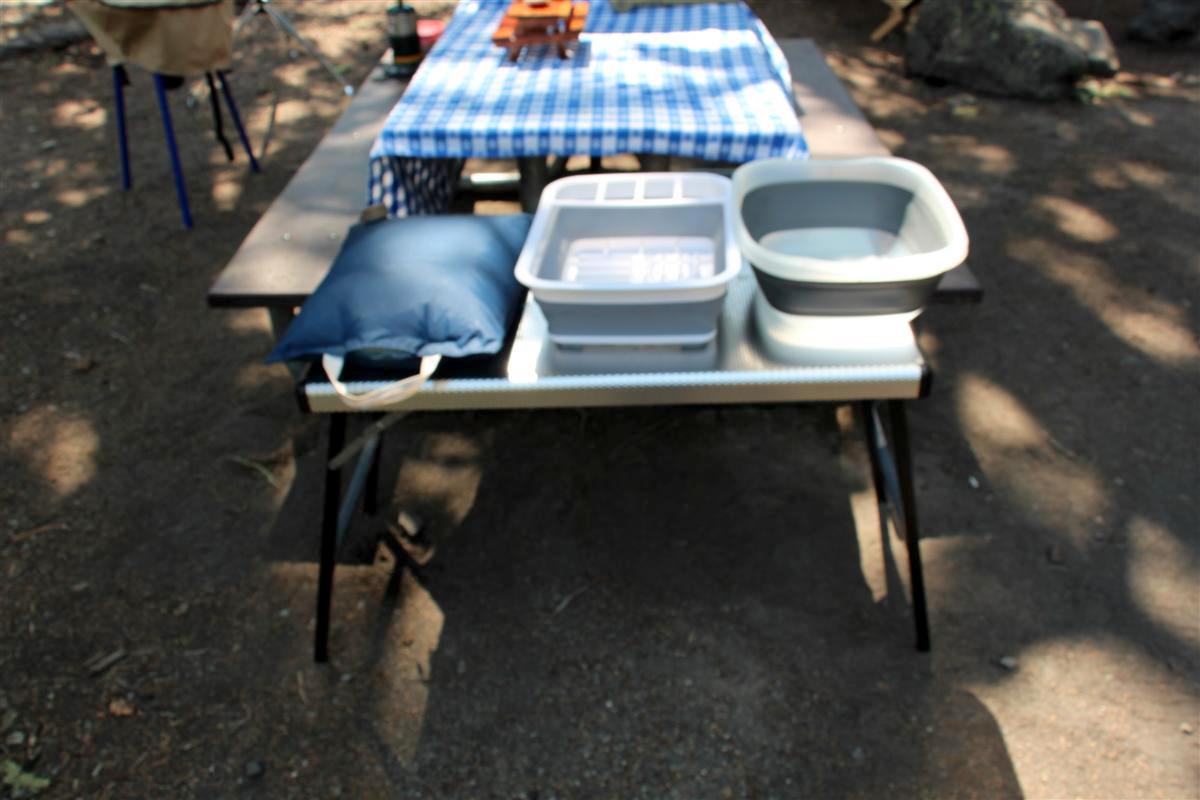 American Camp Chair Ranger Chair

Found out about these from Mike Spies, the guy who runs the Autohome US place where I bought my Maggiolina Airlander roof top tent years ago.
He is affiliated with these chairs, and they are based on the classic Femby or Tripolina design from the year 1855.
I can say without a doubt this is the most comfortable camping chair I have ever sat in, and also the most expensive.
Wait until you see the price on their website.
But it is worth the price too me for an American made product, and also a high quality chair that I know is going to last for years, and not fall apart like some of the junk out there now.
I definitely give this chair a two thumbs up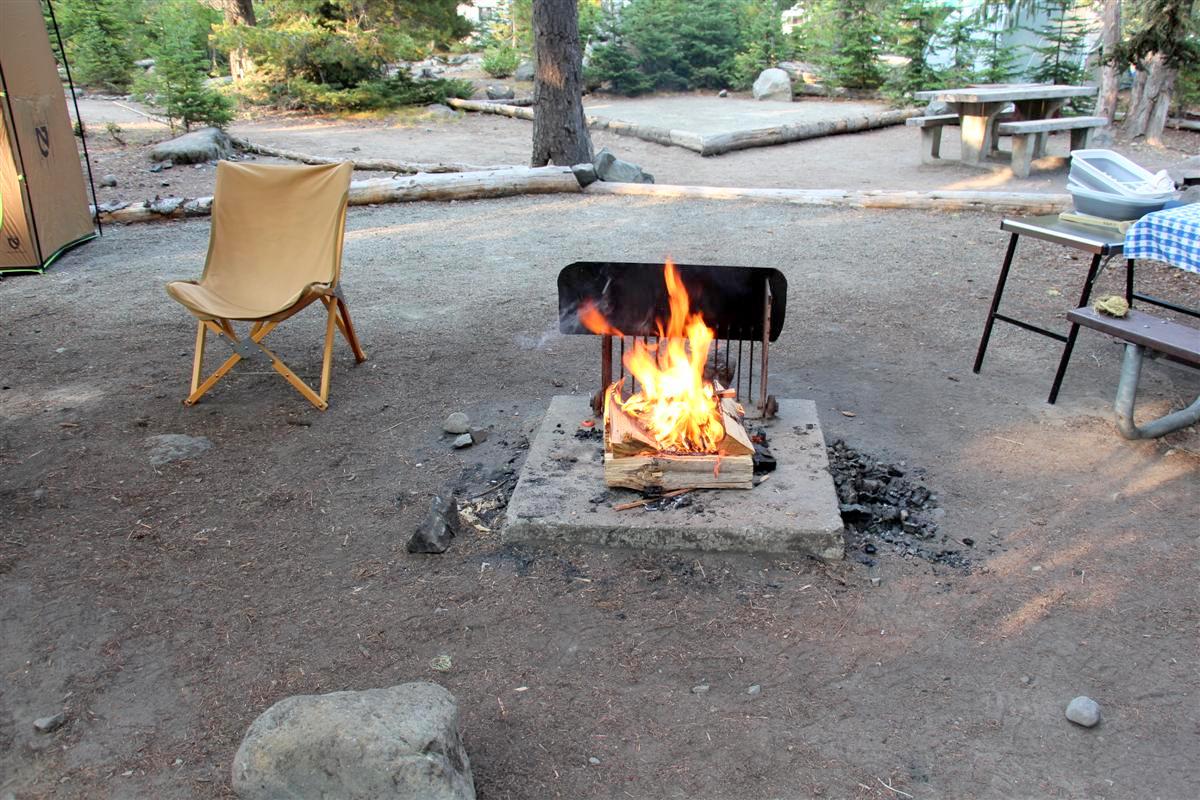 Blue Ridge Chair Works The Blue Ridge Chair
While a lot cheaper in price than the above Ranger chair, "The Blue Ridge Chair" holds its own as far as quality and comfort goes.
This chair comes apart making two pieces that store inside of each other, and it is very high quality and comfortable.
Not as comfortable as the Ranger chair since your butt is sitting on wood slats, but still very comfortable.
Another high quality item made in the USA, and I have to give this two thumbs up as well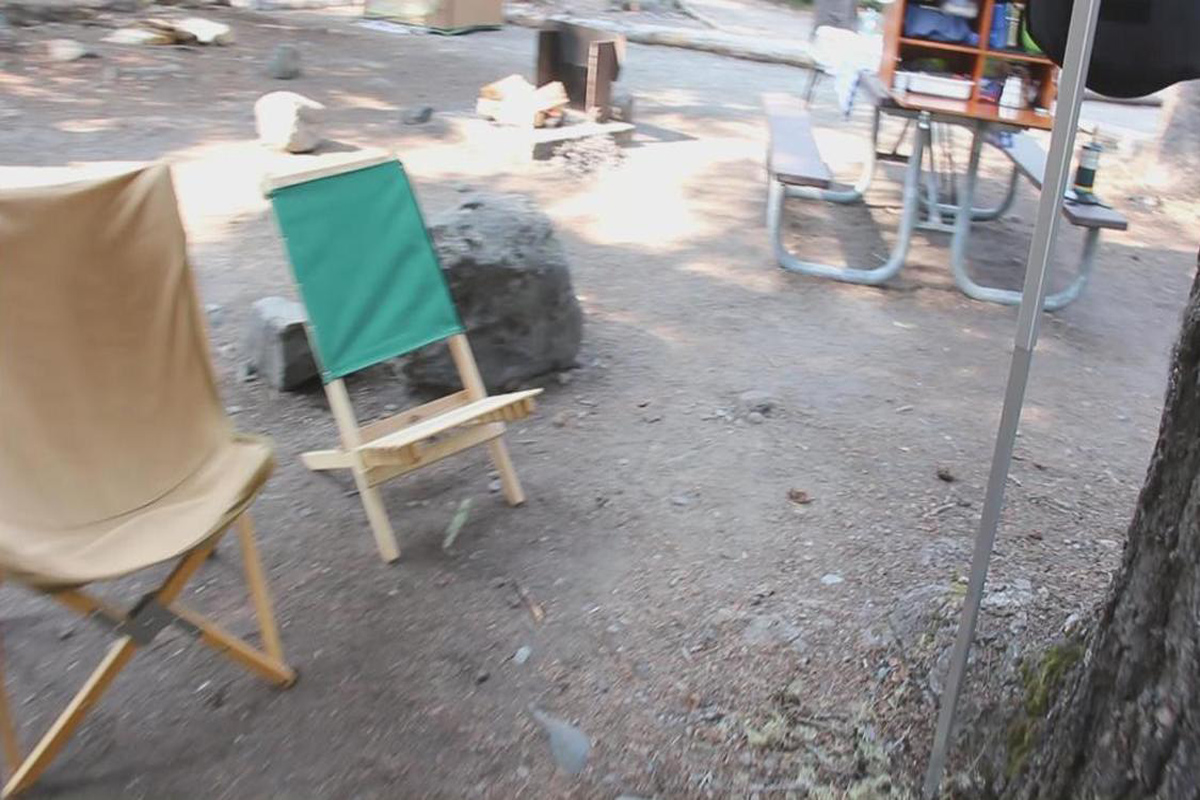 Coffee Stuff:
Overland Coffee Expedition Blend
This stuff is good without a doubt, and it comes in beans, not already ground up.
They roast on Tuesday and Wednesday, and ship out on Thursday.
Has a great flavor with a combination of chocolate, molasses, and cherry.
I give this two thumbs up
Aerobie AeroPress Coffee Maker with Tote Bag and Accessory Value Pack
I use to use a French Press at home as well as camping, but last winter I switched over to the AeroPress after reading about it on IH8MUD's forum in the camping section in a coffee thread.
Less cleanup, and a lot of fun to use, and it makes a mean cup of coffee


I give this, wait for it, a big two thumbs up
JavaPresse Manual Coffee Grinder | Conical Burr Mill for Precision Brewing | Brushed Stainless Steel
They say the freshest coffee is always ground right before you are going to make, I have to agree.
At work and at home on most weekends I use my Keurig coffee maker for the sheer convenience, but every once in a while I will grind coffee too to use with the AeroPress.
While it is extra work to grind your beans when out in the wild, I get a lot of enjoyment from the task as well as the results after taking that first sip of coffee in the morning.
Two thumbs up on this burr grinder for sure
Outdoor X4 Magazines XPLOR Campfire Mug
This is a great mug from a great camping/overlanding magazine I came across from Instagram, and I am also a subscriber.
This is a double wall mug, so the outside stays nice and cool even though the coffee is piping hot.
You can use this also for cold liquids if you desire.
The only thing I would change on this would be the size as it is listed at 10 oz., and I would have preferred it to be 12 oz., and also a little wider as the AeroPress is a little bigger than the circumference of the mug.
I will still give it two thumbs up though as it is high quality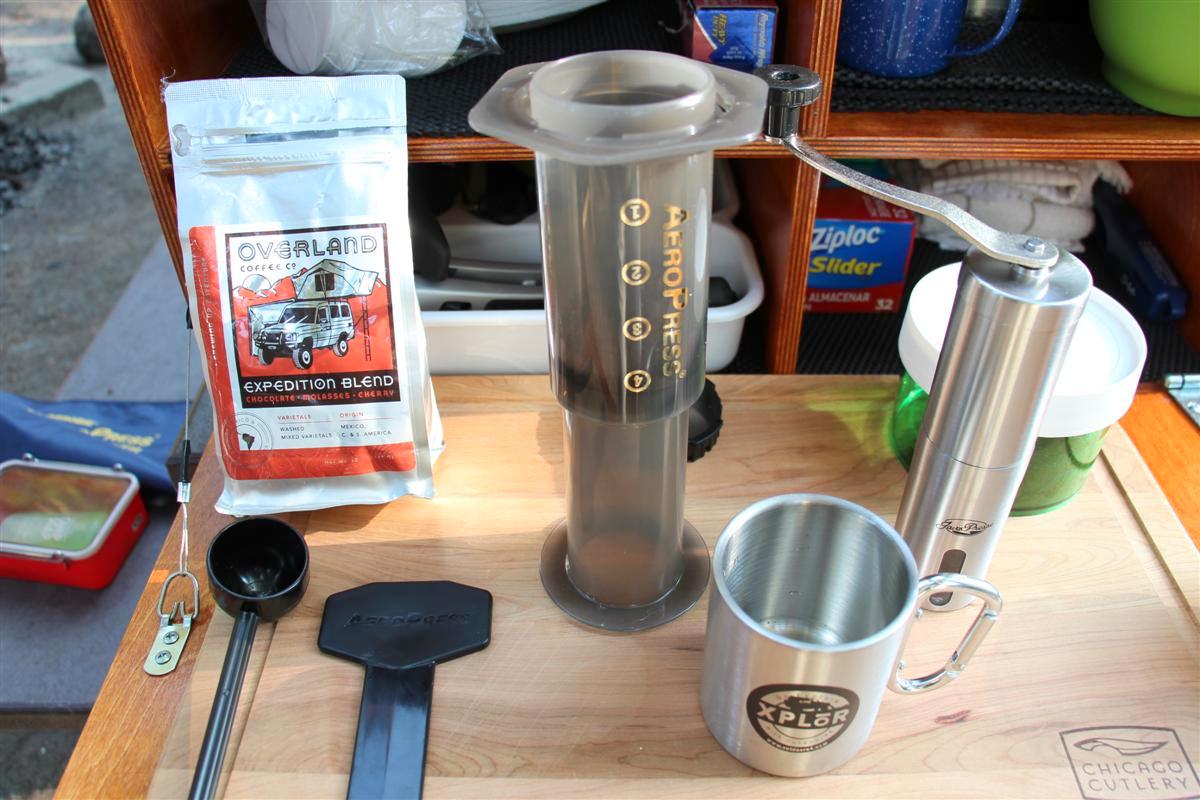 Magma Products 10 Piece Gourmet "Nesting" Stainless Steel Cookware Set with Ceramica® Non-Stick
I bought this set a few years ago, and it is the best cook set bar none that I have ever used.
It nests inside of each other, and it is truly non stick.
However...it is extremely heavy if you are watching the weight of your gear, but it is truly high quality and made from this stainless steel.
I have the optional omelet pan as well.

I also bought earlier in the year a nice cookset called the GSI Outdoors Pinnacle Base Camper, and it is made with a non stick surface called Teflon Radiance Technology.
I have used it as home, and it is very light weight and non stick.
But back to the Magma, I will still give it two thumbs up despite the weight
That chuckbox is pretty right???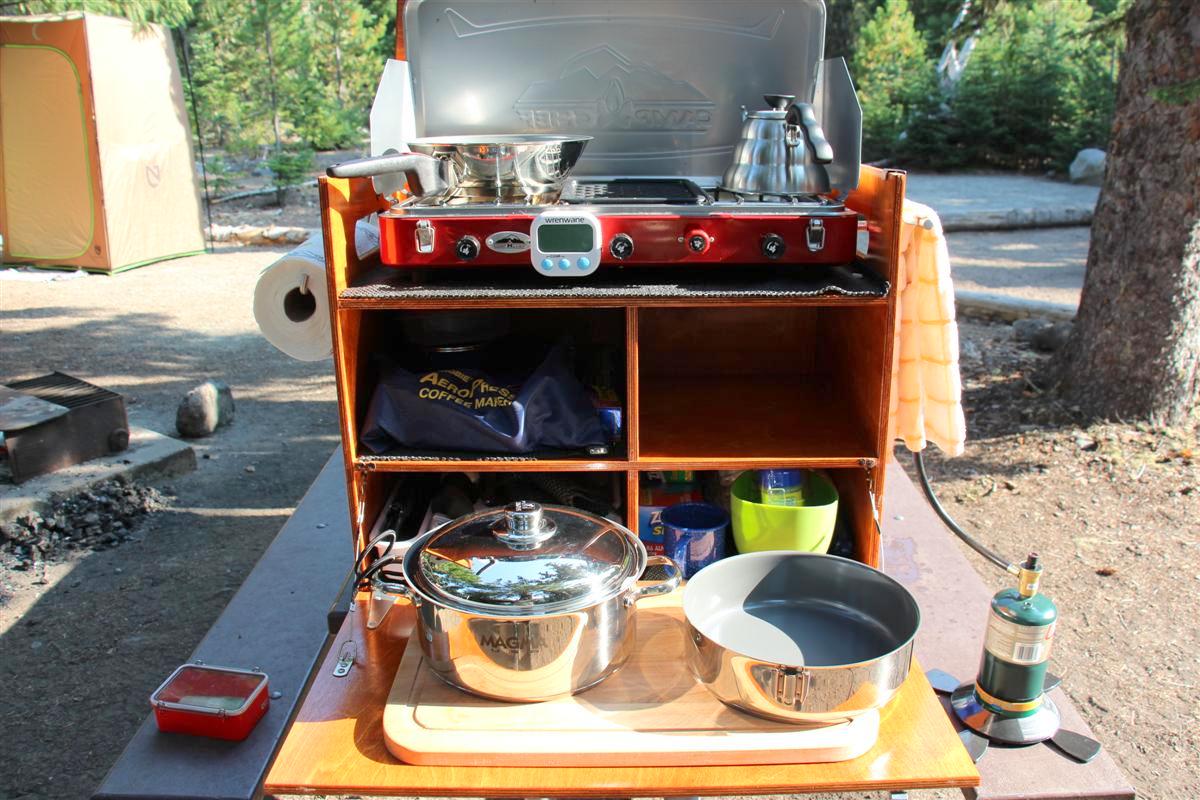 Big Kahuna Portable Shower – 4.7 Gallon
I have tried a few camping showers in the past, and this is my first non heated one, but probably my favorite too.
My last one which I still have is one built by Mr. Heater that can run on a 1 lb propane cylinder, or with an adaptor with a hose, and works off its own rechargeable battery or via your 12v socket from your rig.
However it is bulky, and this unit takes up less room.
You can put a pot on your campstove and heat some water to add to the tank, but we used it straight from the tank cold, and it was not too bad as you do not have the hose activated full time like a home shower, you only spray to wet yourself down, and then again to wash off the soap.
By the way, we use Coghlan's biodegradable soap for both showers, and to do the dishes with.
It has variable pressure by the shower faucet handle, and a very good stream.
It does require 12v, and that is where the Goal Zero Yeti 400 Lithium "solar generator" comes in.
They call it solar as you can charge it back up with a solar panel, but more on that later on this page about it.
Yes, I have to give this a two thumbs up, as it is well built, and have a very nice pump from German engineering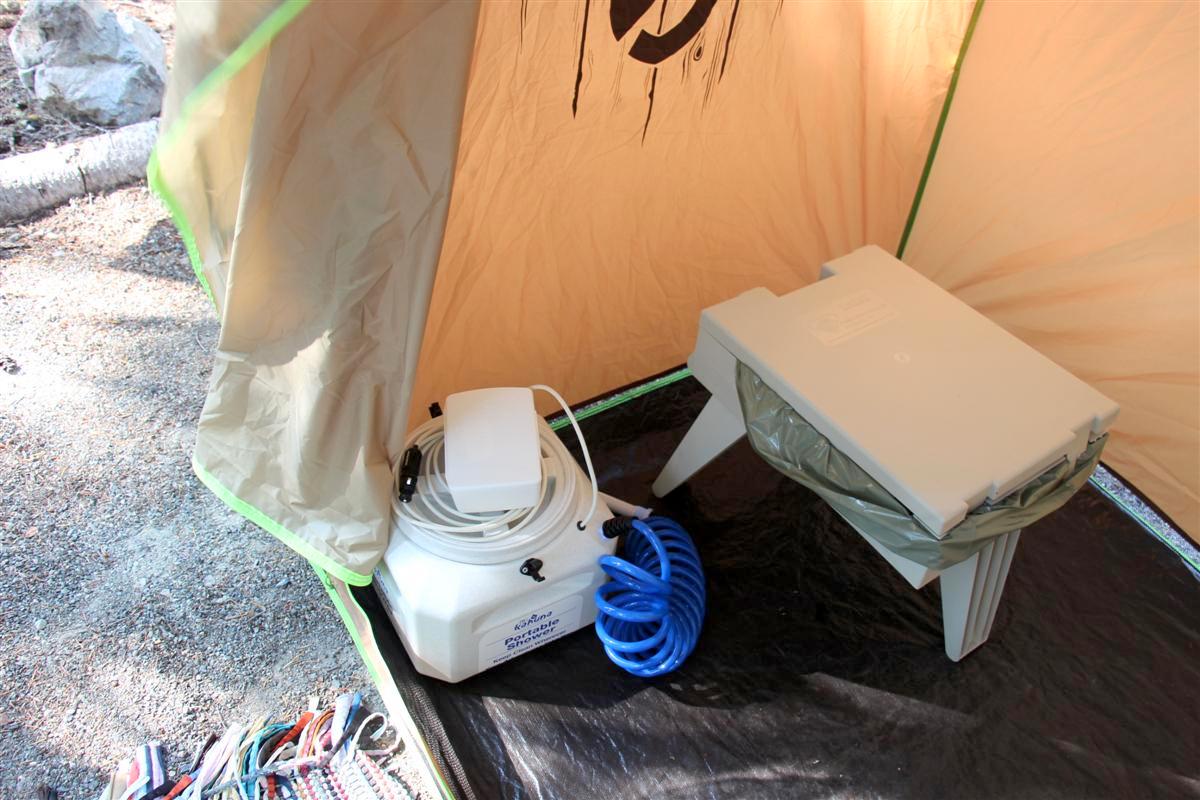 You can see me testing it at home right after I got it in this video below.
Big Kahuna Shower on my YouTube channel

Tried embedding it like in the past, but it is not working with what I am working with here, Microsoft Frontpage.
By the way I am done with that Pett toilet I bought back in 2008.
Three legs do not make it stable, and you pretty much have to change out the bag after one poop


I have almost tipped it over before sitting on it, and so did my friend, she was not thrilled with it.
In the past I have owned two Sears portable flush toilets, and I ordered a Thetford Porta Potty 320P from Amazon to takes its place.
I can squeeze it into the rig as I am working on downsizing all the gear I take, and it will be a mucho better experience using the throne in the bush over the old one.

National Luna 50L "Weekender" Twin Fridge & Freezer, Stainless Steel
This is a game changer for me.
For years I ran an old school ARB fridge and freezer (it could only be a fridge or a freezer, you could not do both at the same time), and my new one has two compartments, a 40 liter fridge section, and a 10 liter section dedicated for use as a freezer.
In the past my breakfast Morningstar Maple flavored sausage patties would thaw out in the fridge section.
Not anymore with this best of the breed fridges according to two different reviews via Overland Journal.
I had to visit Cartoys last September to have some 8 gauge stereo amp power wire added with a plug in the back wired directly to my auxiliary battery to run the thing, as the other wire I used with my ARB fridge would only power up the LED lights on the new fridge, and not turn over the compressor.
But let me tell you how nice it was as we were sitting around the campfire up on our Mount Rainier trip to the White River Campground and having ice cream bars


Yes, it was nice indeed enjoying a cold one (not the same as others cold ones) around the campfire.
Though the fridge was pricy as most high quality things in life, it made the trip all that much cooler.
See what I did there???
I give this fridge/freezer two thumbs up for sure

The only downside is they have not put in a dual reading temperature gauge yet, it only reads in Celsius, and not Fahrenheit.
But I carry a conversion chart on the side of the fridge, and I also have dual LCD temperature gauges inside each compartment I bought via Amazon.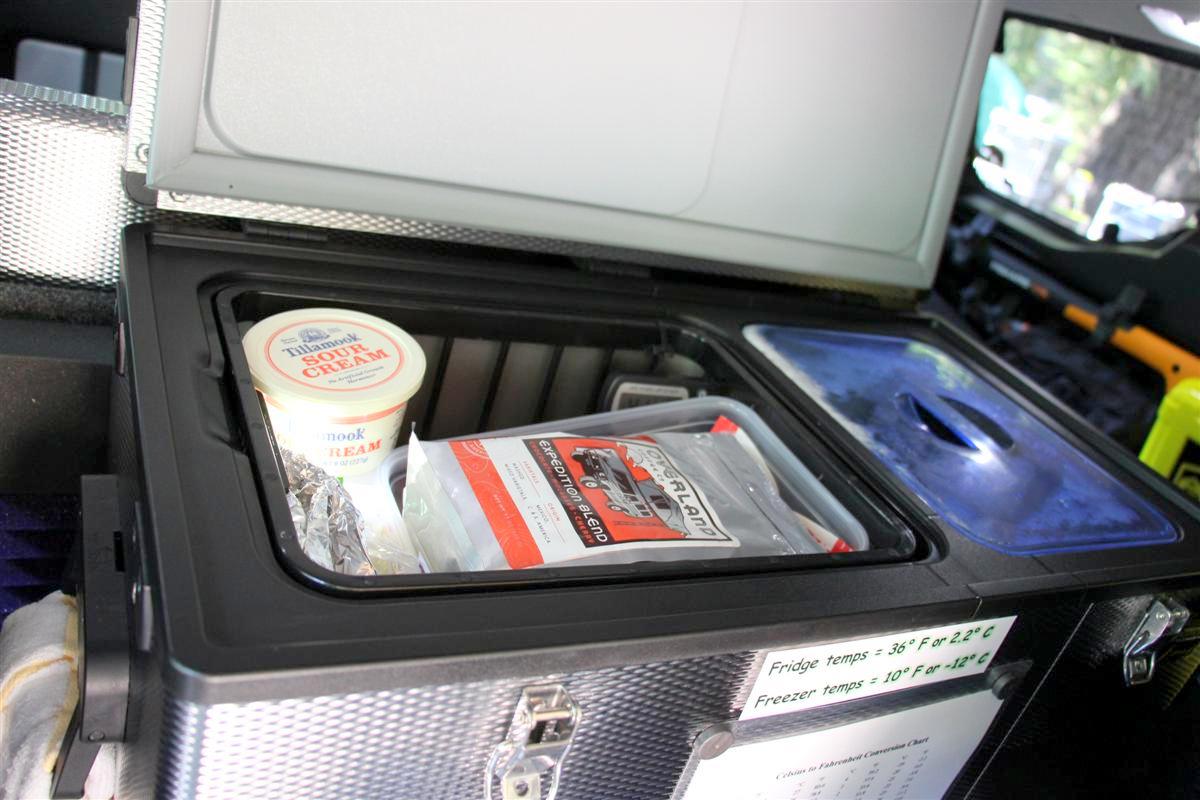 Eezi-Awn Bat 270 Awning, Left Hand Side (Driver)
Another game changer from Paul May at Equipt Expeditions out of Utah.
My old Campinglab awning same as the ARBs and other Chinese awnings out there was OK, but this thing covers 270 degrees of the vehicle, hence the name of it.
I had to have my local 4WD shop, Auburn Car Repair & Offroad beef up my Bajaracks awning mounts, as they could not handle the weight, but once modified, no problem.

The awning can be deployed my me in under one minute.
That is unzipping the bag, undoing three straps, and walking the awning around the vehicle to open it up all the way.
Dropping down the three poles and staking them takes just a few more minutes.
It was nice being able to sit under this in some shade at Mount Rainier due to the high temps.
It was a relief throughout the day when a breeze would kick up too under there, felt like natural air conditioning, and the breeze also kept the small black flies from landing on you, as they have a hard time zeroing in on their intended flesh targets when it is windy.
This awning like the National Luna fridge/freezer above is a product out of South Africa, where they understand how to make high quality products, and they have been tested to the extreme in their native country.
Of course I am going to give this two thumbs up, did you ever think otherwise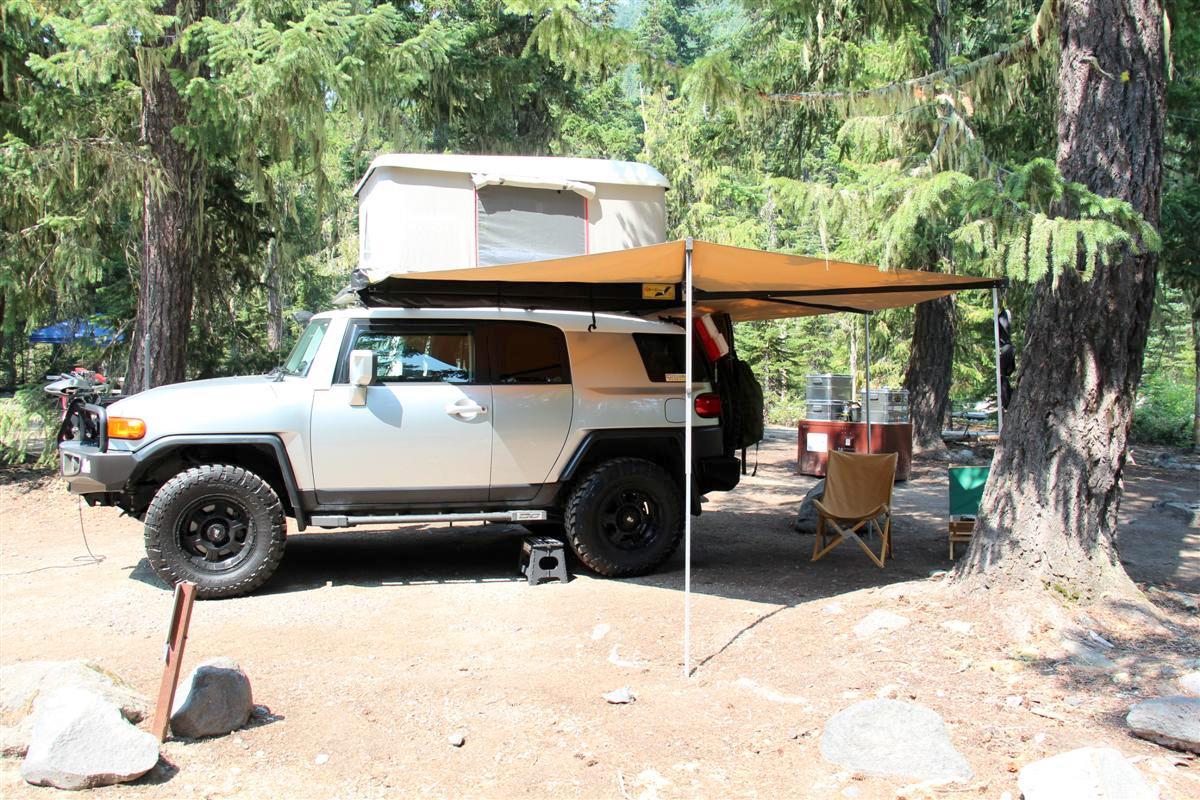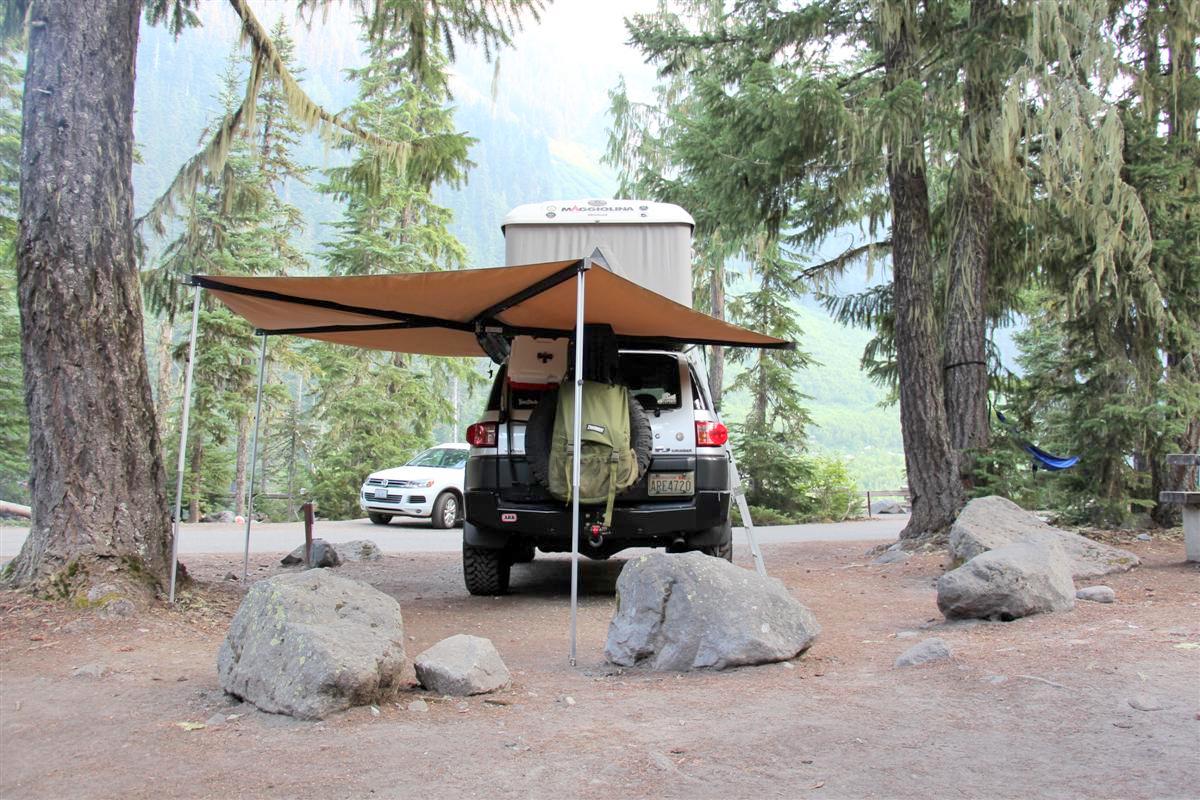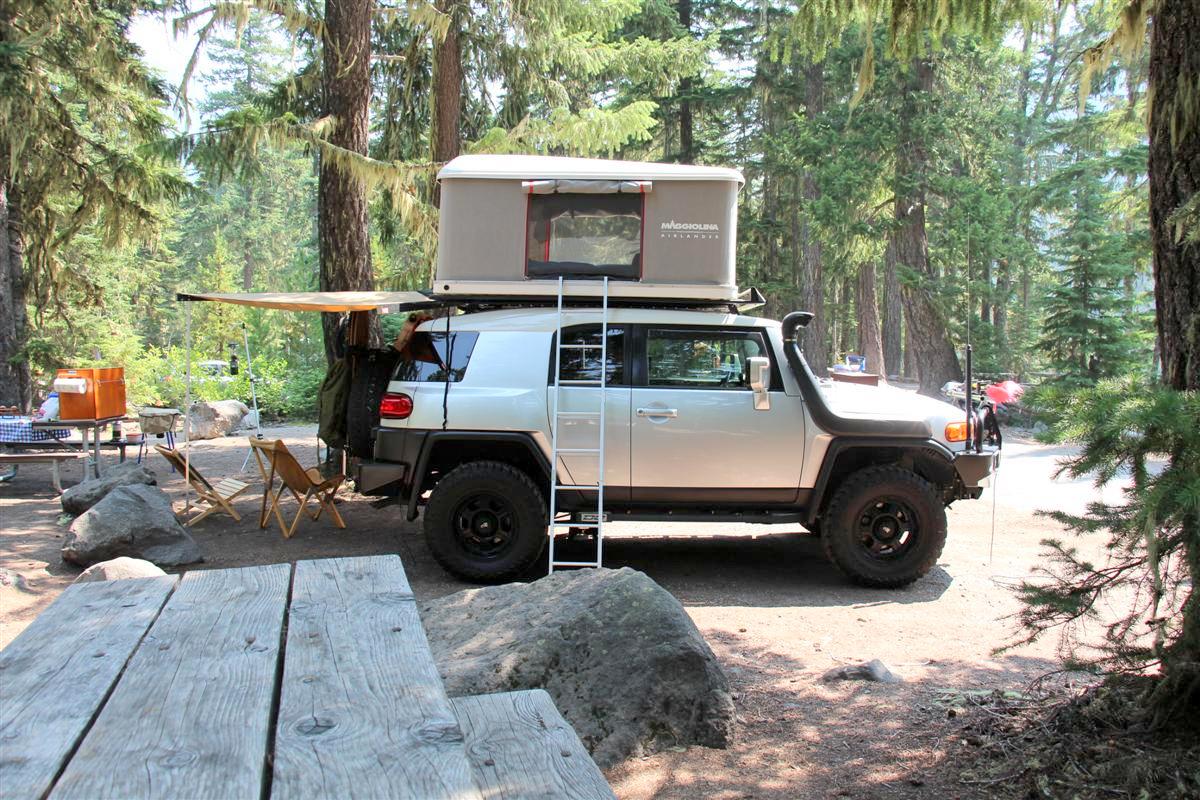 Eezi-Awn K9 Camp Table, Medium
Yet another two items from Paul May.
I bought these tables a few years ago as I needed something strong that could handle the weight of the chuckbox, and not collapse on me.
These tables are stout, and also very nice looking.
They fold up flat too on my rig, and I store them both next to the fridge.
Another two thumbs up for sure

Sorry for the out of focus one...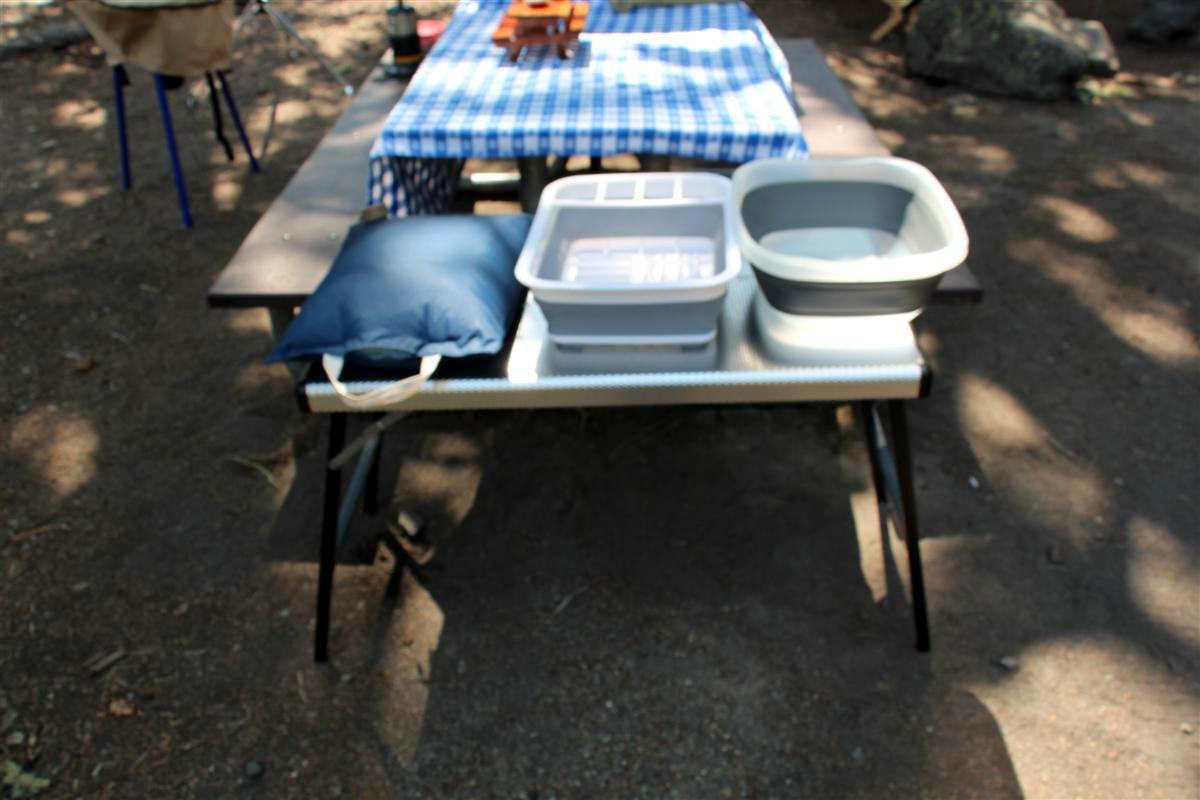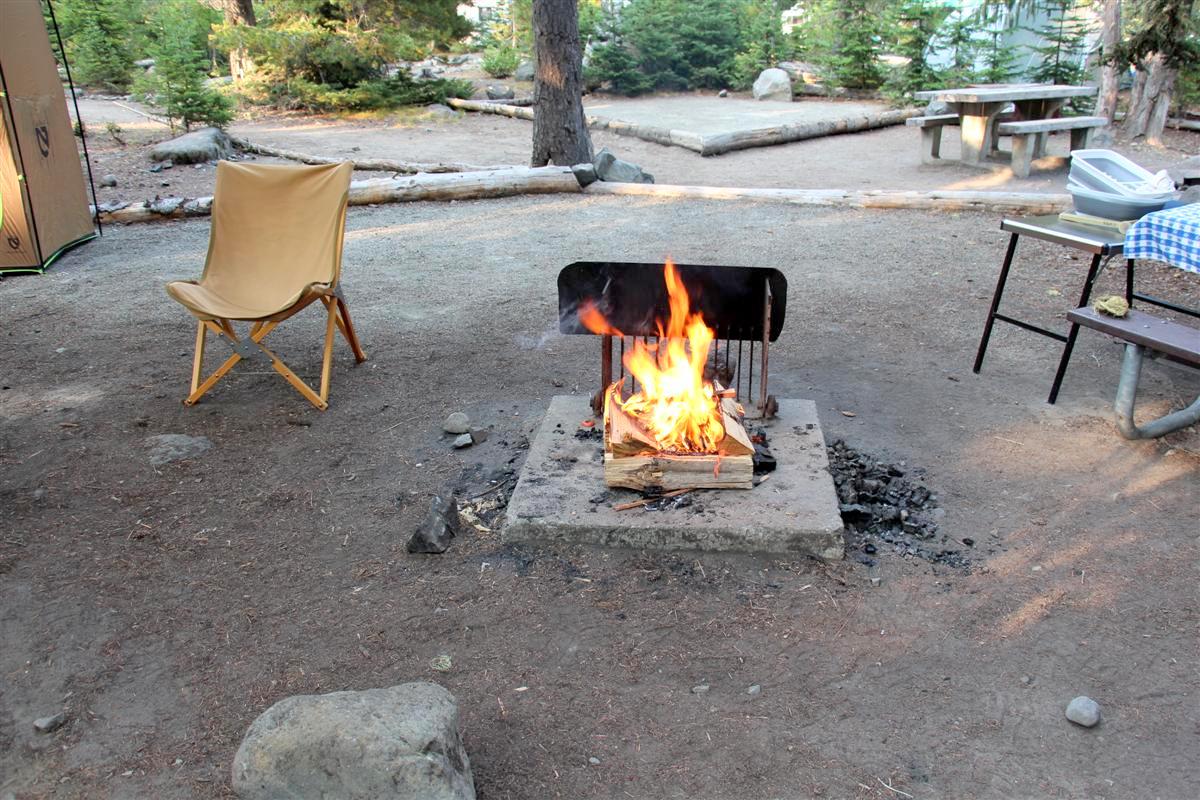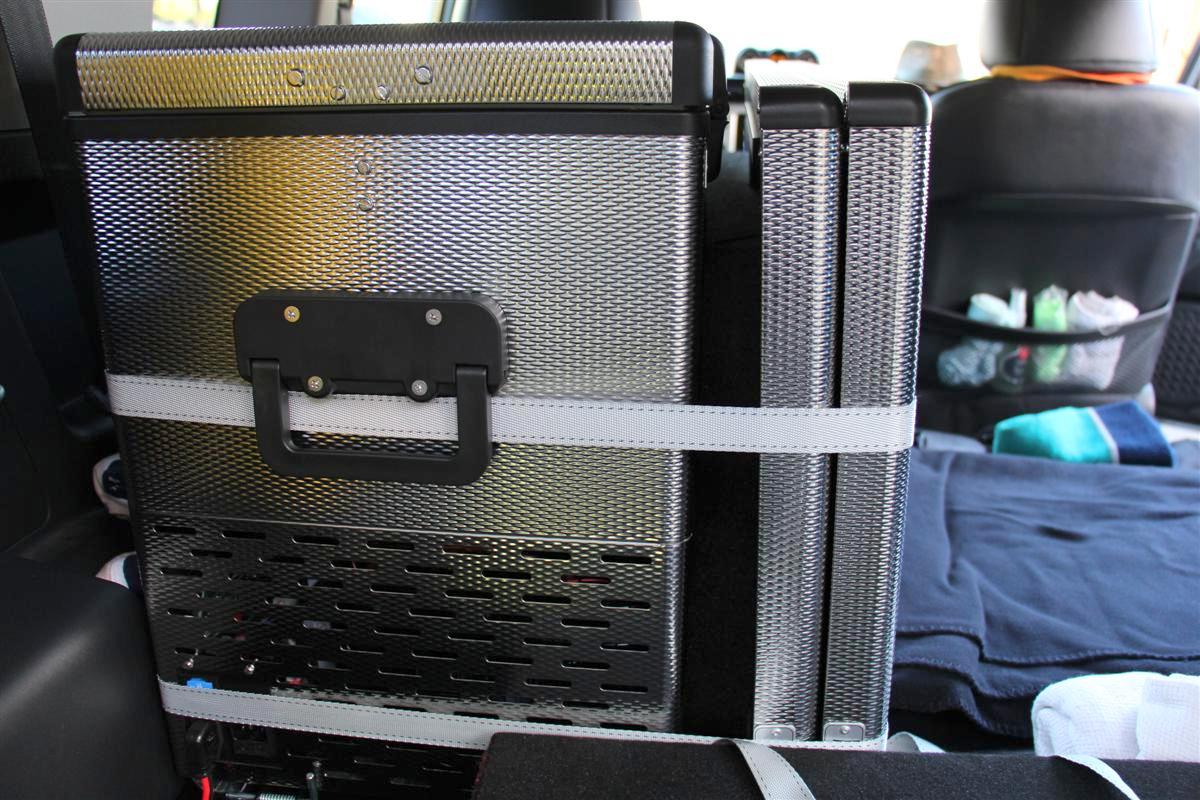 Wow, what a way to cheat to start a fire


I do believe though it is now discontinued, as on Amazon where I bought it they are out of stock, and do not know when it will return, and REI in the link says it is discontinued, what a shame.
If you look on YouTube you will find many a video of this portable fire starter, and it sounds like a jet engine when you fire it up.
It is loud and proud of itself when ignition takes place.

I simply staked some firewood in the pit along with just a few kindling pieces on top, and aimed the nozzle towards the wood, and within seconds I had a great fire going.
I have all the other ways to start a fire, but when it is already 85 to 90 degrees outside and you do not feel like bending over and starting a fire the slow way, this thing kicks some major ass.
Another two thumbs up, and I am glad I got mine while I could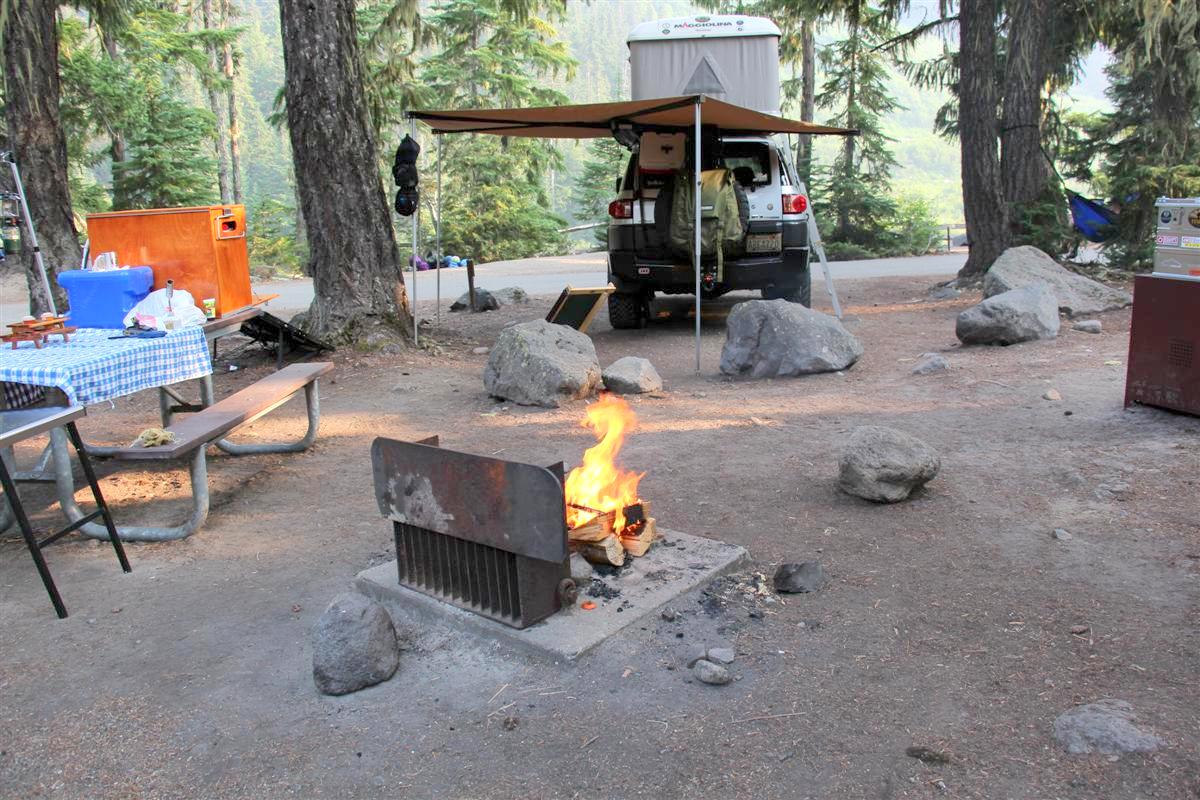 A great little light indeed, and I first found about this on Instagram, and I ordered one via Amazon.
My roof top tents interior 12v light is non LED, and I had a festoon shaped LED bulb to replace it.
Tried replacing it during the trip, and I flipped on the switch to the light without replacing the cover first, and I heard a snap.
Oh snap, I broke the switch!
Oh well, I actually have been wanting to just replace the whole housing with an LED one anyways, and I may try to get that done before fall.
Back to the Wagan light, it has two magnets on its backside, and it sticks like glue to the support arms of the scissors lift mechanism in my tent.
It came in handy for illuminating the tent after the campfire burned down (I stay up much later when camping, gotta love a great campfire) to get ready to turn in.
Plus I do not know about you, but breathing in mountain air even though it was laden with smoke from the BC wildfires makes me have to get up at least twice in the middle of the night and head to the Nemo Heliopolis outhouse.
Once down I can turn on my headlamp and see in the dark, but the Wagan light is much better suited for the tent inside as the light is more subdued, and not as blinding.
Had it turned on low in the tent too, it was plenty bright to see.
I give it the two thumbs up award also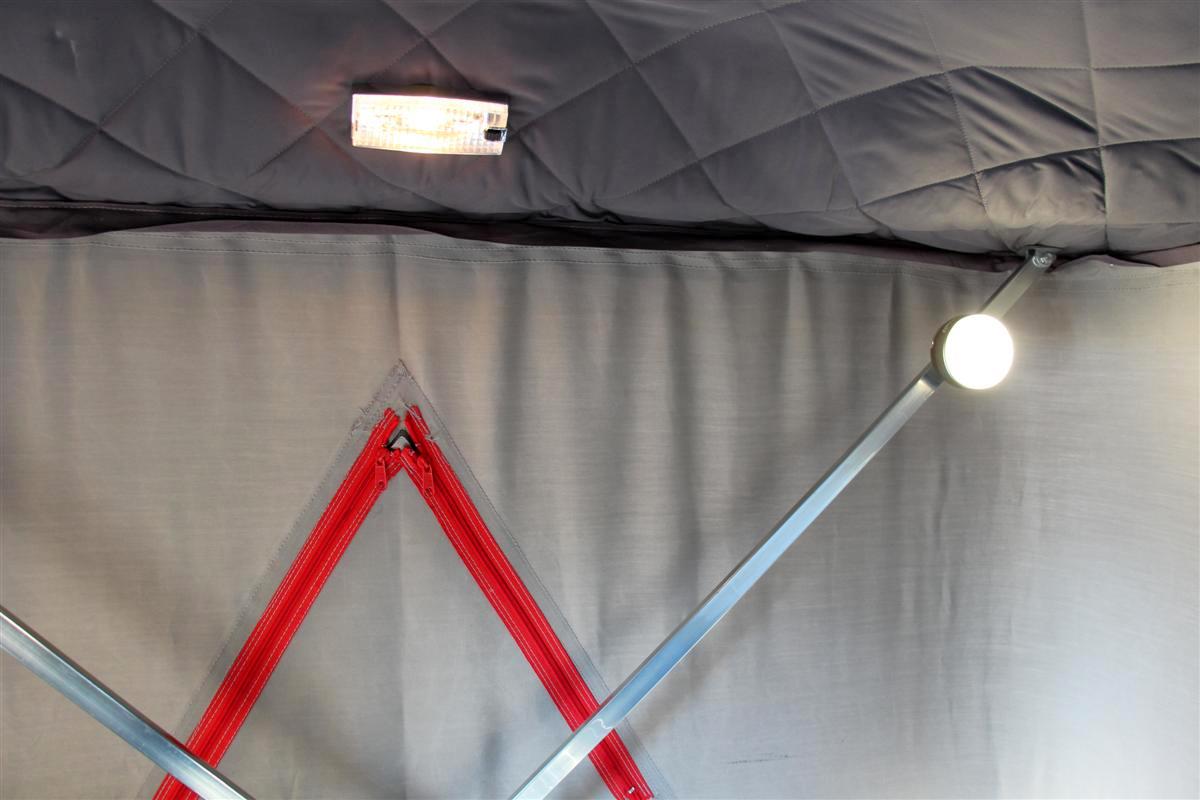 Alu-box cases from Equipt Expeditions
I have the 42, 60, and 73 liter sizes, and they share the same footprint, so they stack at home, and also two can go on top of each other in the rig.
Expensive for sure, but you get what you pay for.
I have used Action Packers in the past, and also ECS cases out of Oregon.
The Action Packers are light weight, but not water/dust proof, and lots of wasted space due to the design of them.
The ECS cases are mill-spec and heavy duty, but again you loose a lot of valuable space due to the rotomolding process to make them.
The Alu-box cases are made out of aluminum and are water and dust proof.
There is virtually no wasted space with these cases, and it is nice they will stack/interlock with each other if they share the same size footprint.
They are very light, and that makes lifting them in and out of the rig very easy.
Once out, you can leave them outside, the weather is not going to harm them.
At night I did throw the 60 liter one into the bear locker as that is the one I use for food.
Of course these get the two thumbs up too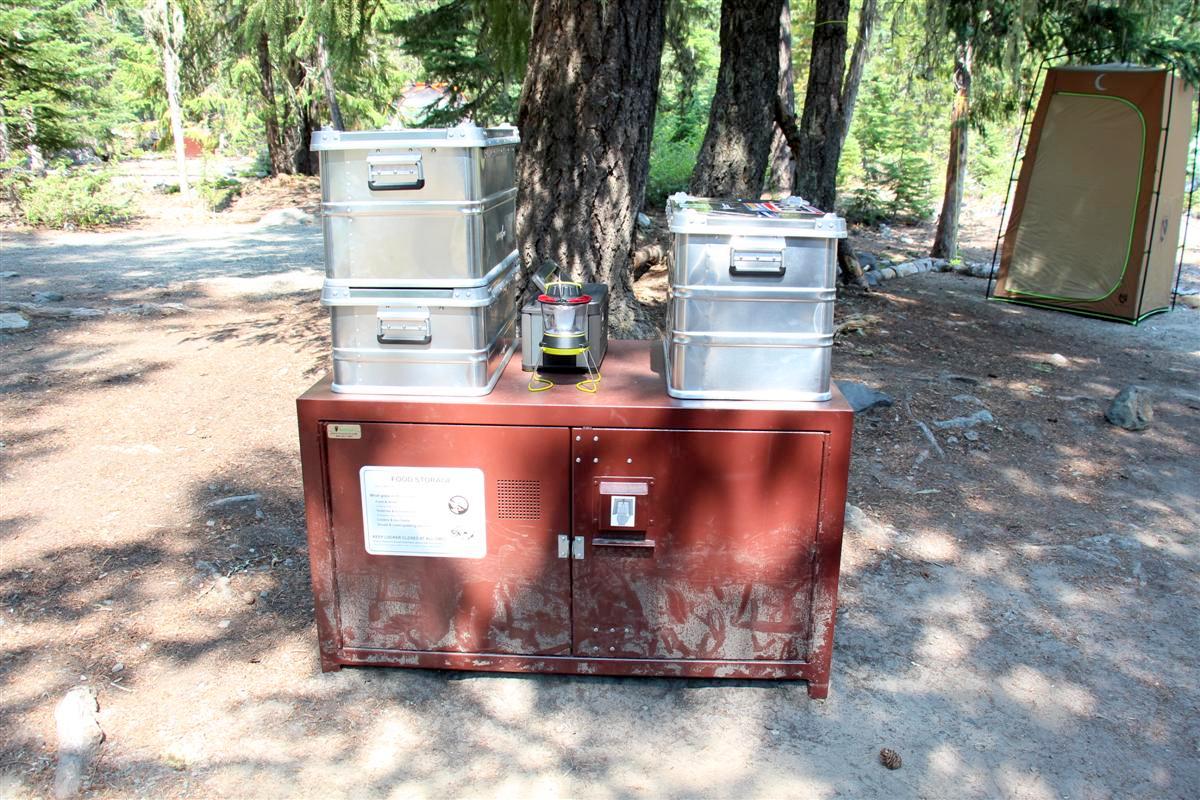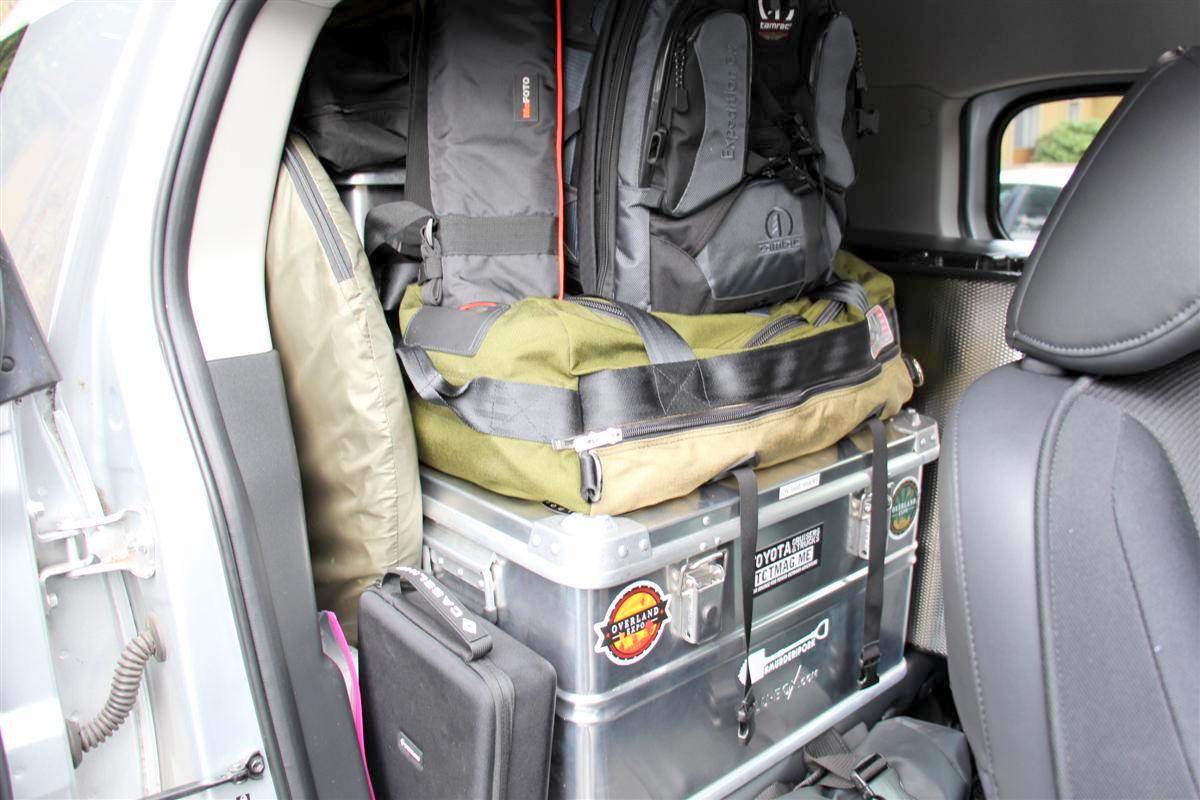 Goal Zero Yeti 400 Lithium Portable Power Station
Goal Zero Lighthouse 400 Lantern & USB Power Hub
I bought this mainly to charge up camera and headlamp batteries, and also to power the Big Kahuna 4.7 gallon shower.
I also bought the Goal Zero Boulder 100 watt Briefcase solar panel to keep it charged, but this thing has a huge reserve capacity, so I ended up leaving the solar panel for it at home.
There is a cheaper Yeti 400 that is non lithium, but this unit is half the weight, and a little more compact.
It can also do 110v by its built in converter besides 12v and 5v for the USB power out, and you can use a solar panel like the Boulder that is plug & play for it, or any other solar panel with an adaptor cable, and not worry about using a charge controller for the solar output, as the Yeti 400 has its own built in charge controller, very cool.
Gotta give it a two thumbs up
The lantern is very nice as you can use only one half of the forward facing bulb, or all of the bulb, and it has variable lumen output of course.
And if you find yourself without a way to recharge it in the field, no worries, as it has a hand crank on top to juice it back up.
We did not really use it, but loaned it to the woman in the next sire over so she could read in her hammock she had setup, or read at her picnic table.
Gotta give this two thumbs up too, as it can put out quite a lot of light for such a compact lantern

Renogy 100 watt Suitcase solar panel With Charge Controller
The price has come down on this model since I bought mine, and this newer one has a different charge controller than mine too.
This solar panel is used exclusively to charge up my Optima Yellowtop battery which is the auxiliary one that powers only my fridge and the ARB Twin air compressor.
And it does a darn good job too, as with the outside temps in the high 80s most of the trip, the inside of my rig with the windows up must have been pushing 110 degrees or higher, so the fridge is going to work all that much harder to cool/freeze its contents.
The solar panel kept the battery for the most part when it had sun (most of the day up at Rainier) at around 13 to 13.5 volts.
I have tested it at home with the fridge off, and it got the Yellowtop up to 14.5v in no time, better than my alternator can do


A solar panel should be included in every camper/overlanders kit if running a fridge in their rig.

Gotta give this a two thumber also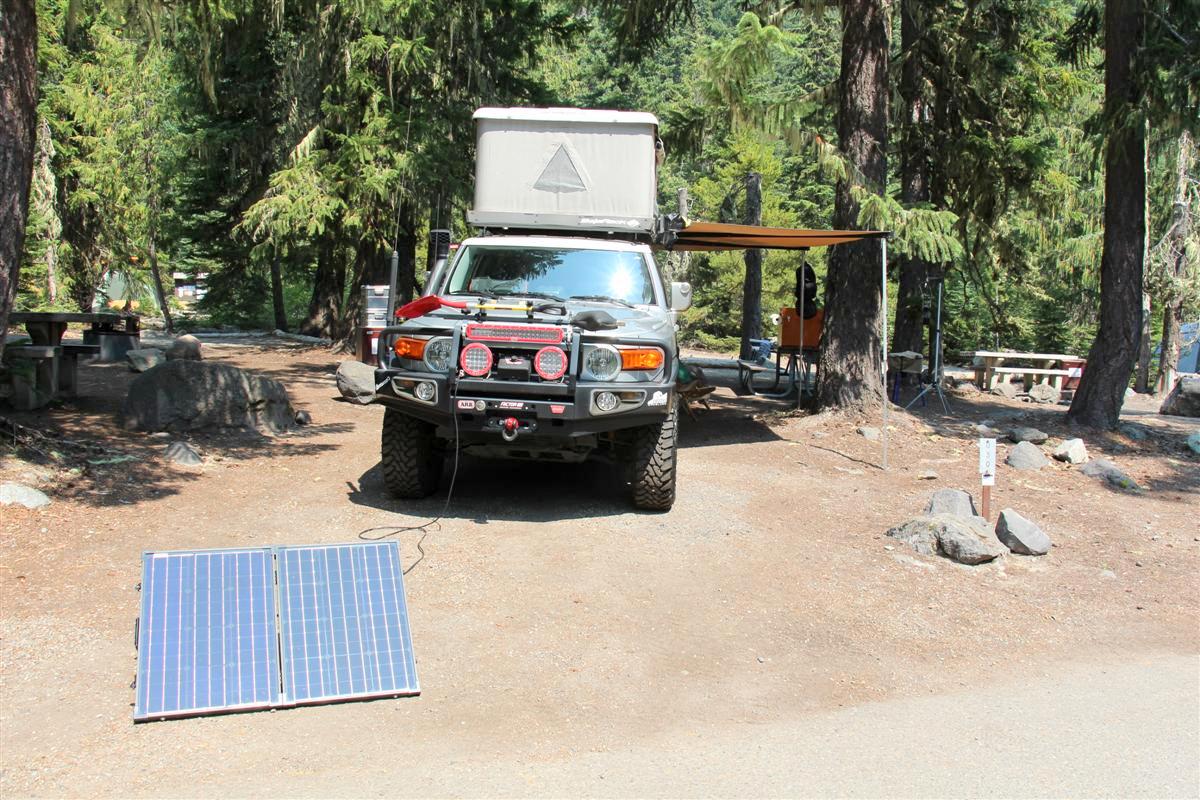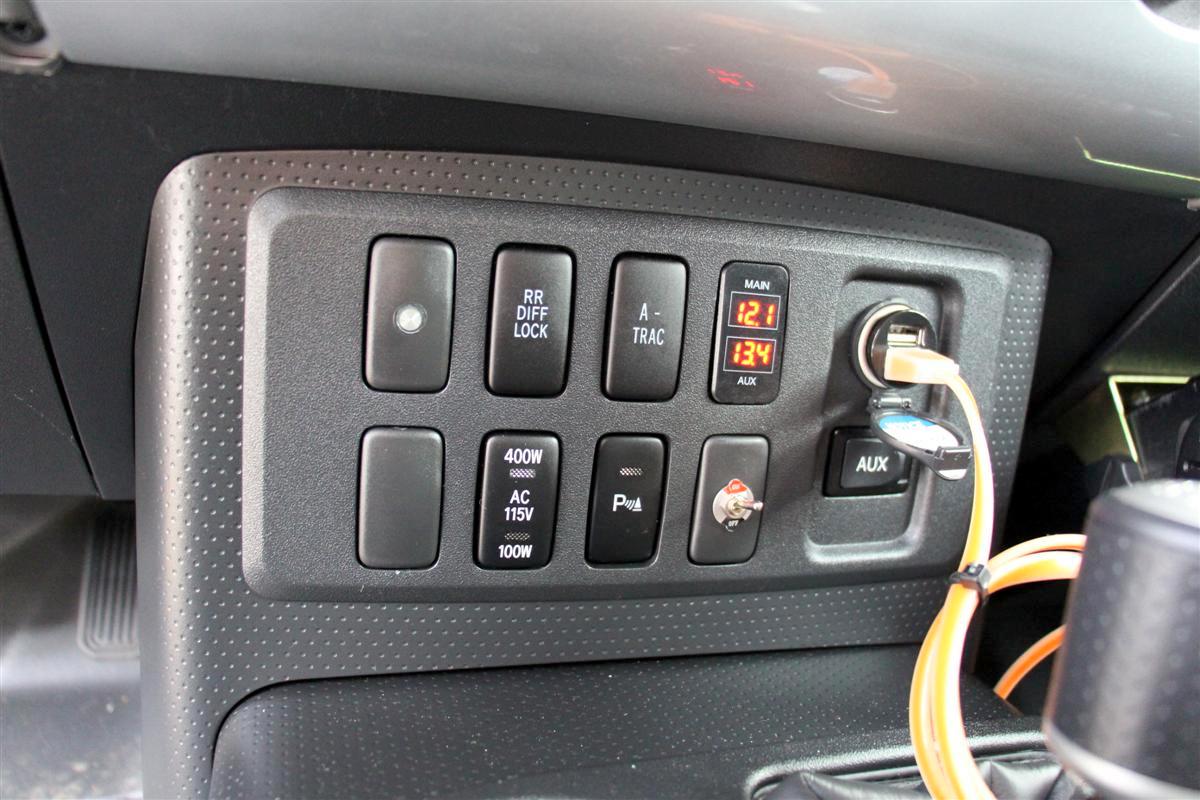 The Tembotusk Skottle via owner Jerry
The Tembotusk Skottle via Jackcovers (now known as Step 22 Gear) where I bought mine as a kit with the domed lid, cover for the unit when outside, and upgraded carrying bag
The Skottle, seems a lot have one, just look on Instagram at accounts that do a lot of camping/overlanding.
Heck, look at my account @coreytando and you will see me at home using this just abut every weekend since spring when I bought it.
So easy to cook on, and cleanup is pretty easy too.
Since it is seasoned like cast iron, you treat it like it, never use soap to clean it.
Most food wipes off with a paper towel, but for stubborn food you can boil water in the unit, use your plastic spatula so scrape the food around, then drain.
For more stubborn stuff you can use a plastic kitchen scrub pad with some rock salt.
When done cleaning, you pour some olive oil back on and rub it around, just like you would with your cast iron at home.
This too gets the two thumbs up of course
One of the videos from home cooking freeze dried hash browns, and making an omelet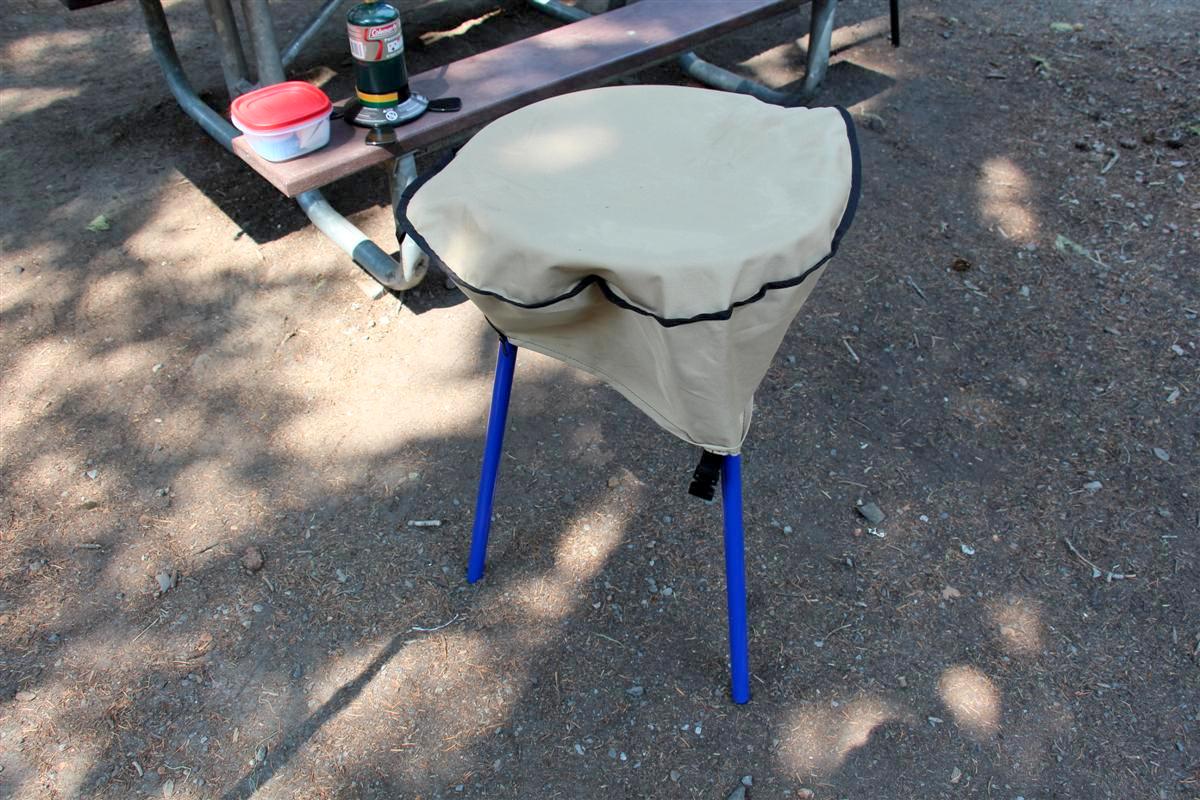 Nemo Heliopolis Portable Shower Tent
So where did I learn about this fine shower/crapper tent?
From Christophe Noel over at Expedition Portals gear review page
I also have on order the Nemo shower mat seen down the page in his article, that should be here in a few days.
Takes up less space than the folding wooden thing I was using.
On the latter I was getting dressed in the Heliopolis Tuesday morning after a shower at Mount Rainier, and I tripped off the wooden one when putting on my shorts, and I thought I was going to bring down the tent, but all was well, but the wooden one got thrown away up there when leaving.
I have now owned three shower tents with the first one being the Pett one that came with the toilet.
Used it for the first time in the site next to us when I got my roof top tent back in 2008.
That thing would take a bow with the slightest breeze, and it got thrown away later, what a let down it was.
Next one was the Outback Privy, the type that folds into a circle like a disc, and you snap it open.
It is fairly nice, but not big on space inside.
After seeing Christophe's article above I ordered the Nemo between winter and spring, and did not attempt to set it up until a few weeks ago.
Much foul language spewed forth from my lips, and I put it away.
Well I was doing it wrong, men do not need to read instructions right?
Wrong, read them you should.
After reading them the shelter went up fast at home, very fast, and even faster at Mount Rainier doing it the second time.
Having one of these is a must if you do not like to do number two in a public restroom, and if you want to take a shower to get off the dust when camping.
It is nice too having a floor that stay in full time, yet it has drain holes around the whole bottom portion of it.
I highly recommend this shelter, and I give it two thumbs up
Heliopolis setup next to my FJ Cruiser for the first time, after re-reading the instructions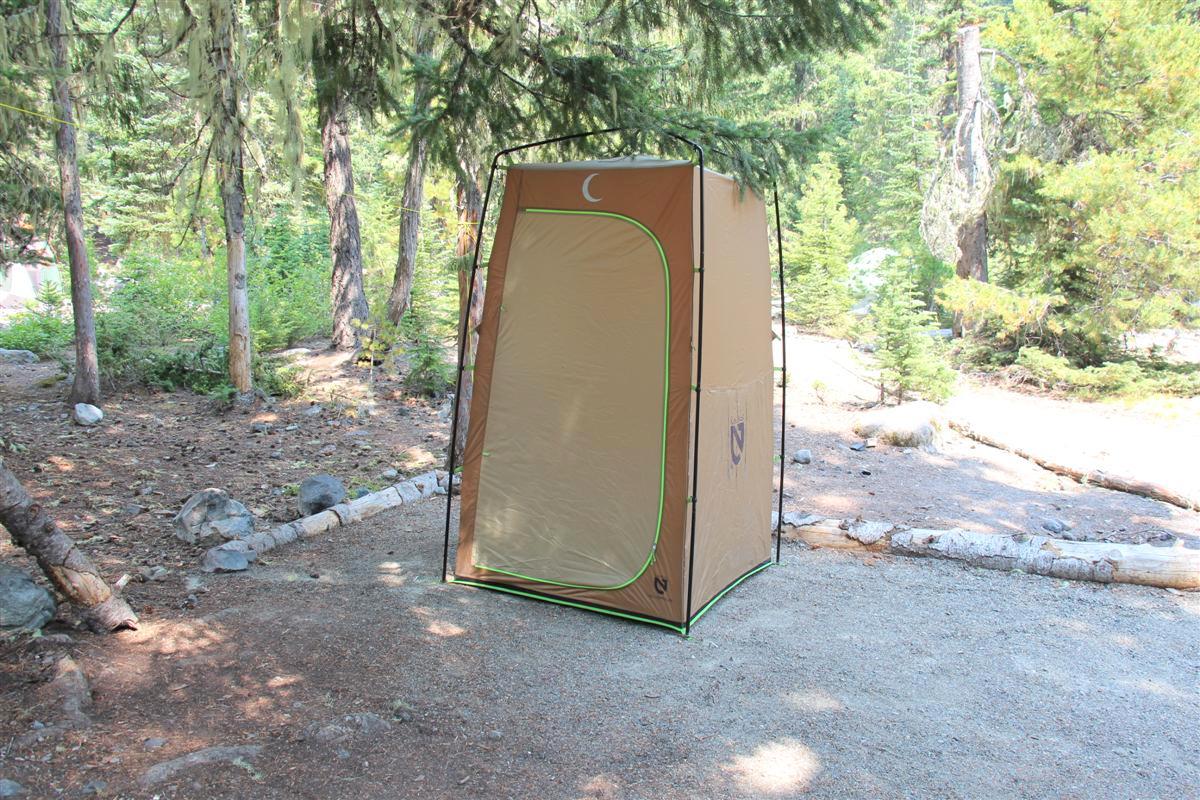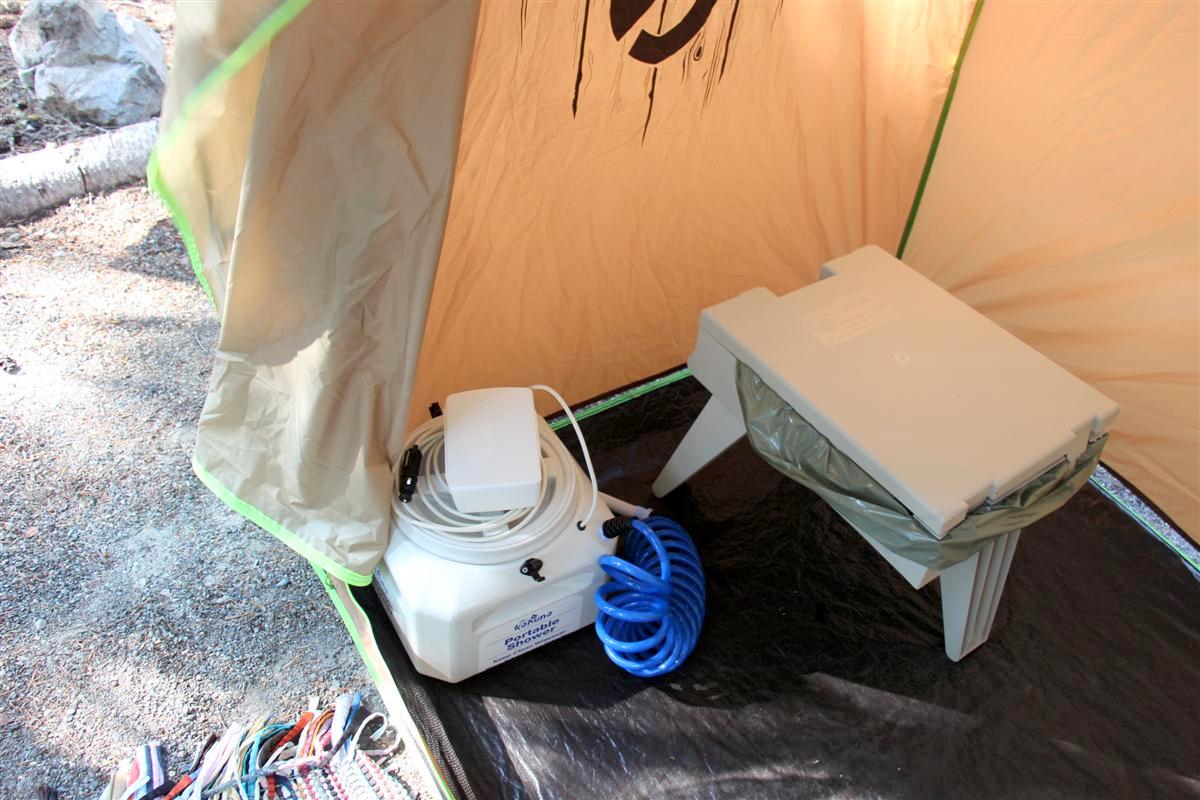 This concludes my reviews of the new gear I bought this year, and I did not take any pics of the Microfiber Pack Towels that Christophe mentions in his Nemo article, but I can tell you they work great.
I have both the washcloths, and the bath towels.
PS, I mentioned in the Big Kahuna Shower entry above that I was fed up with that old Pett toilet.
Thursday afternoon I did some research on porta potties like the two Sears units I owned in the past and used with my two tent trailers, and I ordered a Thetford 230P (P is for piston, more reliable than the bellows one you push down on.
Hey, I take my toilets seriously


It showed up yesterday, very nice, and no, I will not demo it for you, but take my word, these are way better than the other types out there for camping.
I will squeeze it into the FJ somehow, even if I have to sit on it while driving.
It will fit fine behind the front seats just fine, I already have a plan in motion for downsizing the stuff I take.
It is called teleportation, a lot of the stuff will be teleported ahead of time to the campsite, stay tuned for that...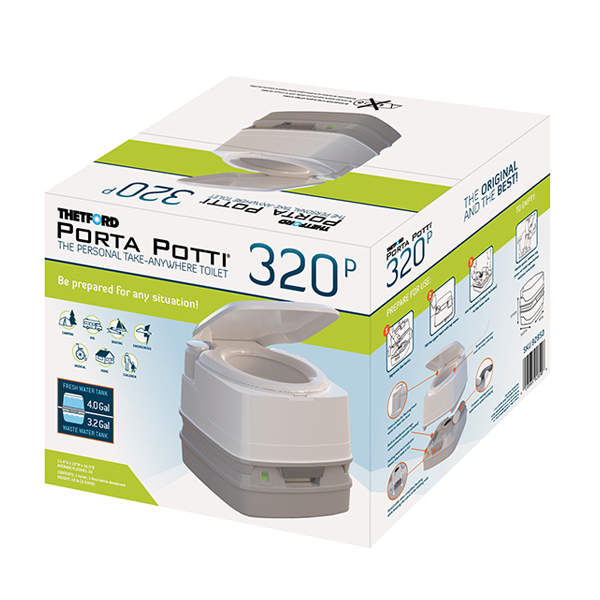 Click here to see some pictures from the trip