Vacation 2017 At Mount Rainier National Park, White River Campground
Link to my gear review of new camping gear I have bought this past year will be at the bottom of this page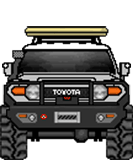 Finally vacation time, and a lot of new gear this year to try out.
I will say I will be cutting way back on gear taken, as the small Alu-box with the Goal Zero LED lanterns did not get used except to take out a Coleman propane lantern.
I can eliminate that box and store the Coleman in the biggest out of my three Alu-boxes.
The weather up at Mount Rainier was muggy, temps in the upper 80s, 90'ish, and smoky thanks to the wildfires from BC.
Part of the time you got great views of the mountain from the campsite, but after mid morning the smoke/haze obscured our view of it.
The air quality was pretty bad, and I heard from a few hikers who hiked the trail near camp to go all the way up to Sunrise it was hazy and not as easy breathing.
Well, it looks like we went a week too early, as the weather forecast from my phone shows temps in the 60s to 70s there, perfect weather.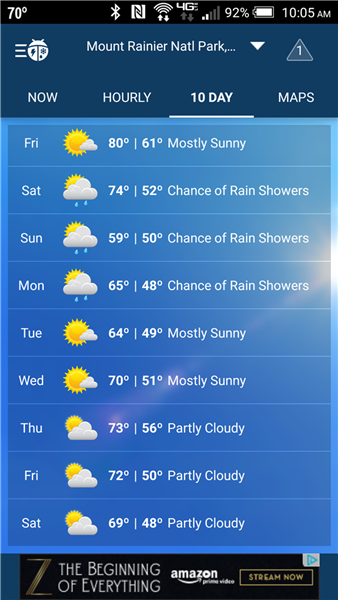 The only biting insects we saw were small black flies, not a mosquito in site, very strange, but I heard they were up higher at Sunrise.
Saw a few deer meander through our site, and also around the campground, and tons of chipmunks of course scurrying about looking for food dropped by campers.
A woman camping solo next to us did see a bear in the daytime down by the ranger station where you pay for your time there, as she drove down the road to make the drive up to Sunrise.
New this year are finally bear lockers, it has been a long time coming, and they are nice to have to put your food into at night when you turn in.
For extra security to keep out "two legged animals", you can throw a padlock on it if you are worried, but we were not.
Most campers up there are there to enjoy the mountain, not steal from others.
We were going to camp off of Forest Road 73 on Huckleberry Creek and have the place to ourselves, but there was a burn ban in effect.
The burn ban does not effect the White River campground, so we choose it as we wanted nightly campfires.
However Ohanapecosh another campground at Rainier you could not have fires.
It was up to the rangers at each campground to decide if there was a risk or not.
I think for next year Quinault or Kalaloch sounds like a place to try, or Greenwater.
Have a whole year to decide.
One more thing I have to mention that happens every time I go to Rainier, a lot of people have never seen a roof top tent before, and they want to climb the ladder and look inside.
I got so many questions about the tent, the FJ Cruiser itself, the solar setup, and much more.
Most of the people who camp up there camp in HUGE tents, small tents, smaller motorhomes, camping vans, tent trailers, and there was a nice tear drop there too.
There was only one other vehicle, a car there with a Tepui roof top tent on it.
OK, time for some pictures.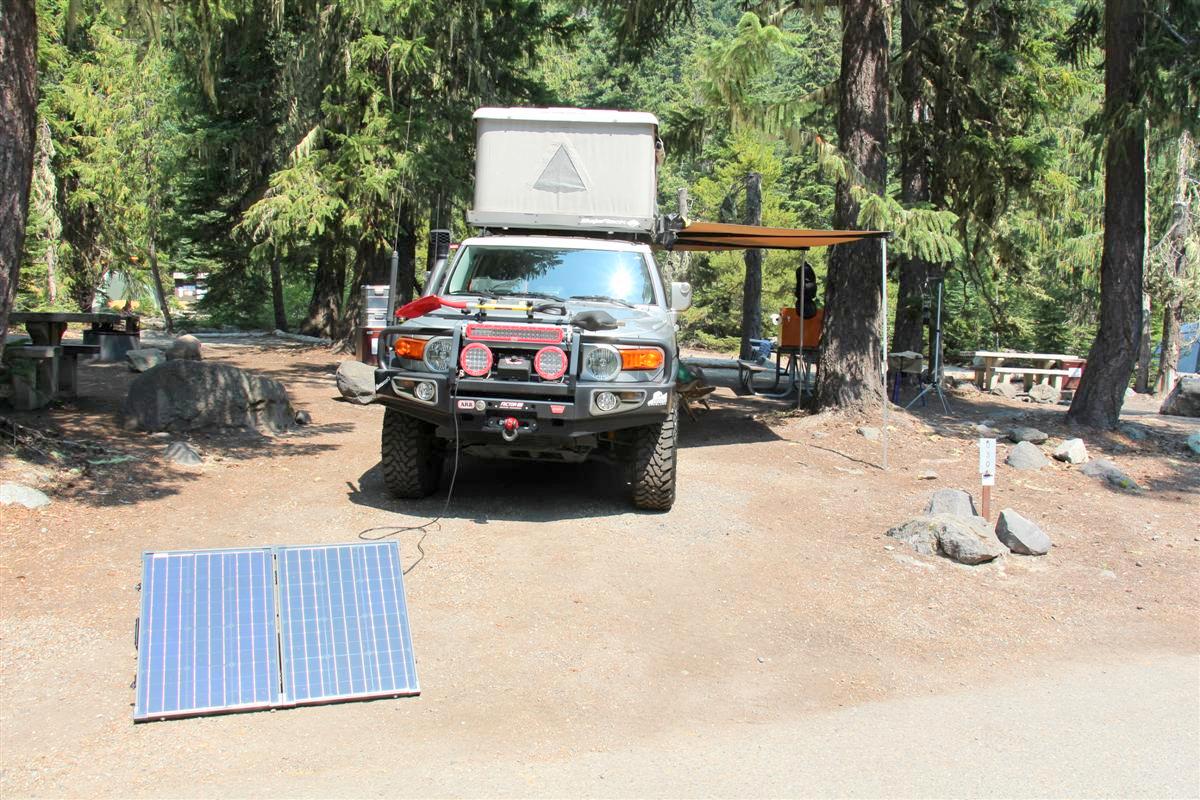 The site got plenty of sun a little after 8 am until around 4:30 PM.
I hardly had to move the Renogy solar panel around at all.
This is the same site (Loop D, site 30) that I had back in 2010, and in 2008 I had D31 to the right.
Both very good sites with lots of sun for the Renogy.
Explored some other loops, and there is a fantastic site with a waterfall and creek running through it that would make you fall asleep right away, but alas the front of the site where you park does not get enough sun exposure for a solar panel.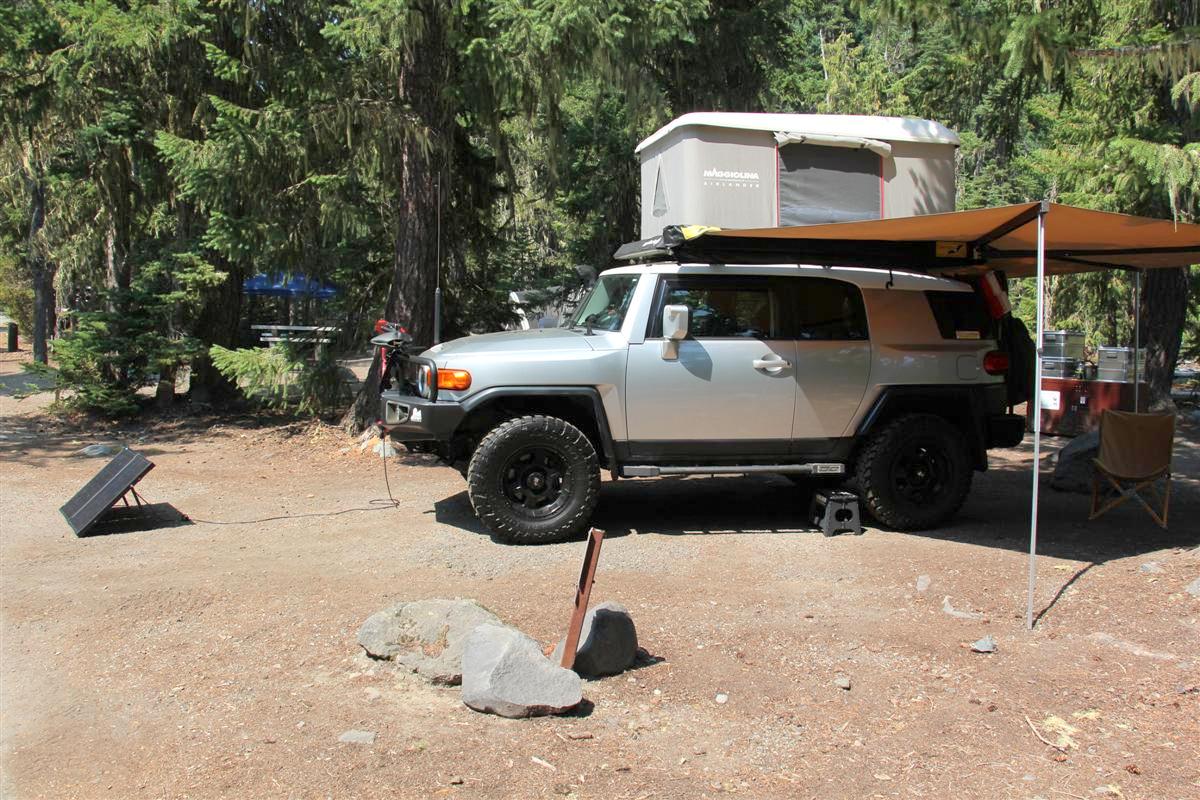 Look at all of that sunshine feeding the solar panel.
A great escape from the sun is under the Eezi-Awn Bat 270 awning.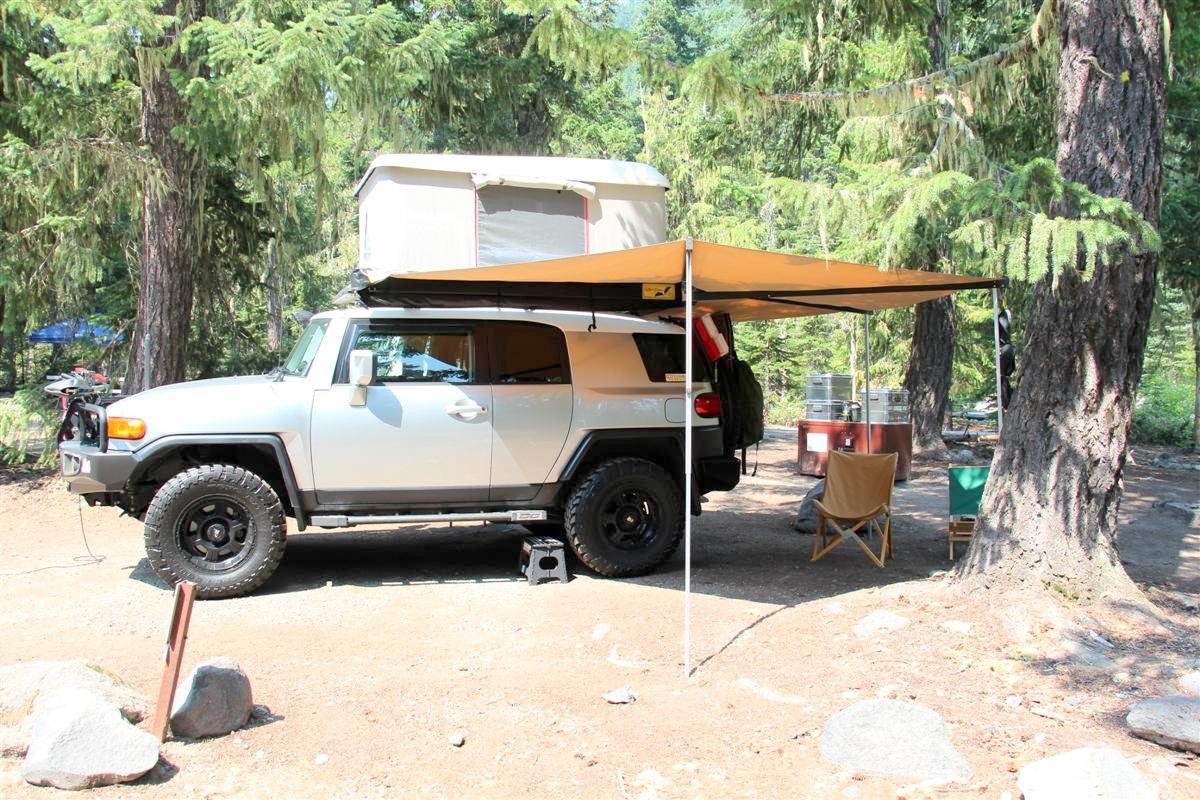 With a traditional awning like I use to have that came straight out, there would not be much shade.
With the new one since it wraps around the rear of the vehicle clear over to the right side, you have much more shade when the sun is moving.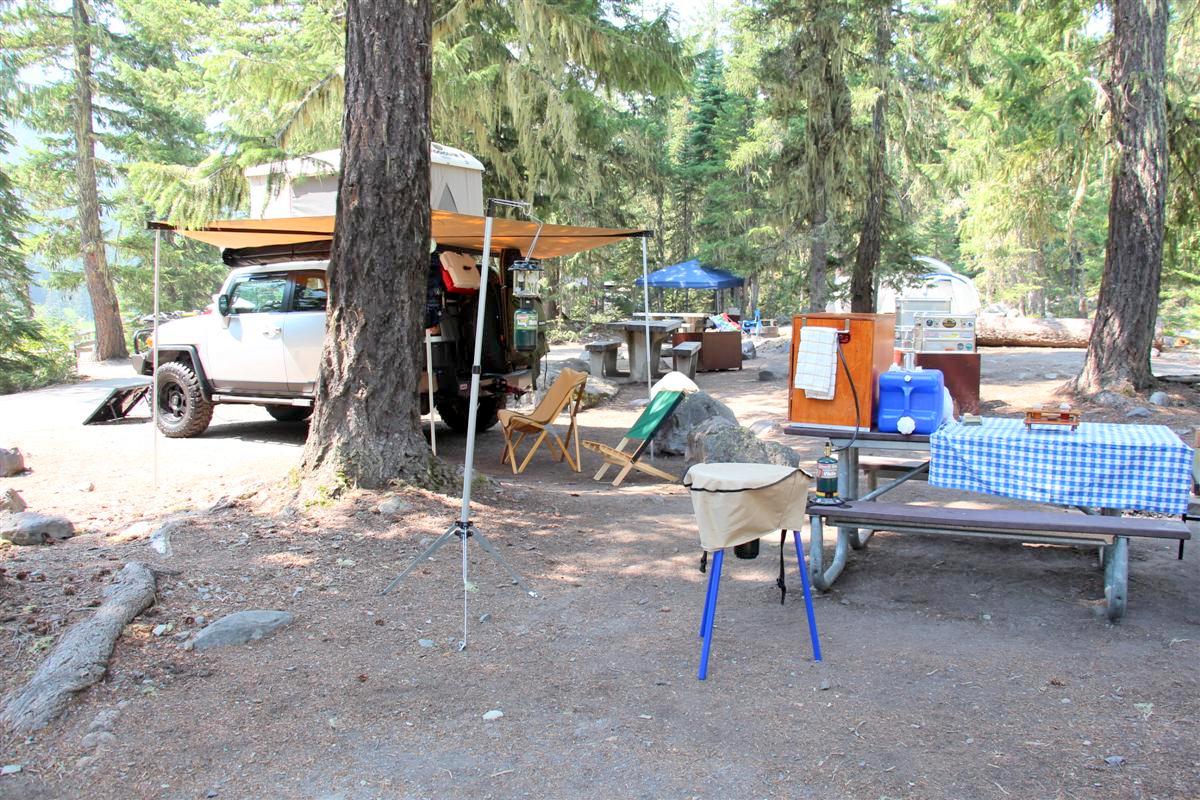 Some of the necessities of camp including seven gallons of fresh drinking water, the Skottle to cook some of the meals on, and the chuckbox which has the three burner Camp Chef Denali stove.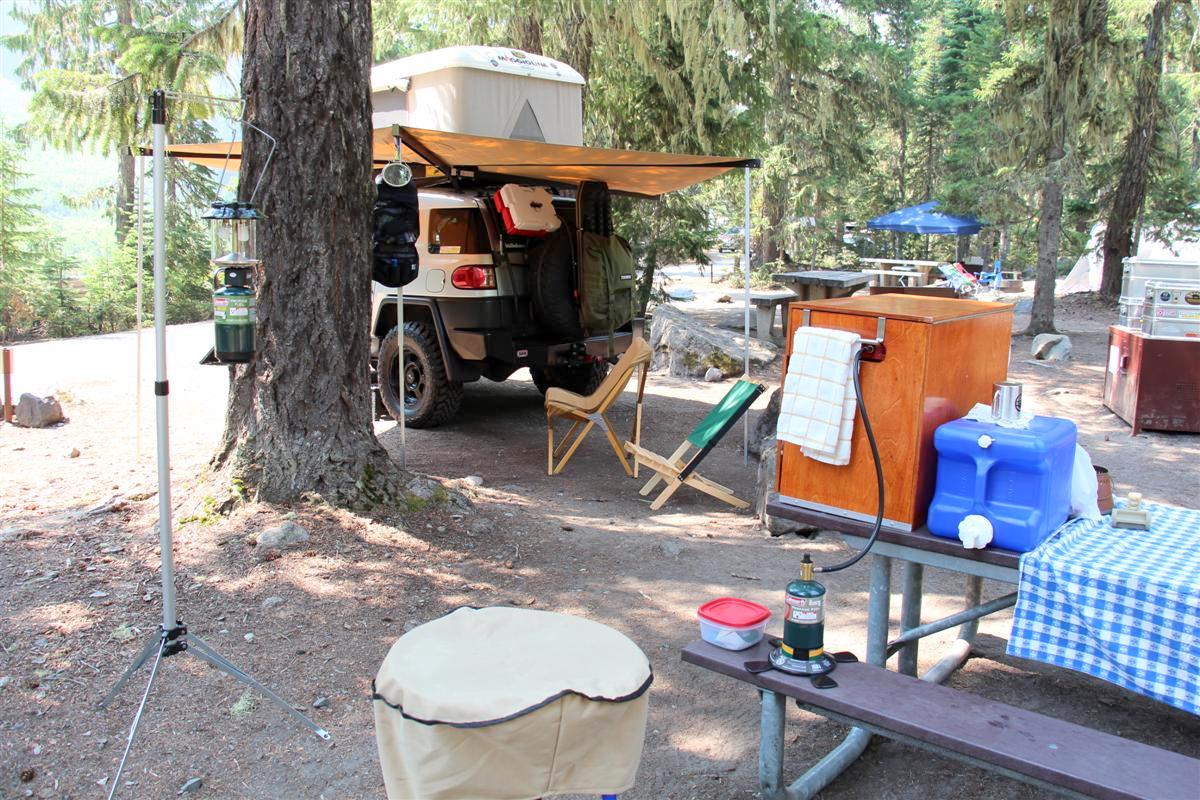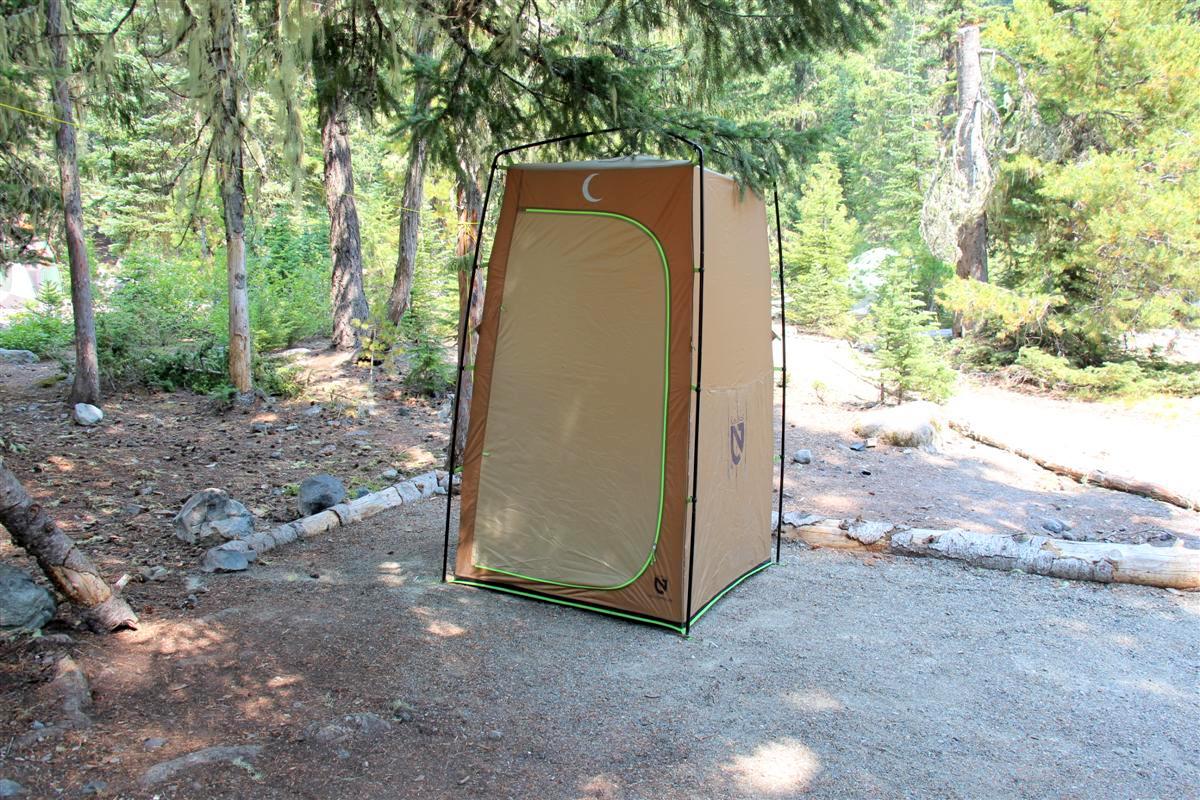 Ya, this is where you shower and go to the bathroom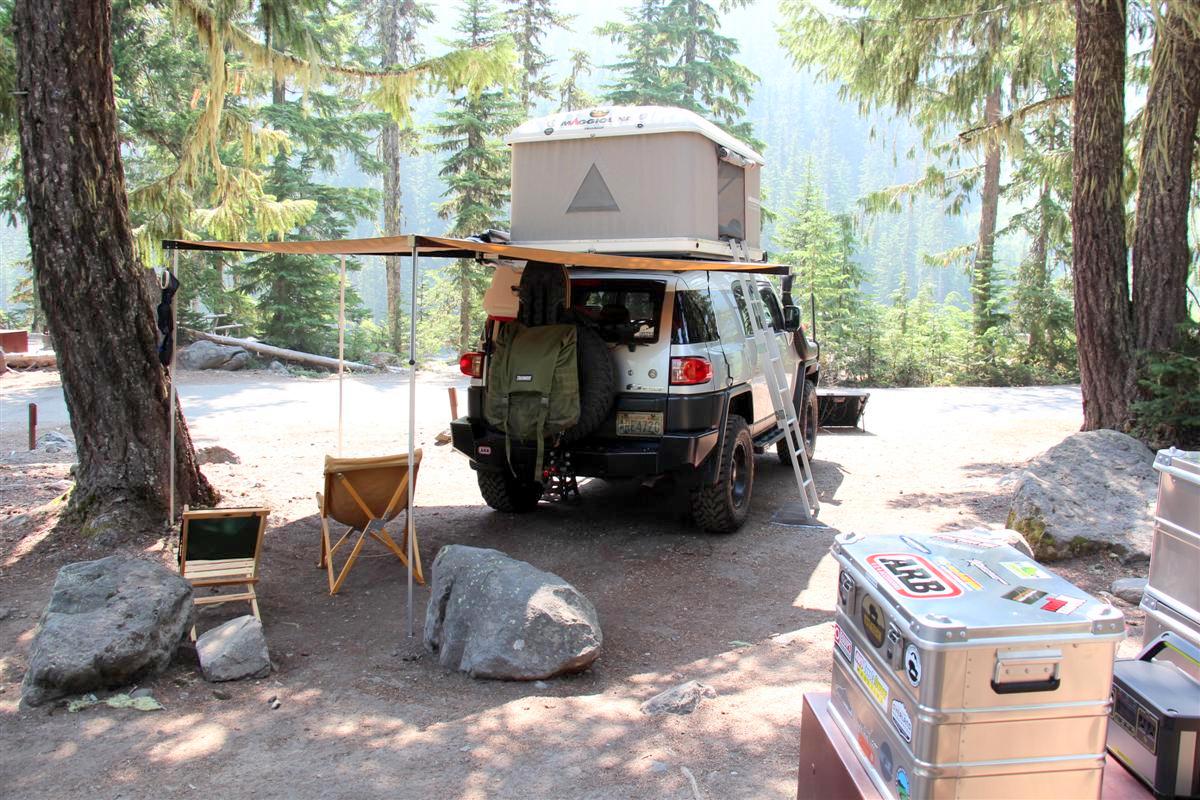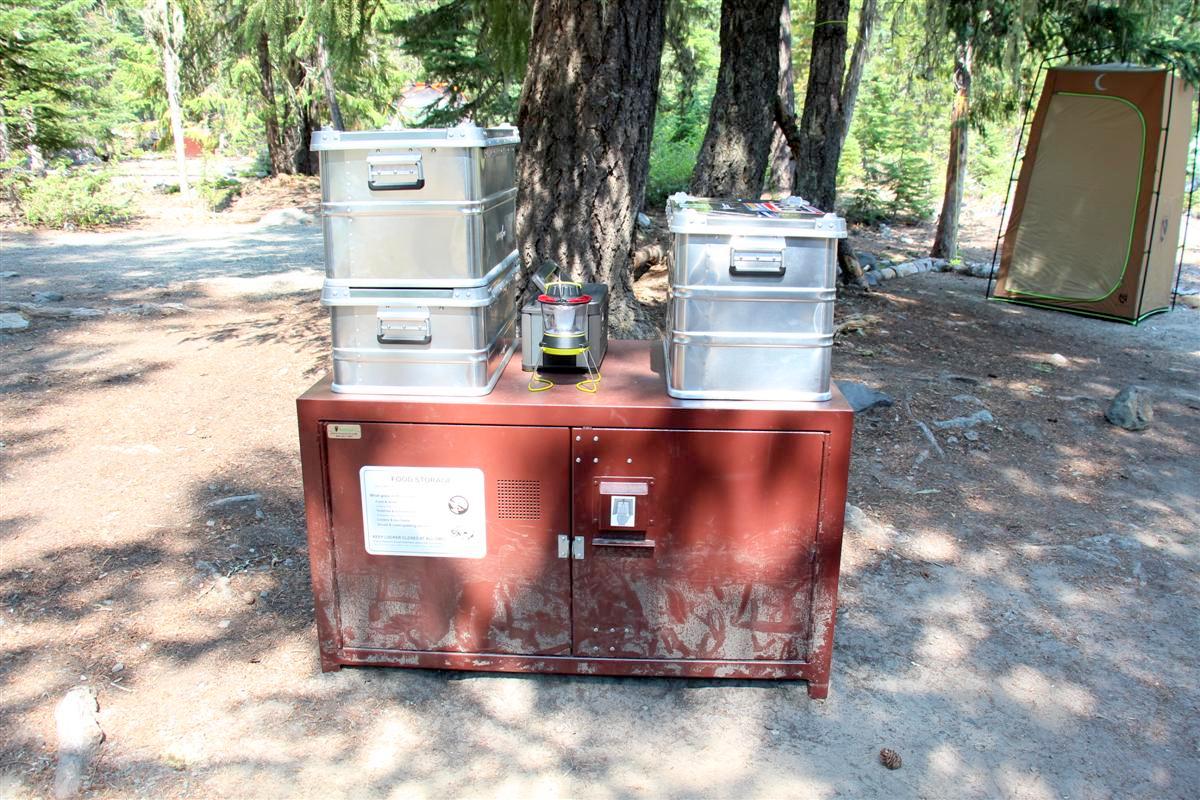 New this year are bear lockers!
Yellowstone has had them for years, it is about tome Rainier got with the times, as Yogi does take late night walks around the campground looking for picnic baskets and food left out by carless campers.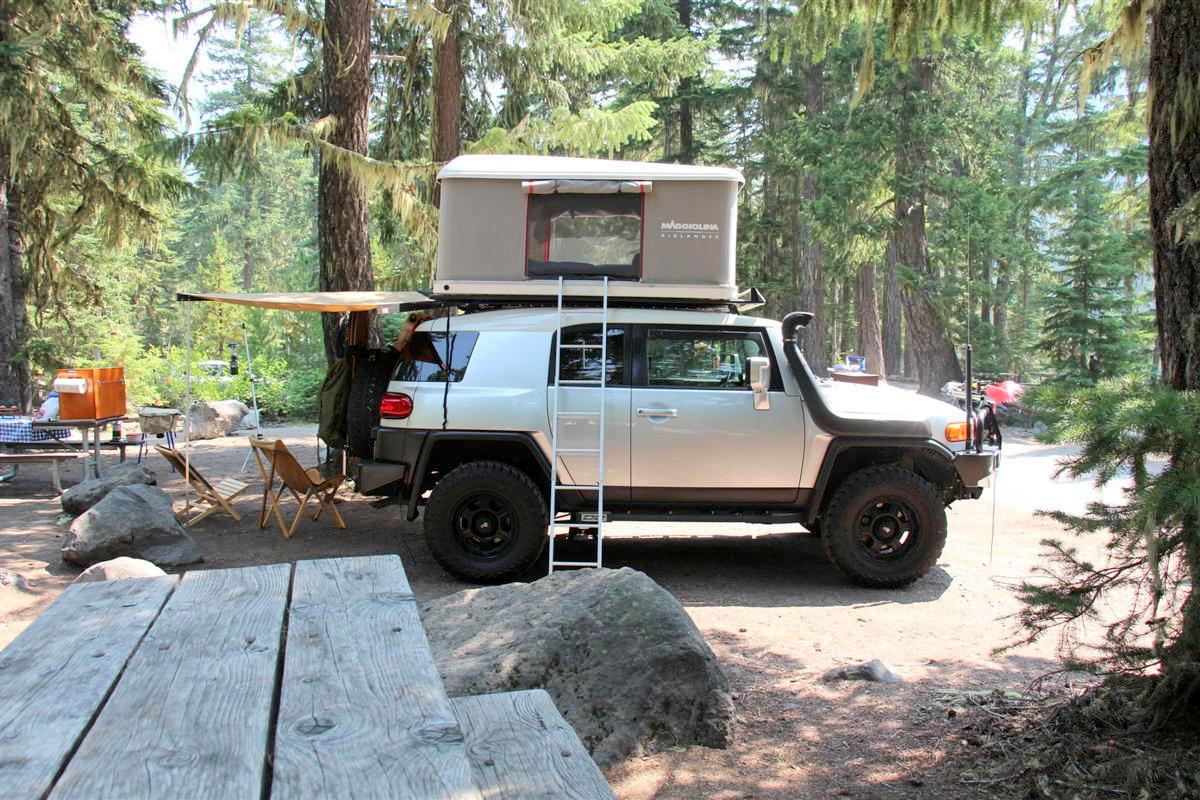 Stairway to the penthouse.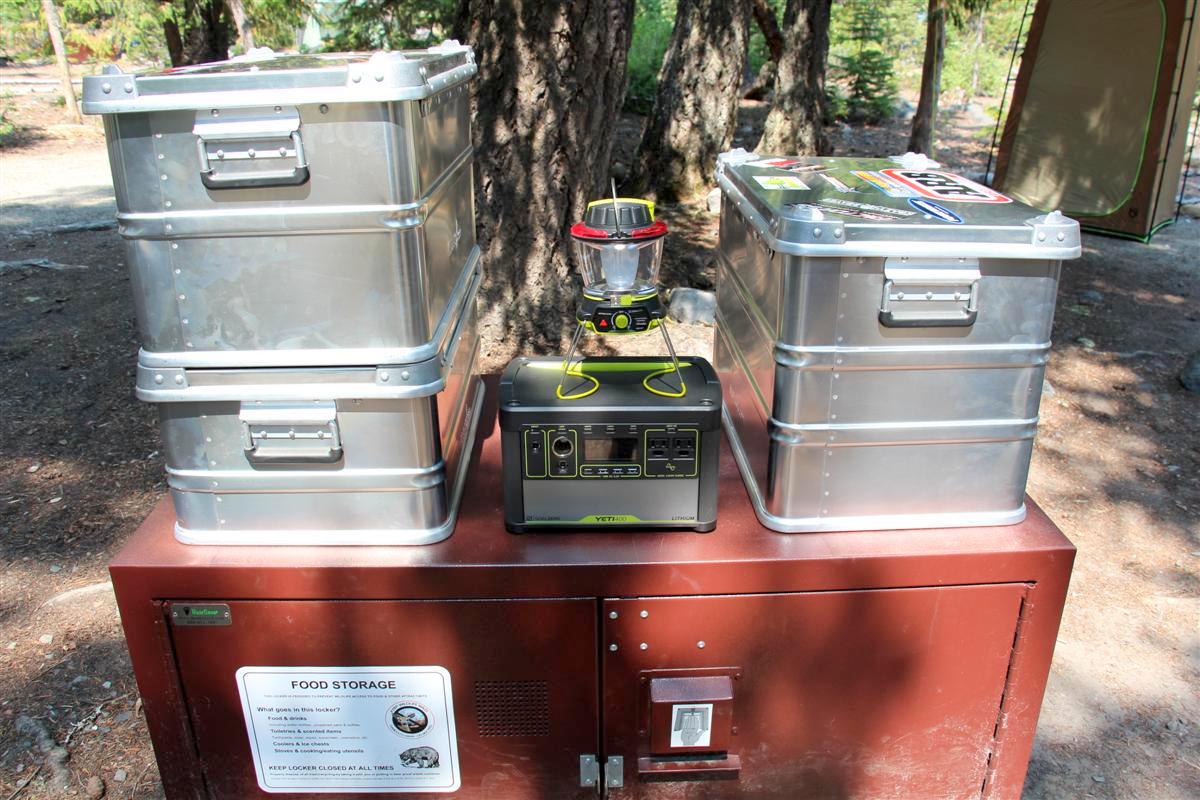 The only Alu-box I had to put in the bear locker is the upper left one, as that contained all the non refrigerated food.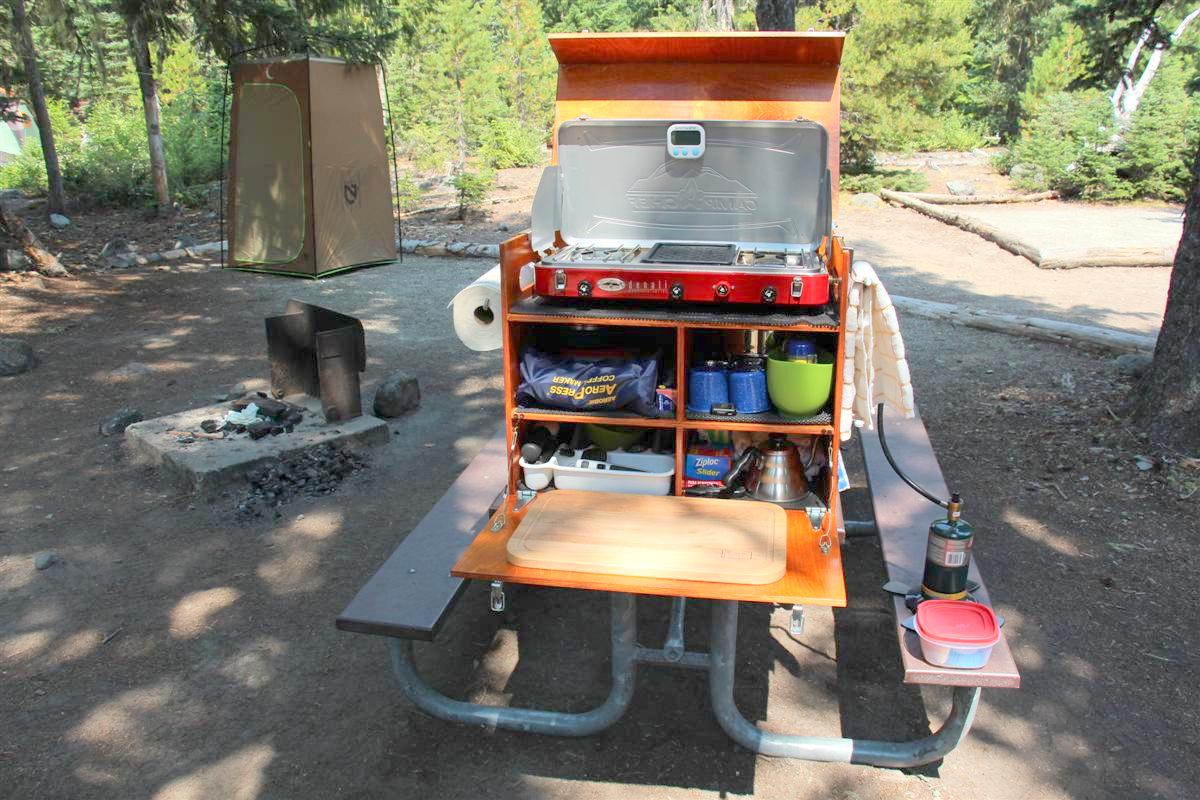 Chuck in all his glory


Chuck is heavy, around 80 to 100 lbs when full.
Part of the weight is from the heavy Magma cookset, I am switching over to a lighter GSI Pinnacle one that I bought and used over the winter at home.
Check sure looks great though, it is nice having everything right there.
There are not too many chuckbox makers on the market that make a smaller wood one, but I have my eye on this aluminum/birch ply one from Kanz, but it is not cheap, but I would not break my back lifting it in/out of the rig, and it takes up a little less room than mine.
Bit since it is smaller, I could not use the nice utensil drawer I have in this one.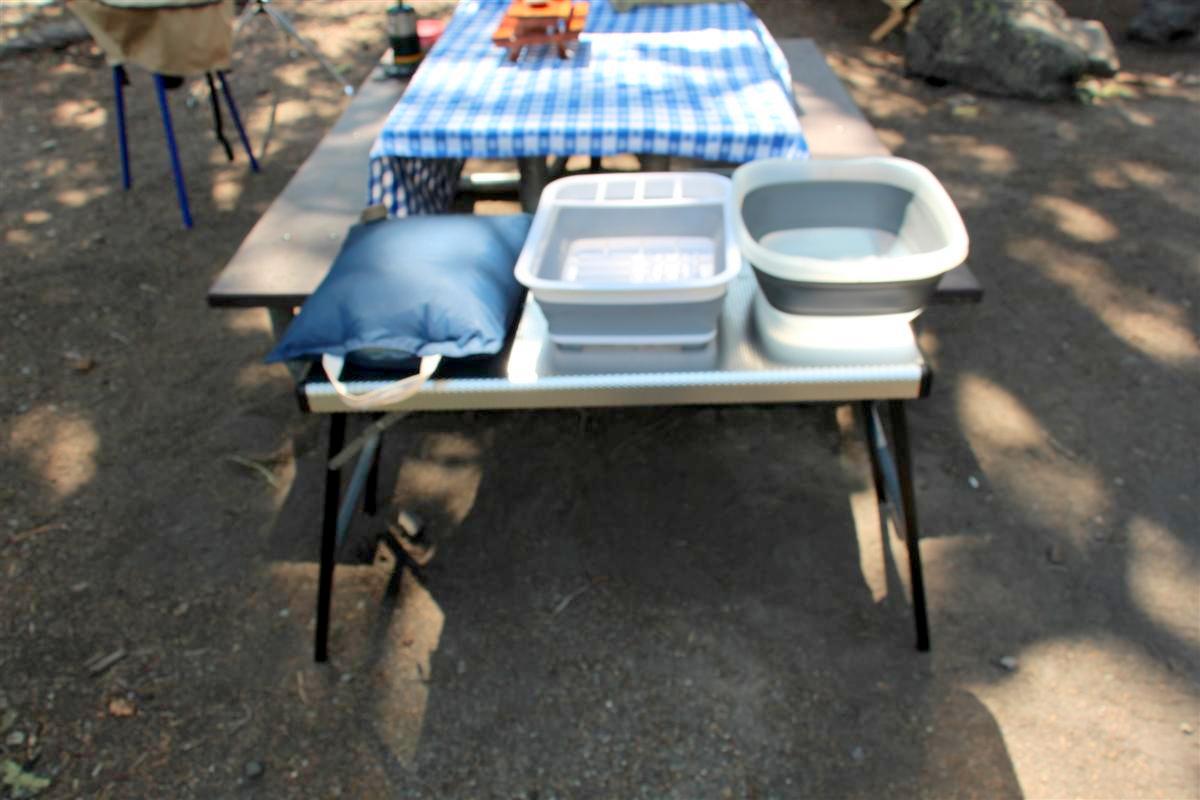 The dishwashing station on top of one of the Eezi-Awn K9 tables, including a collapsible wash basin and drying rack which all three are on my review page.
This was the only picture that I forgot to check the focus on, not the best...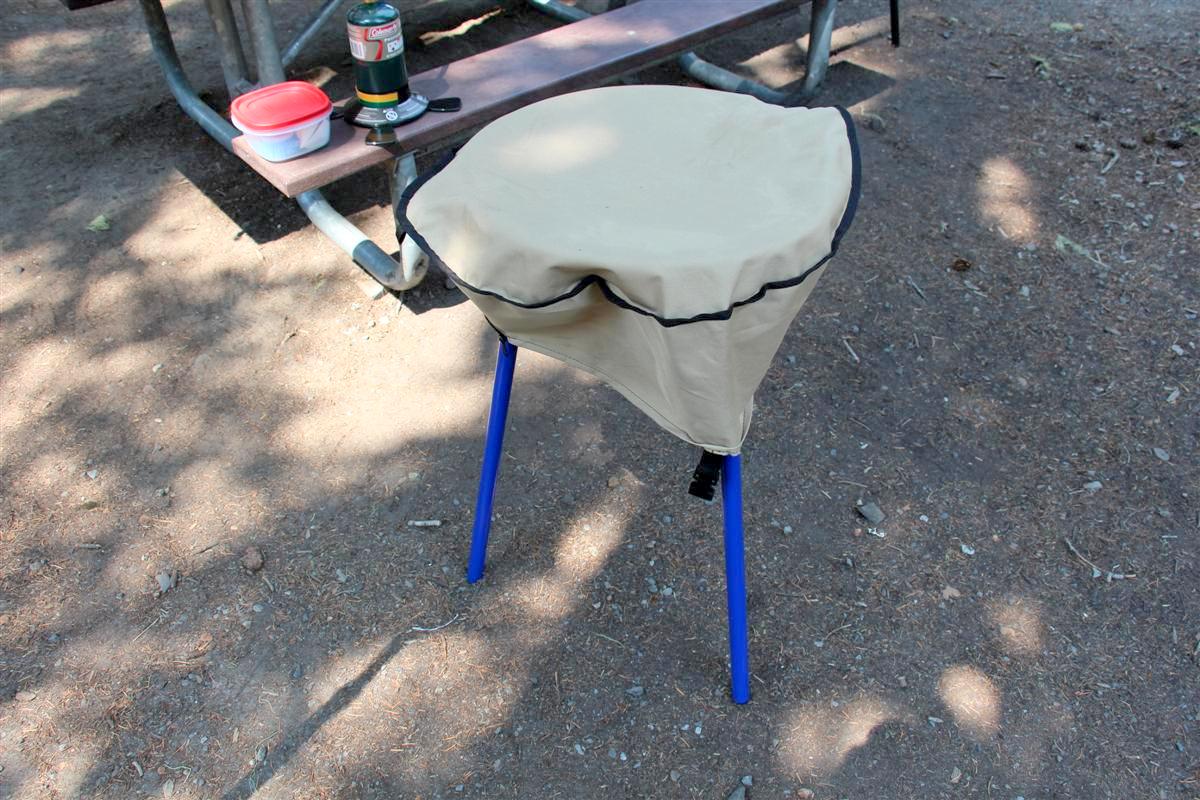 Ah yes, the Skottle.
First time it has been away from home where it gets used just about every weekend.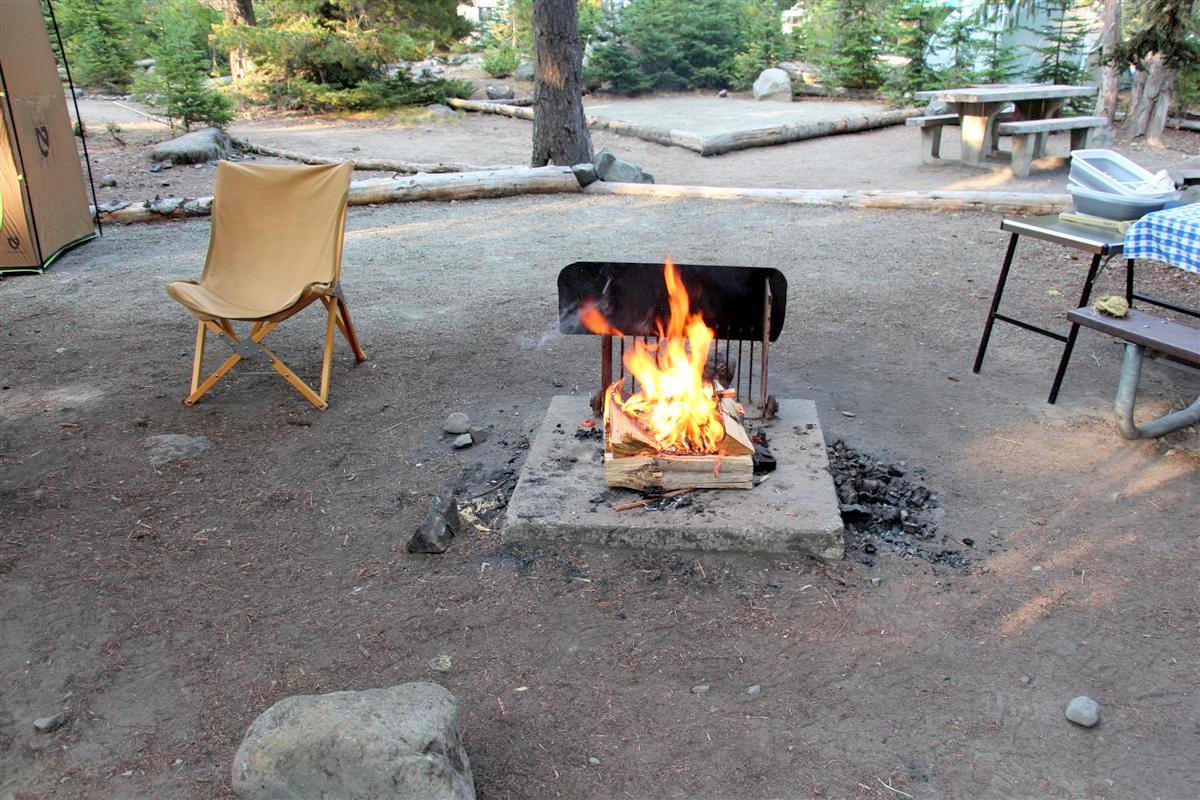 Had a fire each night which was nice, as it just does not seem like camping unless you can burn some wood.
Some spots had a much nicer tub style firepit where the wood would be more contained.
Not sure if they are going to replace all with the newer ones, or they just replaced ones that got damaged over the winter.
This campground at 4,400 feet which is the same height as the base of Crystal Mountain Ski Resort is under several feet of snow during the winter, about upto the top of the bathrooms roofs, or even deeper.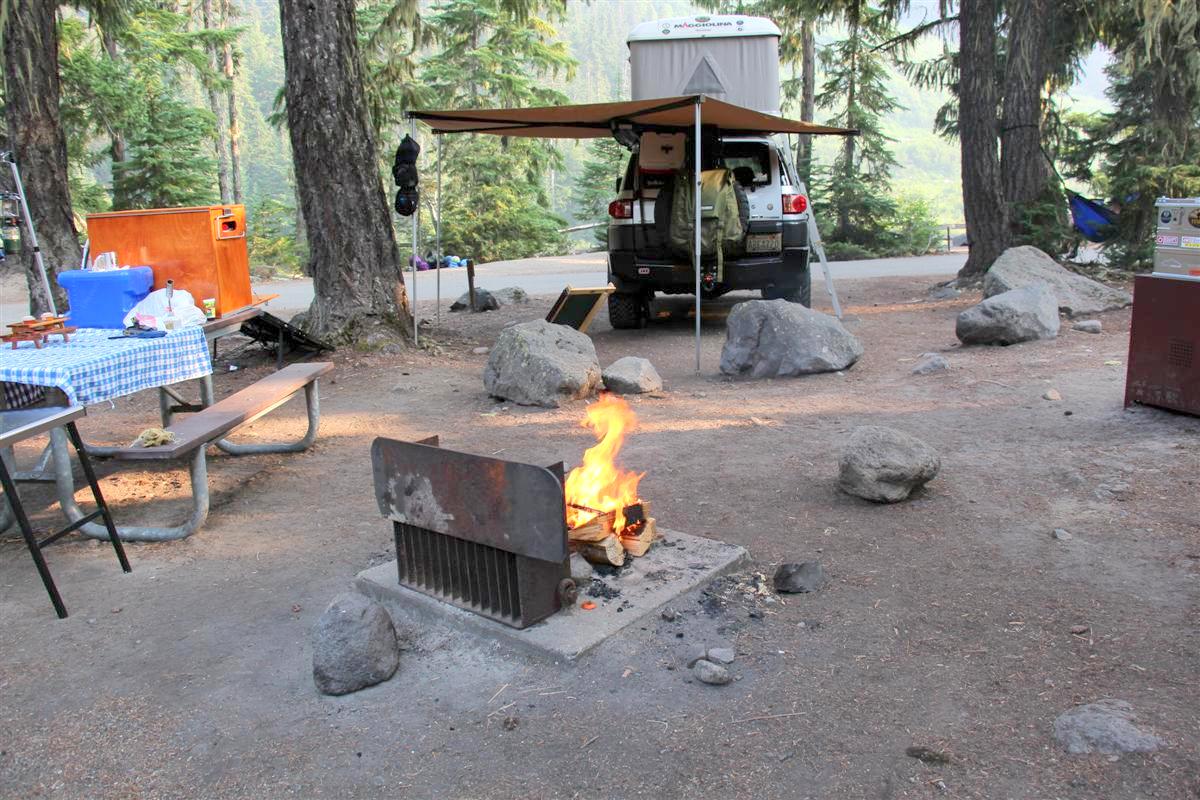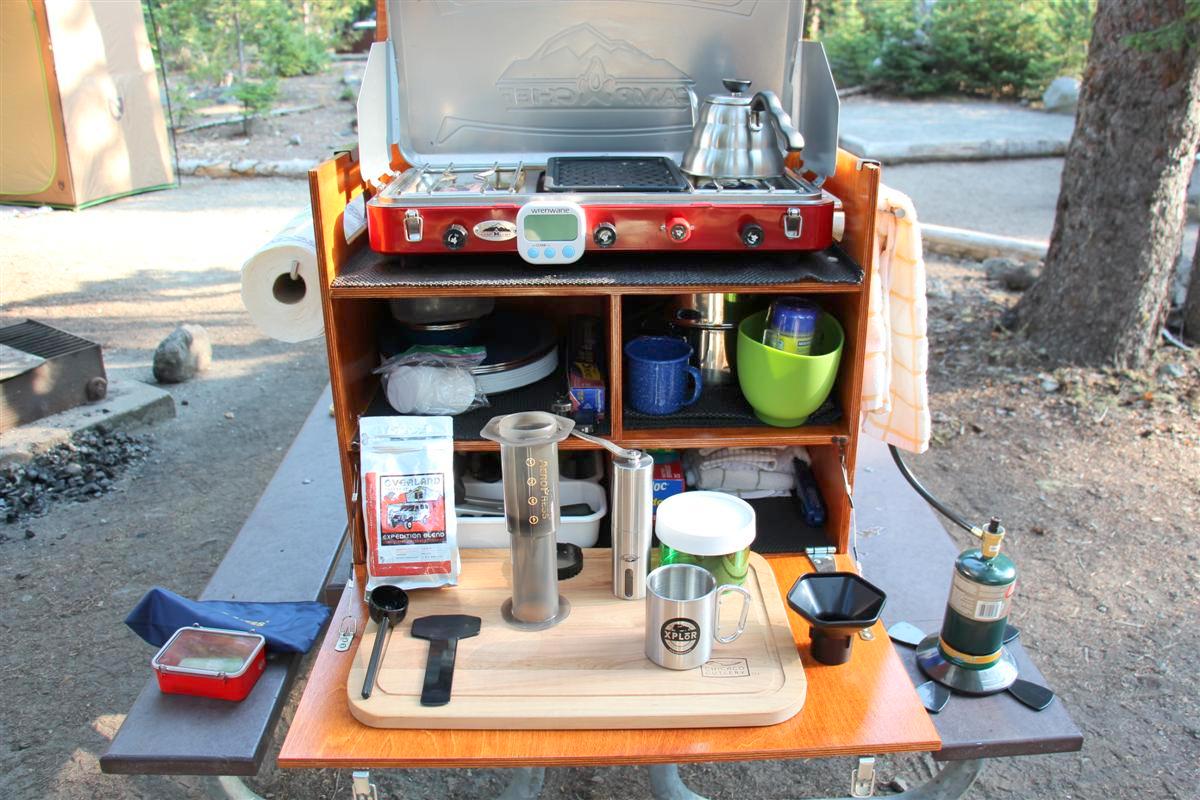 Getting the coffee supplies out.
Fresh ground coffee in the mountains simply tastes better, as well as most food.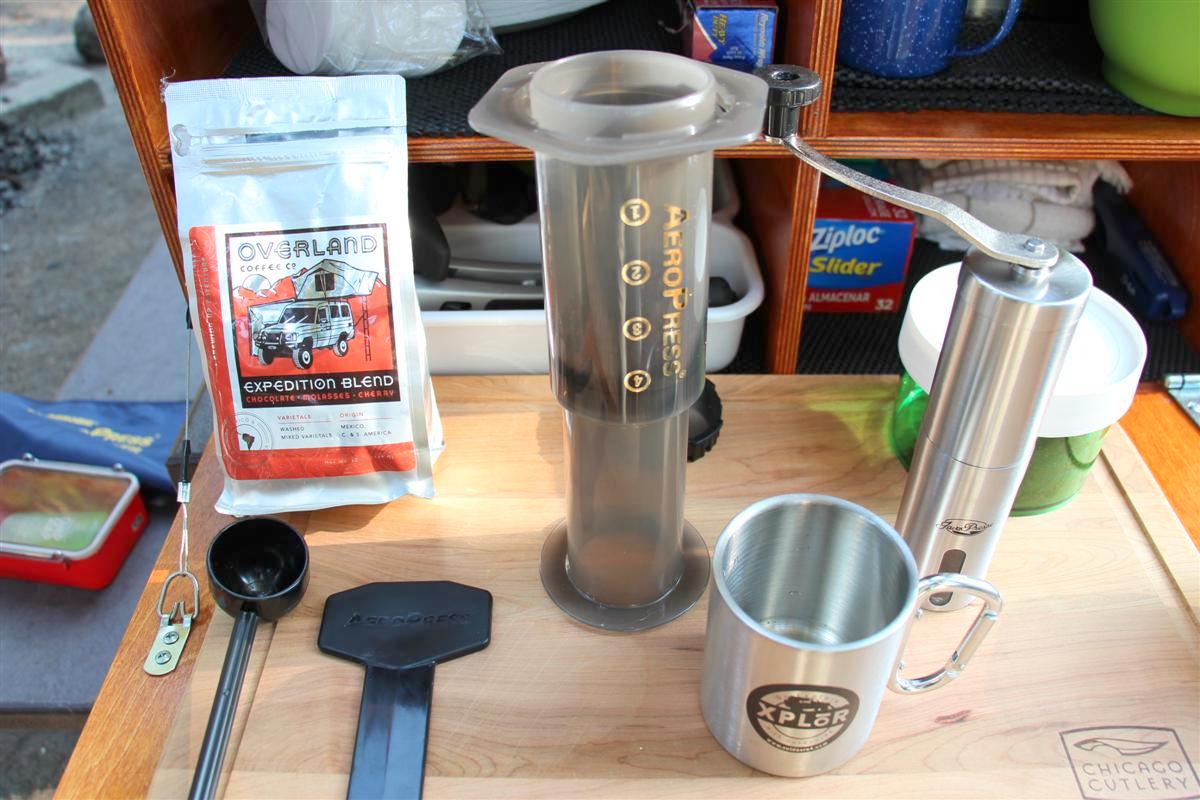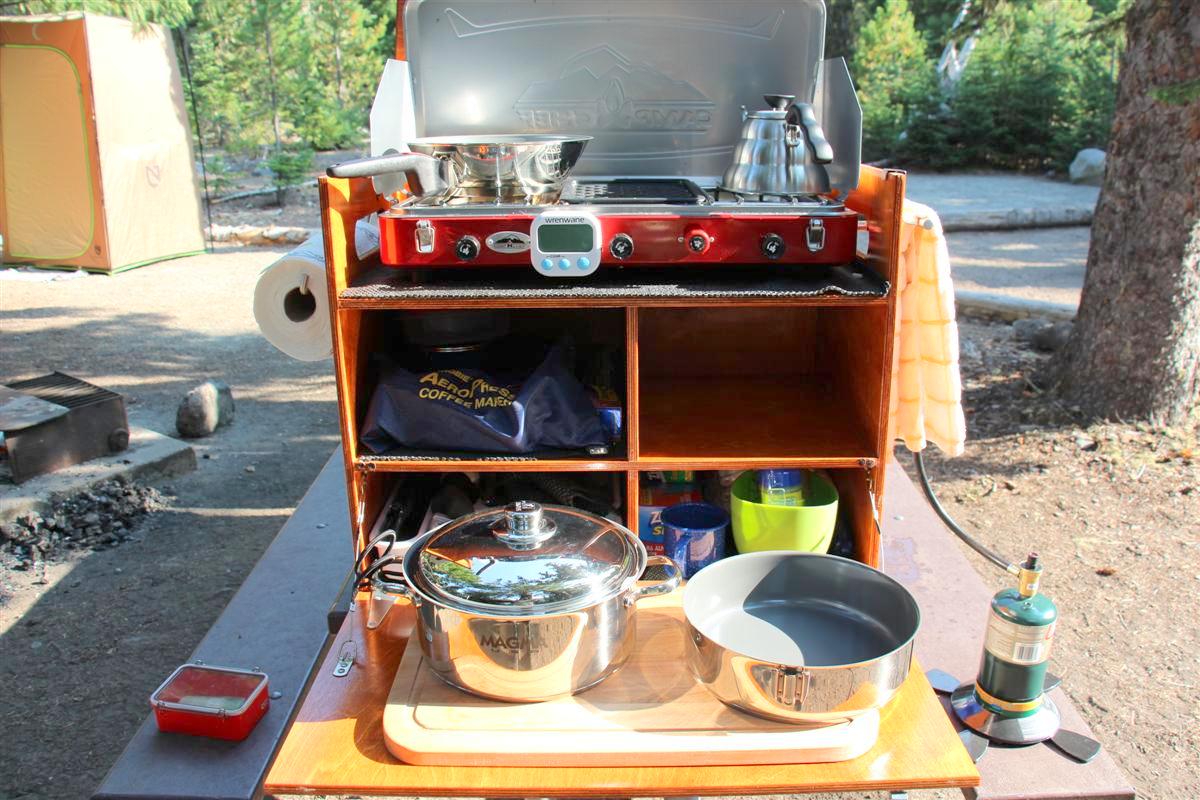 The heavy Magma Ceramic non stick cookset, nice to cook with, but oh so heavy.
Maybe if I get a lighter chuckbox I can justify bringing it again.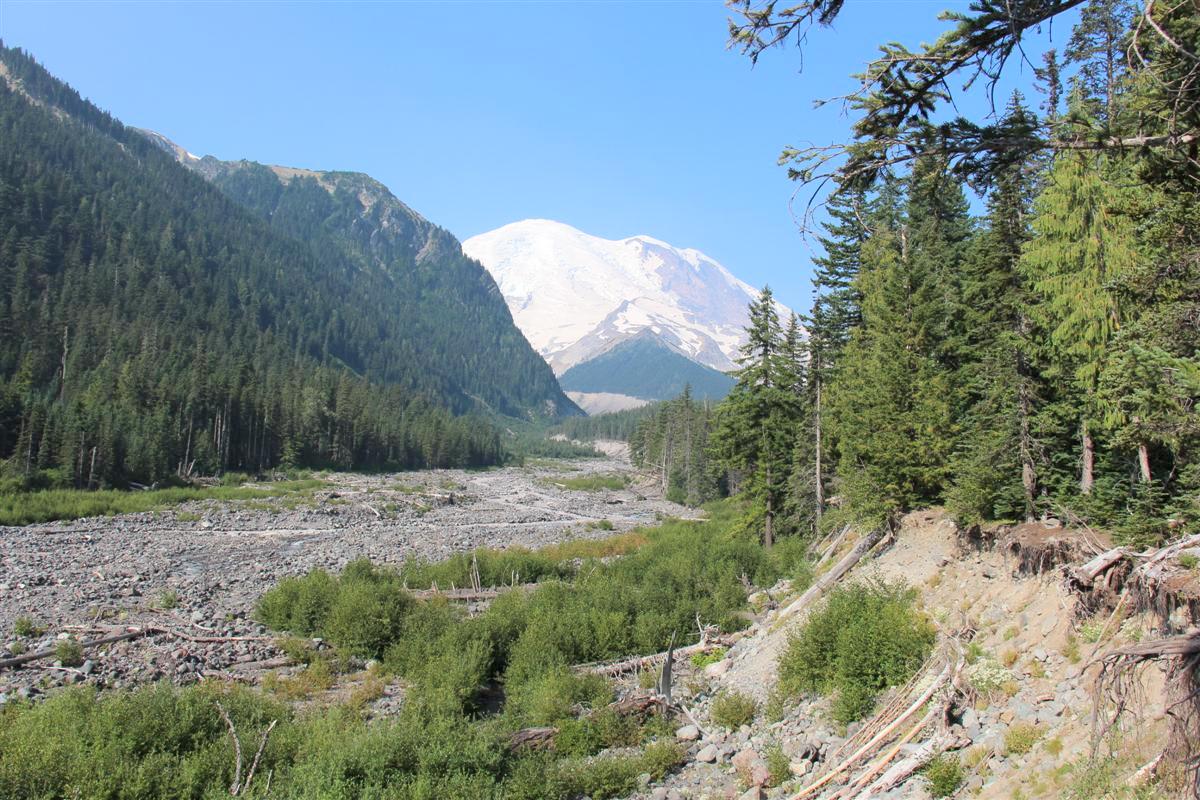 A view of Rainier across from the campsite.
You can see some of the haze in the air from the BC wildfires, on a normal sunny day the sky would be crystal clear.
By afternoon you could not even see the mountain from all the smoke, a big shame indeed.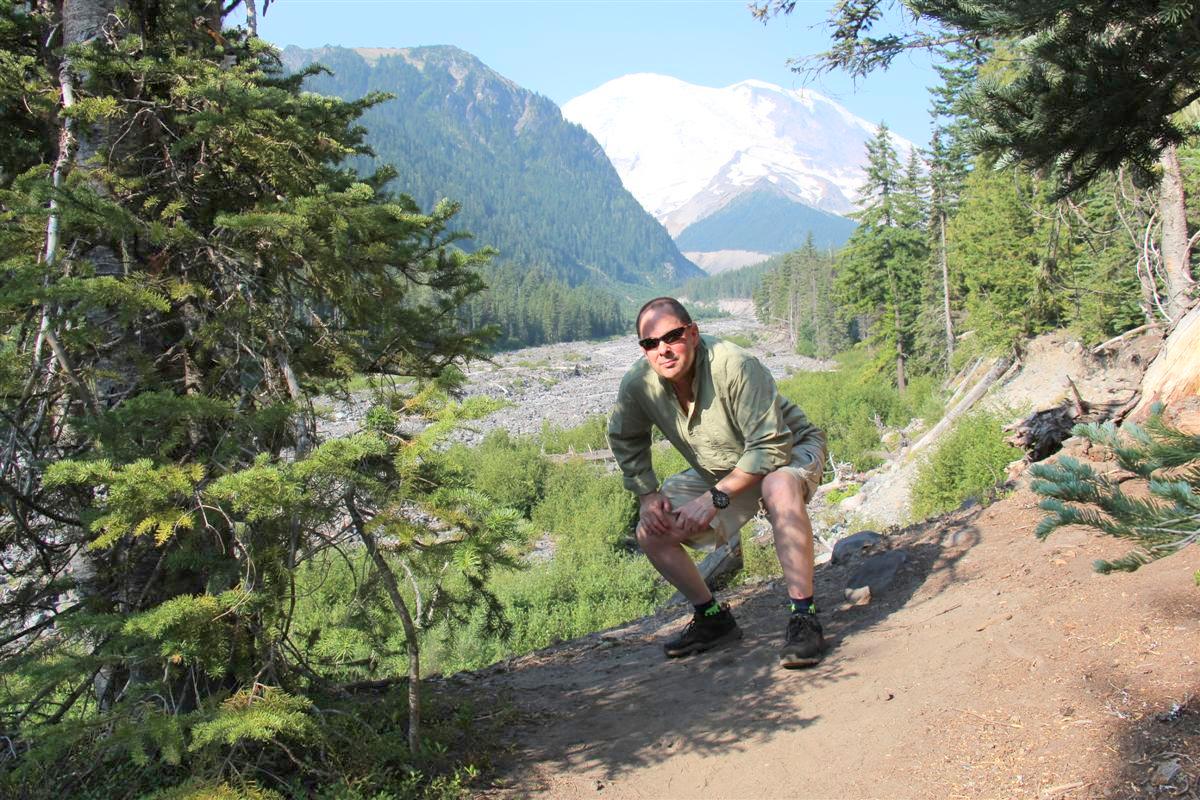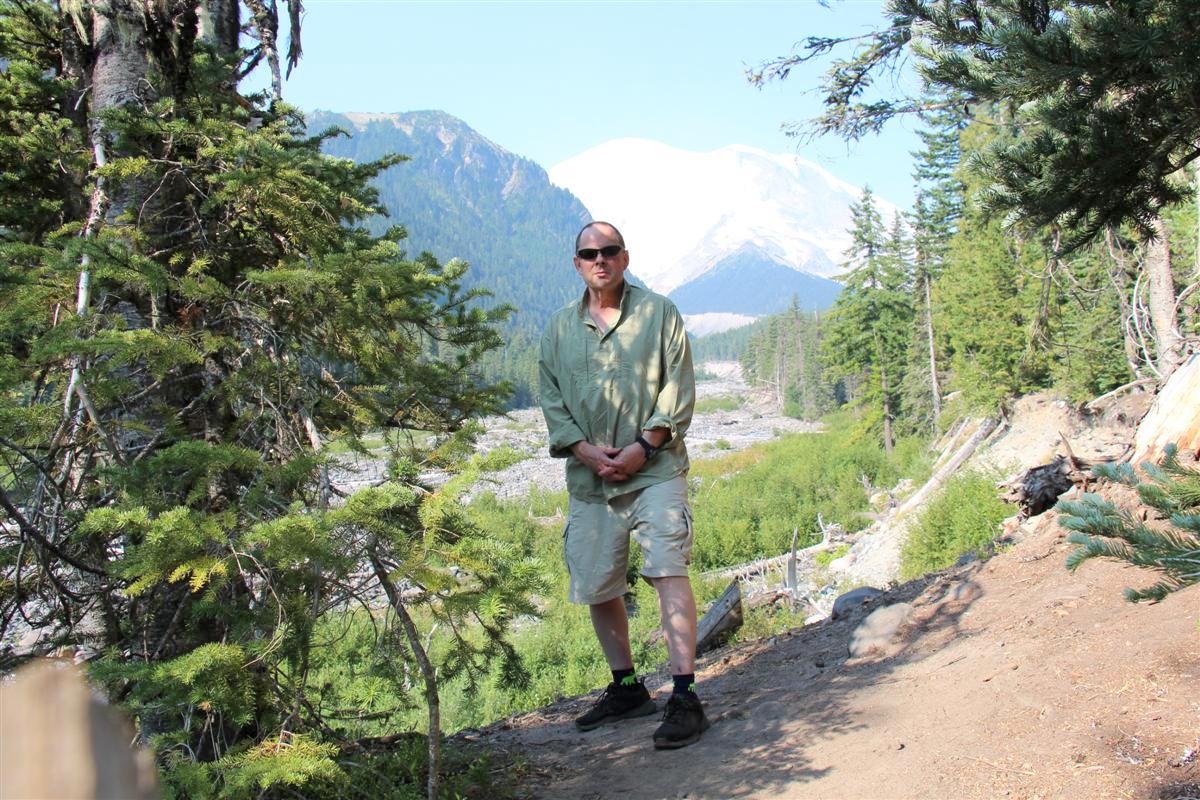 In May I was around 210 lbs, then started walking a lot more for the "Boeing On The Move" program.
I lost a few lbs when camping, not sure why that happens, as I get more walking in at work.
I was 194.2 lbs in this picture, bar clothing.
By the way, that is one of those shirts from RailRiders that has insect shield built into it, and it works!
I hate having my arms covered, but it beats having the nasty little black flies attacking you.
I had to wear a hat most of the time, as they like to land on sweaty heads due to the high temps there.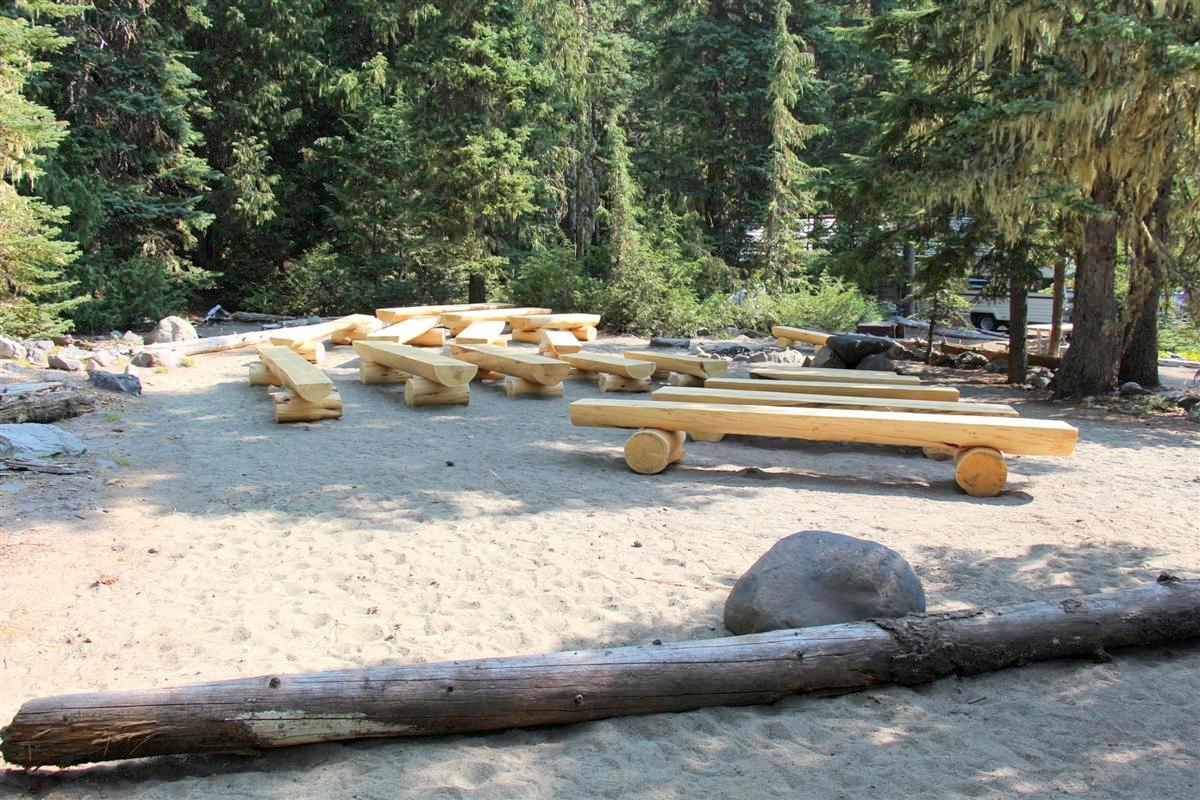 The campfire circle where the rangers put on nightly talks from 7 to 7:40 PM or so Tuesday through Sundays.
They talk about the eco-system there at Rainier, and also about black bears and other inhabitants of the National Park.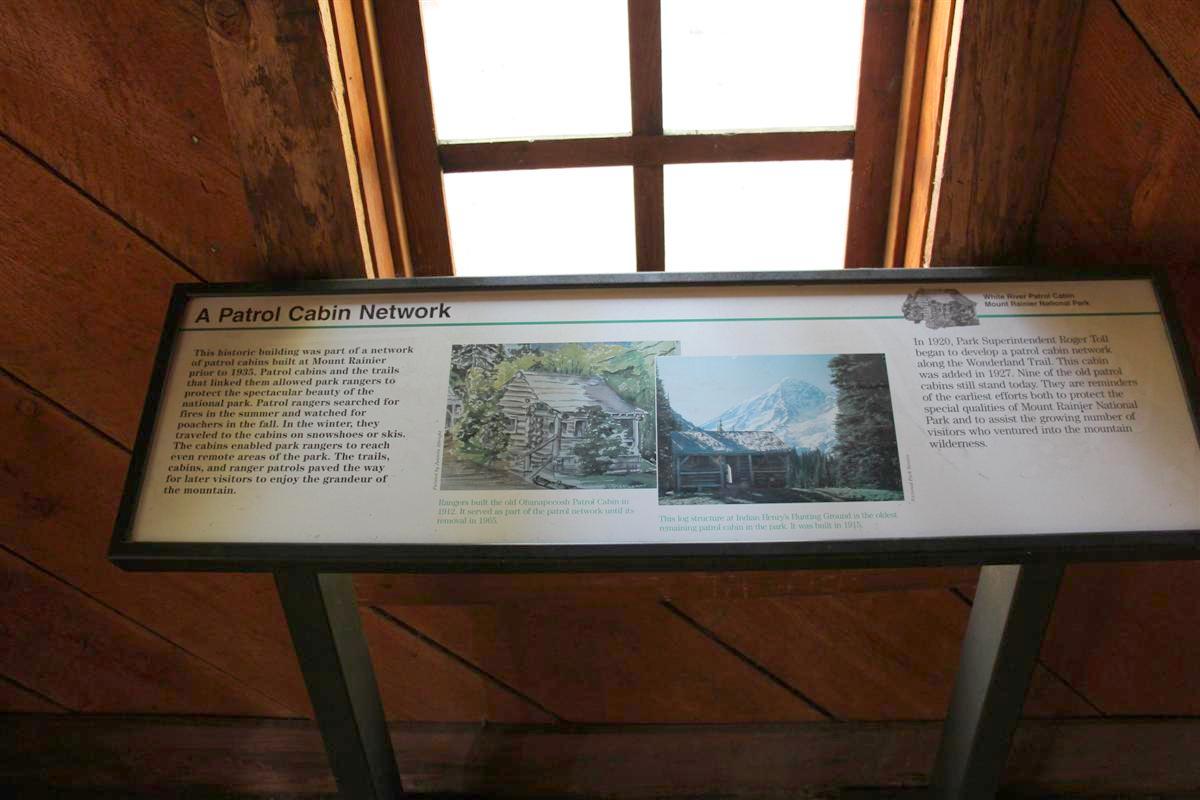 Inside a fire patrol cabin that is in the campground not far from the site that was built in 1935 for rangers to keep watch on forest fires.
In the past I have never seen it open, but it was this time, and there are around four rooms inside of it.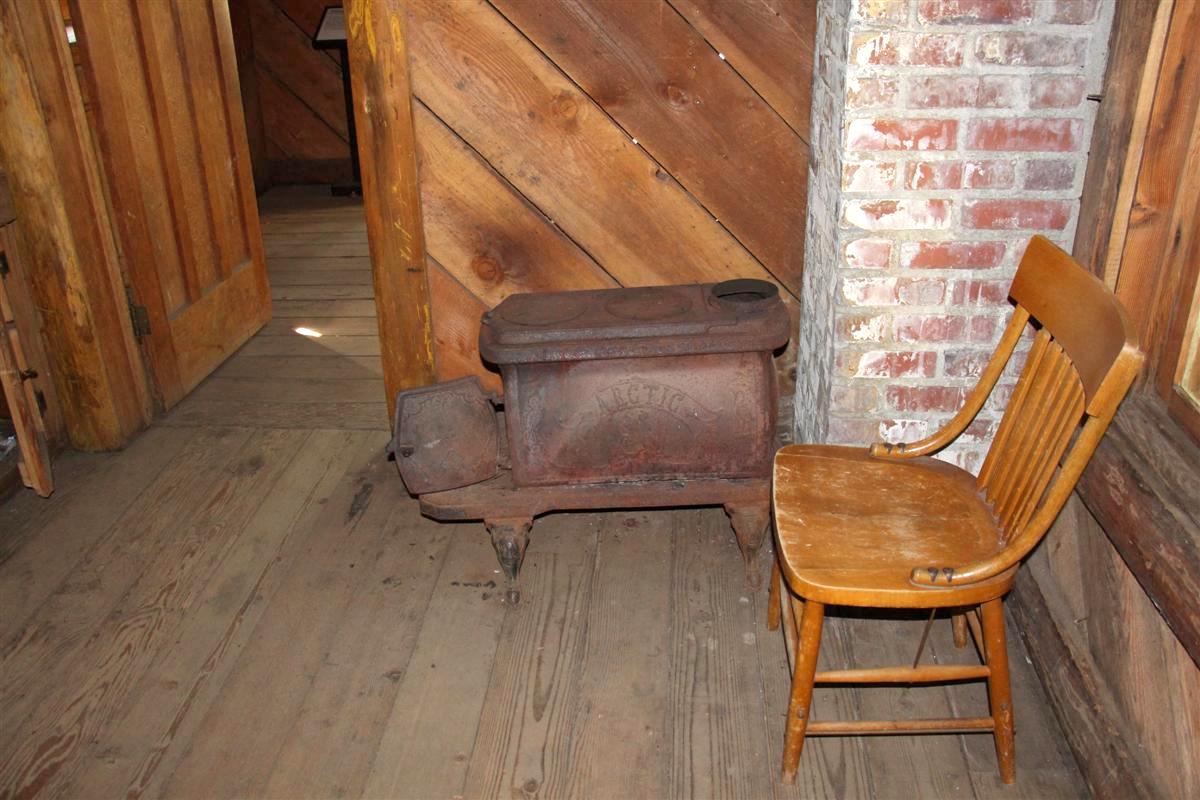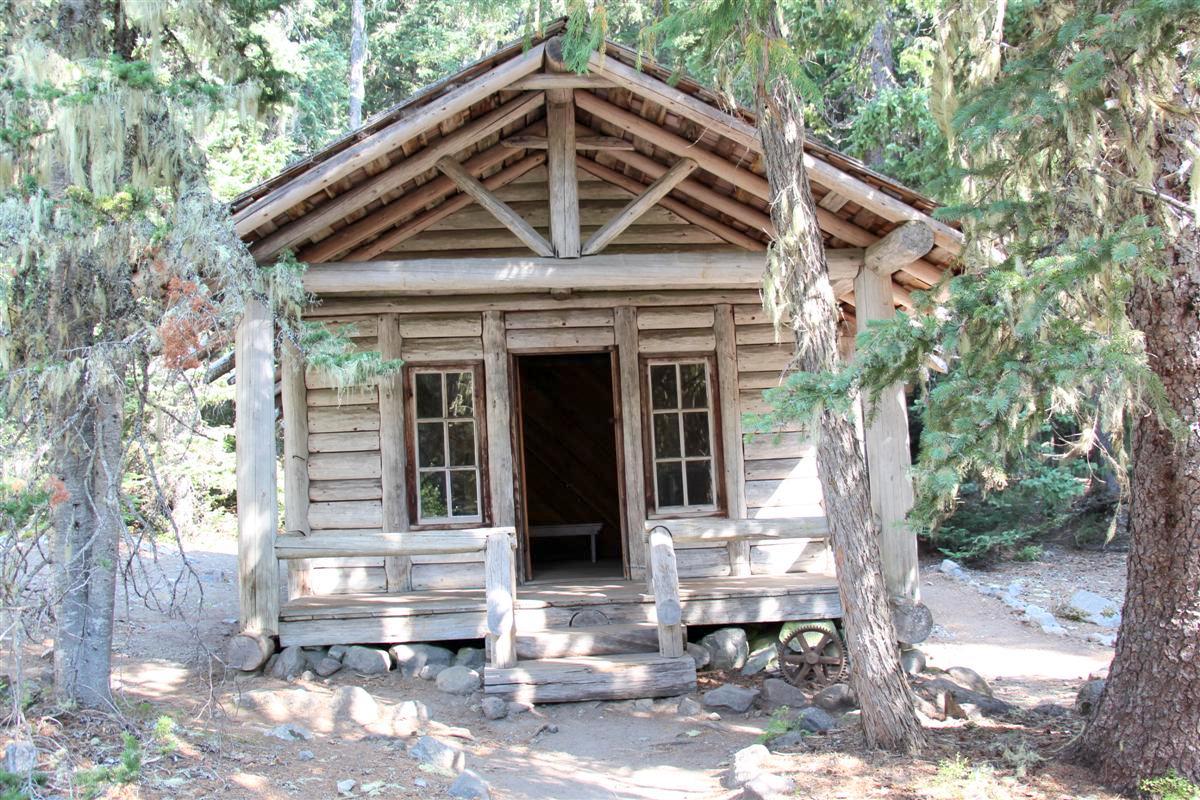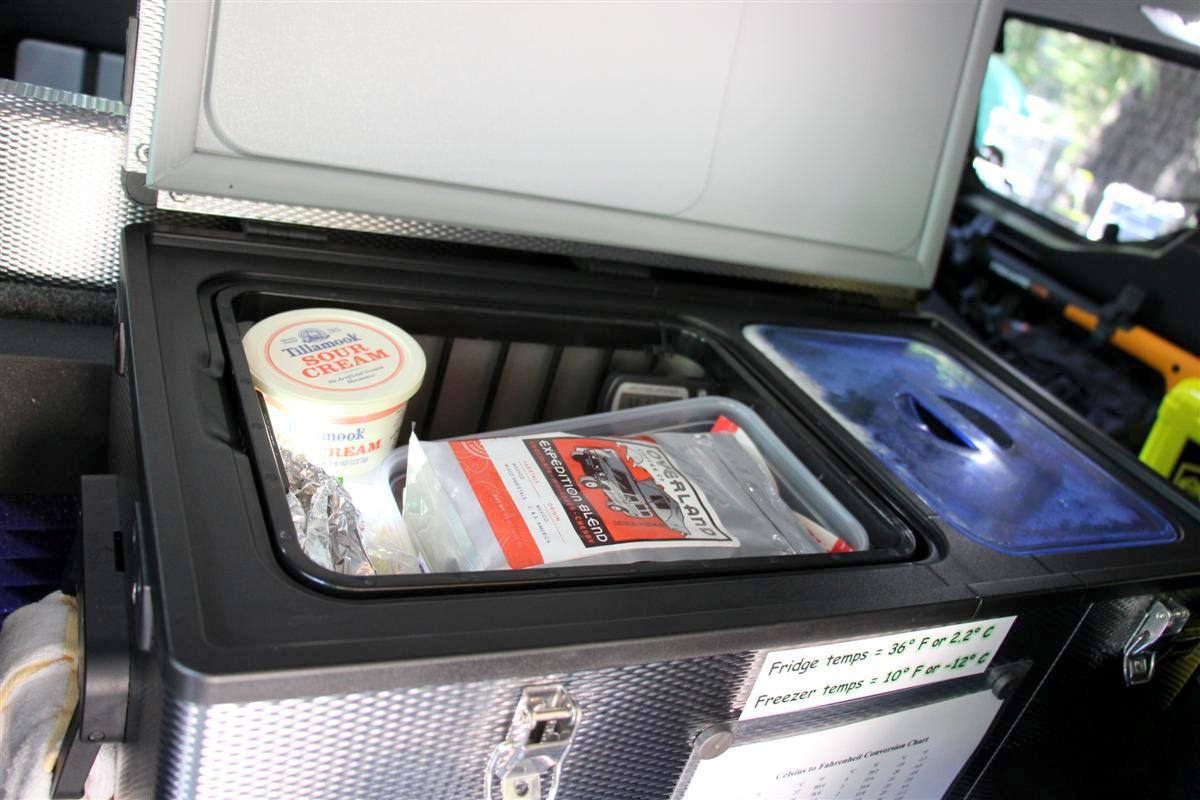 A well stocked fridge and freezer (with ice cream bars) makes for happy camping.
A great upgrade from my older ARB fridge I use to run.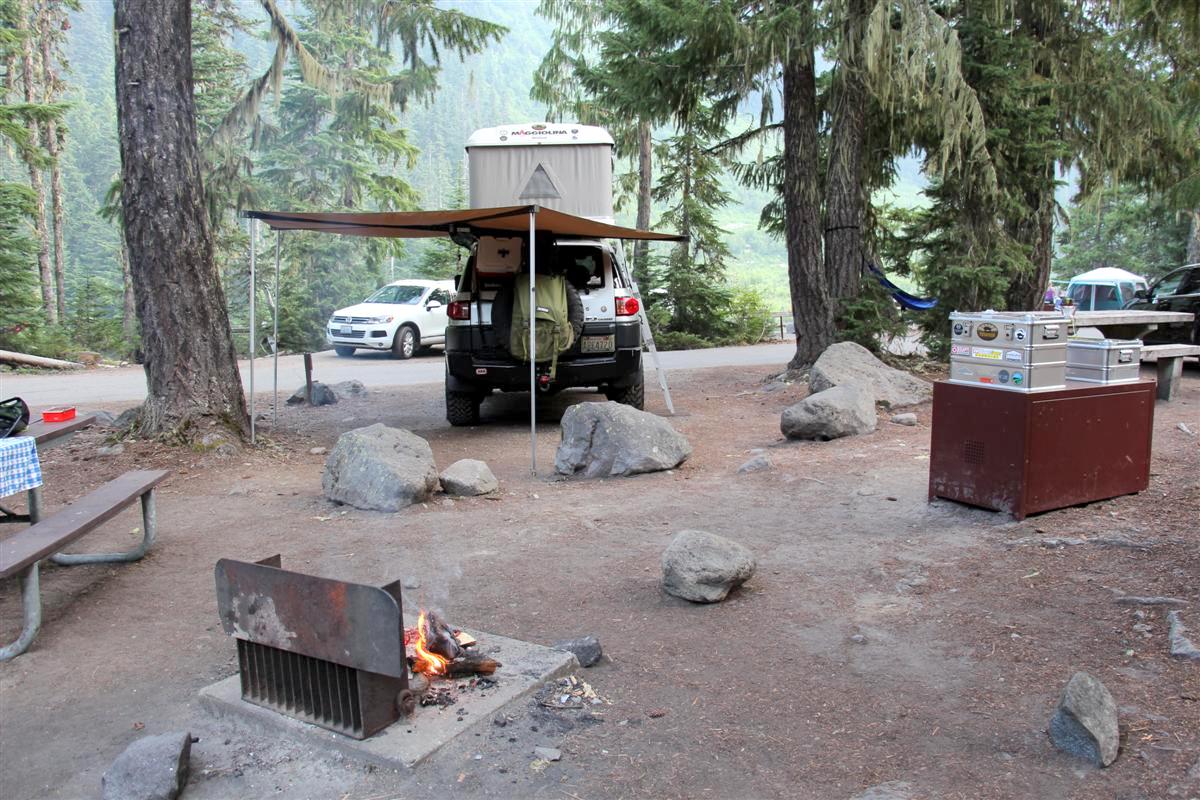 Around 6:30 PM, the sun has moved away from the front, and you can see the neighbors blue hammock strung between two trees.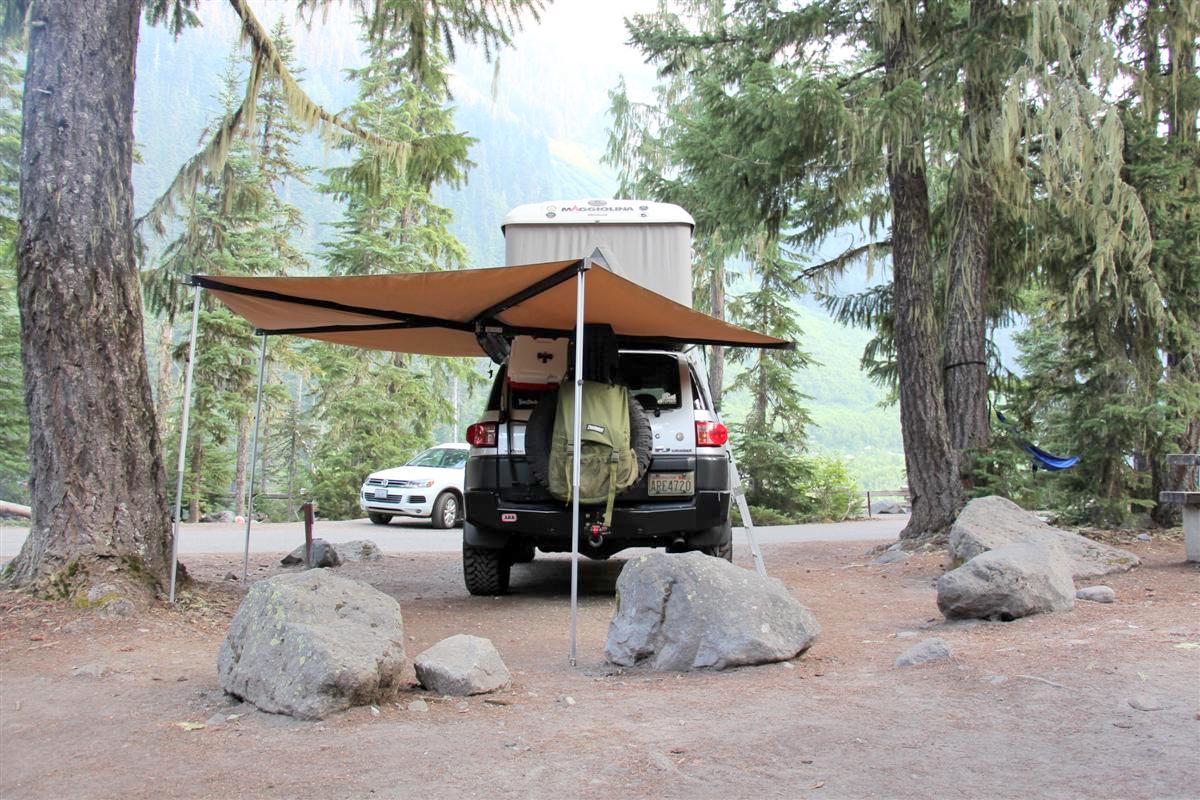 Since we did not do much hiking around due to the heat and poor quality air, this concludes the pictures that I took.
Here are a few videos below uploaded to YouTube below.
The mighty White River below the campground
A quick walk around of the campsite
Zooming in on the mountain, too much smoke/haze in the air from the BC wildfires
Click here to see some of the new gear I have bought over the past year