Greenwater, WA. Snow Run
Forest Service Road 70
(And the gravel pit off of FS 72)
On Christmas break from Boeing, and Jim and I needed to get out of the city to some fresh chilled air and snow.
We had planned on getting up to Greenwater on Friday, but we saw that Garrett had put up a thread on the forum to head up Saturday, and we obliged.
Greenwater has been getting some major snow dumps for the past several weeks, so we thought it was time to go play.
Here is a list of those who attended:
Corey/2007 FJ Cruiser (duh, that be me)
Gabriul/2001 Tacoma
Mytruck/1984 truck (Jim)
Wiebs6/1993 truck (Garrett)
These pictures were taken by me with a Sony S70 CyberShot digicam.
The thumbnails will turn into a 1200x900 picture.
Jim's pictures turned out way better than mine, his Sony digicam rocks!
I need a new one for sure.
You can even see the clarity of his better in the thumbnails.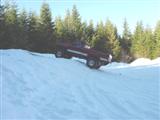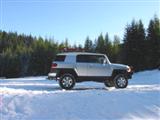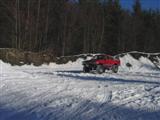 Jim's Sony is a DSC-V3.
I also resized his to 1200x900.
The quality of his are far greater than mine.
Pictures 4 and 5 are for Miss Molly by golly, AKA Lysmachia on most Toyota forums ;)

Jim's pictures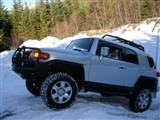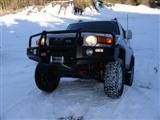 Video
I shot a total of four videos, and then stitched them together with Windows Movie Maker into one 12 MB WMV file.
I signed up for You Tube at last, and the video is on their site now.
You can view it in the player on the page, or click the button there to watch it full screen.
Click here for the video.
I will also try embedding it here to see if it works.

---
Summery of trip
After we got up to Greenwater and turned off on FS Road 70, we played in the gravel pit for a bit.
Lots to do in there as always, weather it is summer and dusty in there, or winter weather like today with lots of snow.

Got to use the winch on the FJ for the first time, and also used the Ramsey Remote Control that I installed a few weeks back.
It use to be on the 4Runner, and is a nice addition since it is easier to use than a corded remote.
You can see in the video the winch doing a small rescue ;)

Later as we headed back down to go further up 70, we heard some other Toyota owners on the CB.
Turned out we knew them.
Shane had a full size truck towing his SAS'd 1986 Toyota truck.
The other member I can not remember his username, but his first name was Chris, and he to is a member on YotaTech and WATTORA, Washington states TTORA chapter.
He had a blue SAS'd 2nd gen 4Runner.

Jim and I left to go play on some easier stuff while the rest all aired down and left to go find some really deep snow.

Jim and I are both on the semi sick list, so we had not planned on staying up there for more than a few hours.
We just wanted to get out of the city and let our rigs stretch their legs in their natural environment.

The rigs did great in the snow, and the FJ Cruiser really impressed the heck out of me in the snow.
I did not slide around one bit in it unless I goosed it and really tried to slide.
Even got to put it in 4low trying out both the E locker and the A Trac system to go up a obstacles in the snow that were off camber.

Could not have asked for better weather up there either.
The sun was out and very bright, and lots of fresh snow form earlier in the week.
The average temperature up there was a cool 28 degrees.

With the new addition of my OME lift, ARB bumper, and winch, I am carrying a lot more weight on the rig.
The rig handles a lot better on the windy highway leading from Enumclaw to Greenwater since the suspension is tightened up, but still it handles like a top heavy SUV on that particular road.
The FJ is a short wheelbase rig, tall, and that all adds upto a rig that you have to be careful of your speed into turns up there.
I think with the Hi-Lift jack on the roof that makes the center of gravity thrown off that much more, so I will be contacting Luke at FourTreks to see if he has the modular rings big enough to go onto the front of the ARB bumper.
Carrying the Hi-Lift on the front of the ARB should make the rig a little more stable in the turns on that highway.
That highway gets a lot of abuse, and is not level in many places.
---