Welcome To Corey's FJ Cruiser Page Of Mods
Page Two
Toyota High Pitched Second Horn
Installed 11-14-2006

The FJ Cruiser as many other Toyotas comes with a week single horn.
However Toyota has an optional horn available for the rig, and it is pre-wired for it.

In a wire bundle under the hood is a plug that is hidden under some thick black tape.
You just undo the tape and inside is another wire with the plug on it.
You have then cut away a small piece of gray tape to undo that wire from the bigger wire bundle.

The whole mod takes less than 5 minutes from start to finish.
Step One:
You free the plug, take your new horn and plug it in.
Step two:
Take the new high pitched horn and the included bolt and bolt it to the hole on the inner fenderwell.
Piece of cake!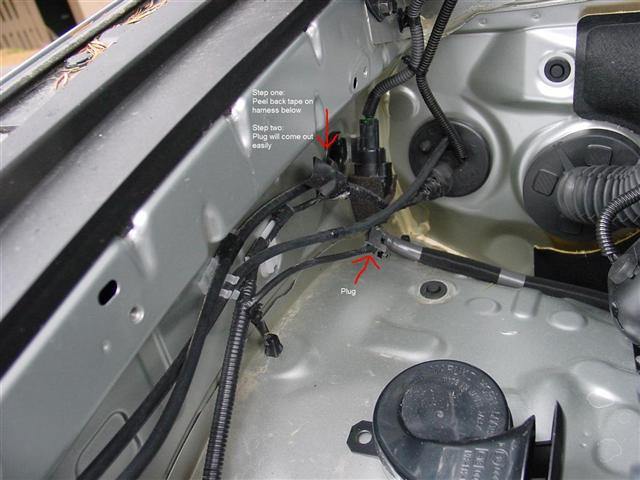 Here is a cheesy 2.5 mb video of before and after the new horn installation.
Adding the second horn really wakes it up and hopefully will wake up rude or asleep drivers too.

Parts used:
From FJ Cruiser Off Road Gear Store (TRD Parts 4U)
High pitched horn part number 86510-60240
Bolt to mount horn part number 90080-11545
---
Roof Rack Flag Mount
Installed 11-20-2006
I was not happy with my 7' Firestik flag pole I had mounted to a trailer hitch to use in the future if I get into running some sand dunes.
There was to much sway in it.

I saw this posted by member BDFJ, and I got in touch with his friend who designed this.
He signed up on YotaTech, and his member name is mschradercnc.
If you would like one of these flag mounts, you can contact him there.

From the ground to the top of the mount with the heavy duty CB spring on it, it was around 6'10".
To be legal in WA. and OR. state when running sand dunes, your flag must be about 9' off the ground.
I cut down the 7' pole to 30", that leaves me a little over 9' tall.

I am using a quick disconnect CB antenna mount similar to what I have on my 4' Firestik II CB antenna.

The first picture below shows his mount and the supplied screw.
That is what you get.
The other stuff on the right side of the picture is 1/2 of my quick disconnect mount, a lock washer to go under the spring, and a bolt.
The other half of the quick disconnect you can see in the third picture at the bottom of the black pole.
The quick disconnect lets you push down and twist to take off the flag pole, same as my CB antenna when you do not want to have it on your rig.

When putting the bolt into the bracket, Mark designed it so you do not have to use a wrench.
The bolt fits in a groove and is held in tight.
You just tighten down your spring, or if not using a spring, the pole.

This is really a cool mount, and a lot less sway than using a long pole.
It also frees up your trailer hitch to have a recovery shackle in there instead.
This mount is made for a 1.75" round tube such as the FJ Cruisers round tubes on the rack.

Mark has some other cool stuff in the works for the future, so stay tuned to the YotaTech Forums, and my build up thread in the FJ Cruiser section.

The flag I had made by Devil Woman Flags, a vendor on YotaTech.
You can get just about any artwork of yours made into a flag, and she also has custom flags already made up to go.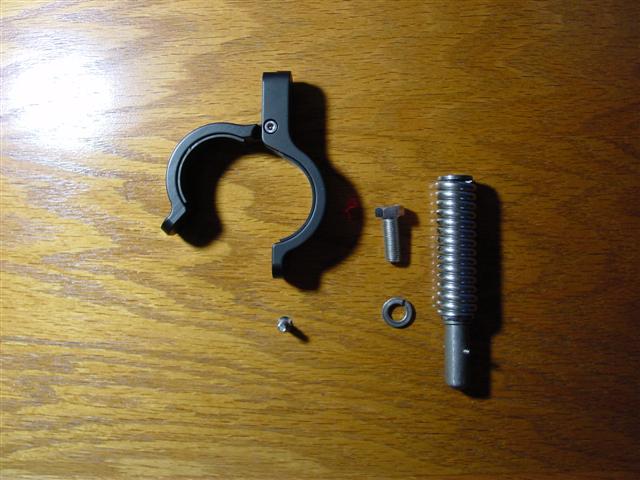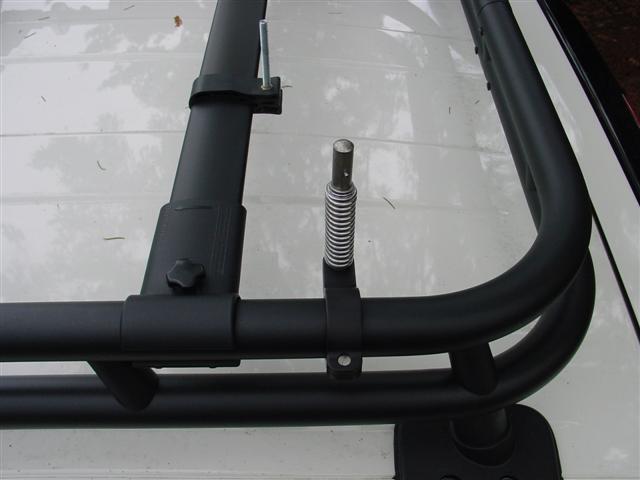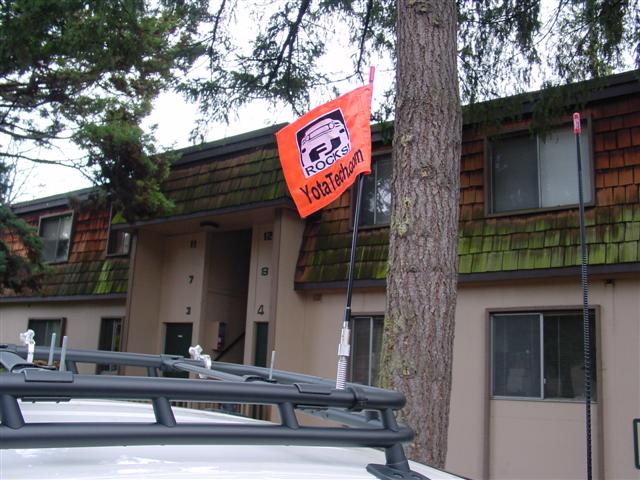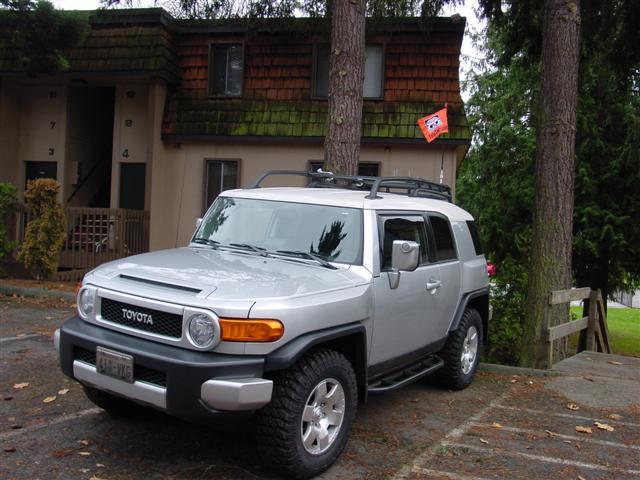 ---
ARB Bumper, IPF Fog Lights, OME 3" Lift, And Warn XD9000 Winch, Wheeeeeew!
Installed 12-05-2006
Finally got all the hardcore stuff installed at the shop.
ARB, (A Real Bumper) OME 3" lift, IPF fog lights in the ARB, and my old Warn XD 9000 winch from the '91 4Runner.
Have not wired up the fog lights or installed the dash switch yet.
Why did I go with the ARB bumper when there are others out there too?
ARB has been in the business a long time, and their products are air bag compatible, and I really liked the quality of my old ARB on the 4Runner.
The bumper is top notch material.
For the OME lift I have:
Front 886 coilovers, N140S struts
Rear 895 coils, N141 shocks
The Old Man Emu is a proven lift, and from all the FJ Cruiser owners I have conversed with, they are extremely happy with the setup.
The Warn XD9000 winch is a workhorse, and perfectly suited for the FJ Cruiser and other Toyotas.
It has enough capacity to handle any situation.
I want to thank Phil and company at TRD Parts 4U, they are an ARB dealer, and great to work with.
I have ordered quite a few things in the past for the FJ Cruiser from them, and the pricing is very good.
In the near future I will be installing my Ramsey Wireless Remote for the winch.
I ran that on the 4Runner, and it works great with the Warn winch.

I will get some better pictures of the whole setup and replace these with some off road pictures as well.
The weather here has been crappy, so some better pics will come of the suspension and bumper later on.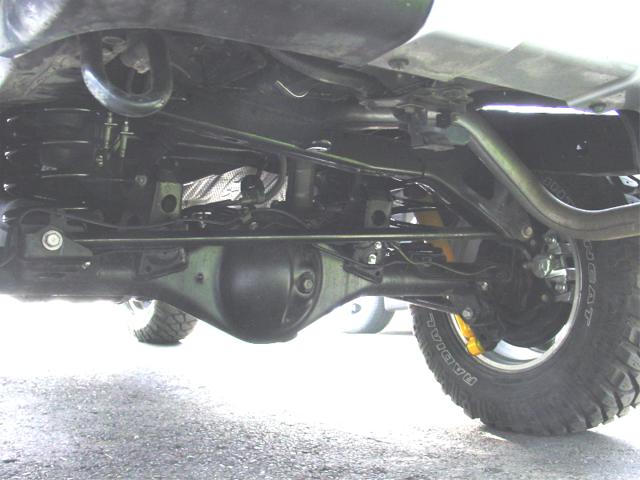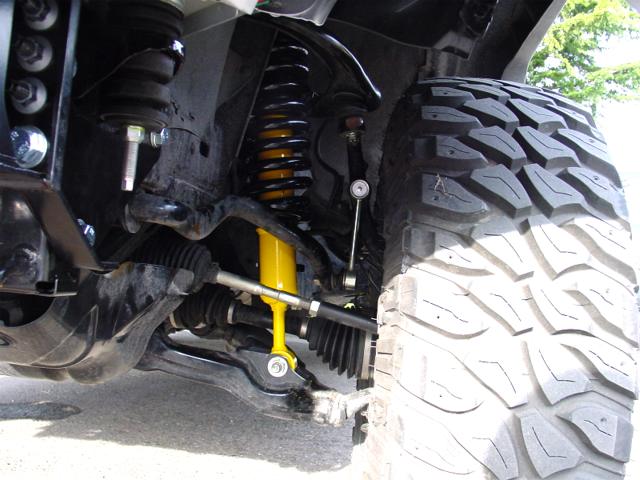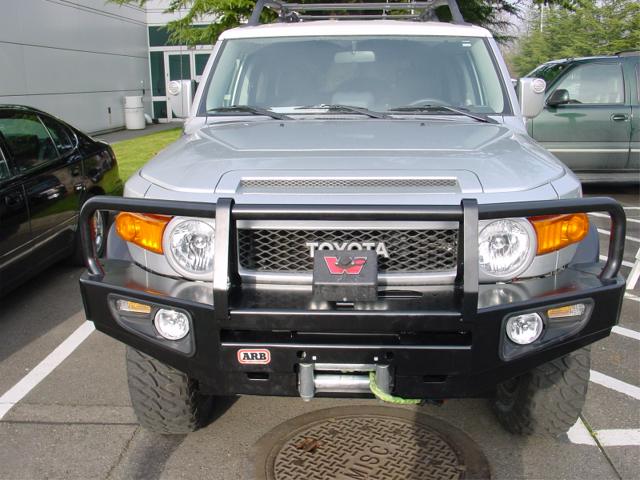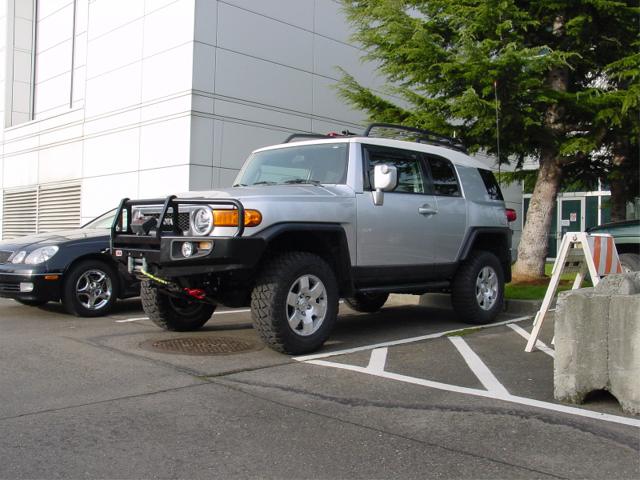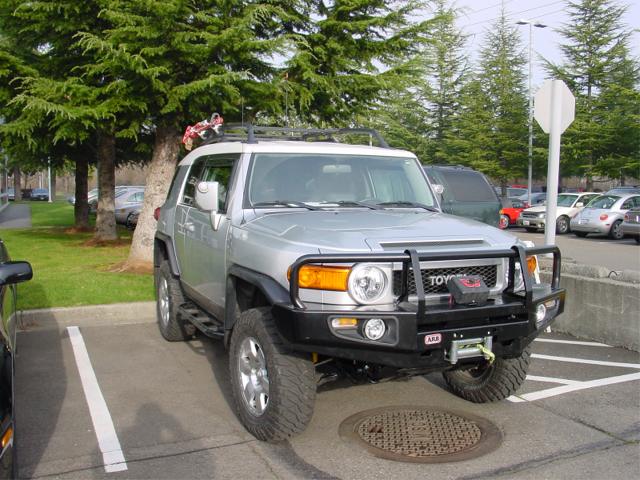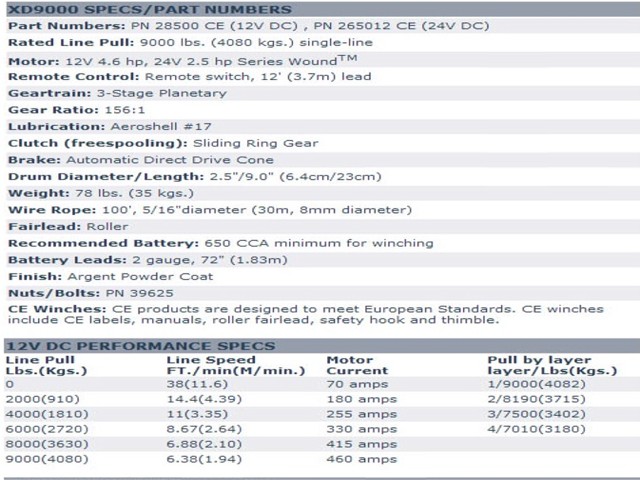 Parts used:
From FJ Cruiser Offroad Gear Store (TRD Parts 4U)
ARB bumper and fog lights
OME suspension
Warn XD9000 winch
IPF fog lights and in dash switch, call them for info at the above sites.
---
Panavice Dash Mount And Panavice Portagrip 2000 Mount
Installed 12-13-2006

You can use this mount for your iPod, cell phone, or a GPS.
I already have a very nice iPod mount, but it is kind of in the way of my A Trac and E Locker buttons.
I may move the iPod up above now, or use this for a GPS mount depending if I can get a signal there or not.
Very easy to install.
1. Take off the plastic wing with one screw at the bottom of your stereo dash and pull it off.

2. Take the small metal piece and put it under the screw on the right or left side of the radio bezel, depending on which side you will mount it.
I chose right side.

3. Put the dash plastic wing back on again.

4. Use the two small acorn nuts to put the rest of the Panavice mount to the smaller piece.

5. You can pre-mount the PortaGrip to the backing plate first like I did.
It will be much easier this way.
You can also use a wide variety of cell phone mounts, it just happens that I am trying out the PortaGrip one.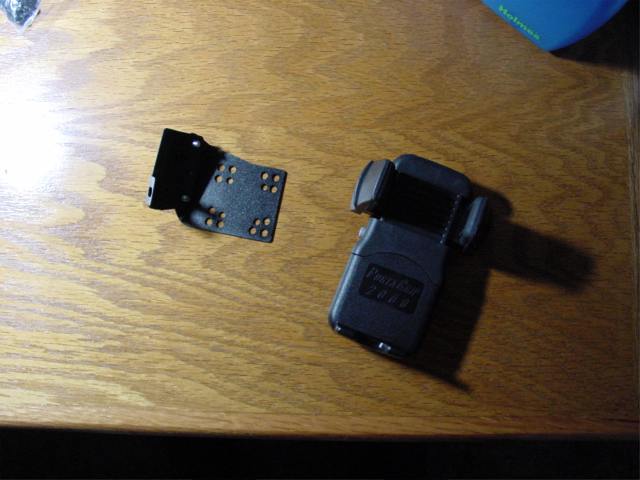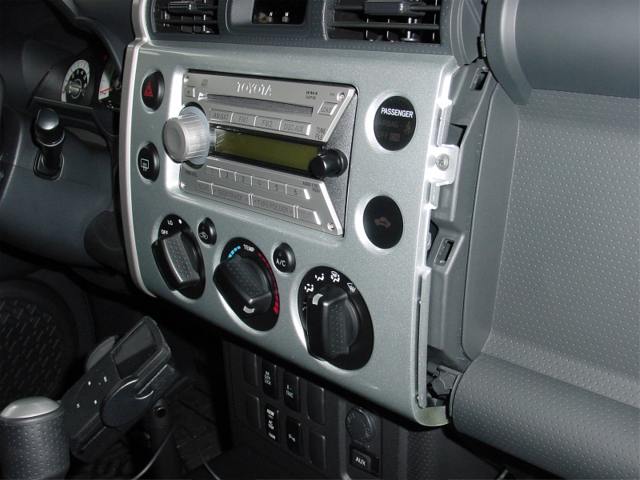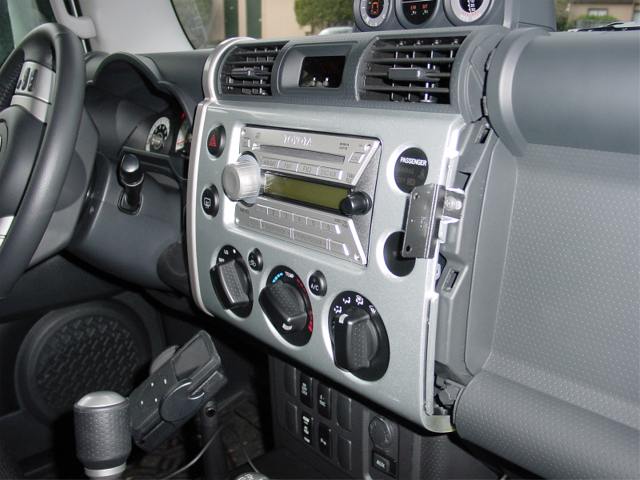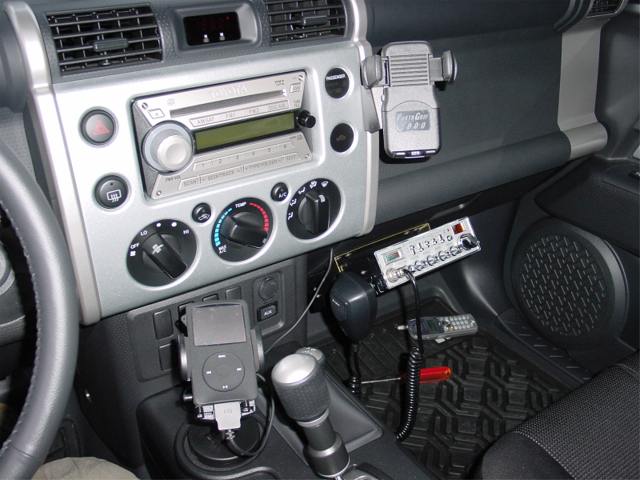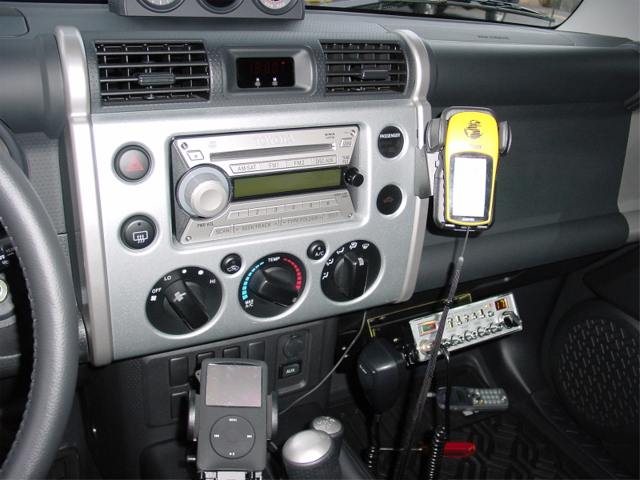 Parts used:
Panavice FJ Cruiser mount # 751372007
Panavice PortaGrip mount #702
---
Inchworm E Locker Guard
Installed 11-21-2006
I wanted to have protection on my Elocker motor, as I have heard they can be quite vulnerable to getting smacked by rocks/locks that you may navigate over while out on the trail.
I contacted owner Jim to see if he had one, and he said indeed he did for the Tacoma, and it also fits the FJ Cruiser to a T.

I do not have an installed picture of it on my rig, so I am using one of Jim's from his website.
The first picture though is mine taken on my PC desk.

It goes on with three bolts that you already have that hold the motor cover in place.
If you pull the bolts out gently and do not break the gasket seal to the motor, there is no need to replace the gasket.
Simply insert the guard in place, and bolt back up.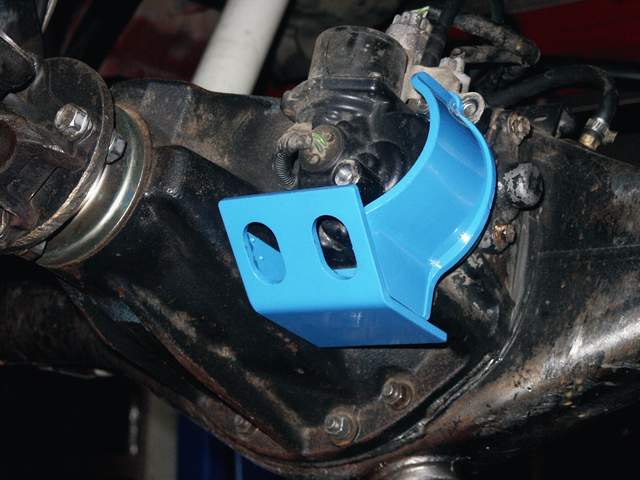 Parts used:
Inchworm Gear "Electric Locker Motor Guard"
---
Ramsey Wireless Remote Winch Control
Installed 12-17-2006
Got a brand new Hitachi cordless drill as an early Christmas present, so I decided to go out and install my Ramsey Wireless Remote for the winch that I use to have installed on the '91 4Runner.
Piece of cake to install, did not even need the directions, I remembered from the last time.

Basically you mount the receiver box where you want, it needs no power of its own.
You plug in the antenna cable and mount your antenna where you want it, it has a magnetic base.

Then you plug in your winch line that goes to the solenoid box, and the other end goes to the black receiver box.
When not using the winch, disconnect the plug end that goes to the winches solenoid.
I have mine stored inside the access hole for the winch.

The wireless remote works great, around upto 100', better than Ramsey's claimed 50' range.
When using the remote, you hold down the on/off button for about three seconds to energize the receiver and turn the remote on.
The other two buttons on it are the in/out controls for your winch.
I really enjoy using this, it is a lot less cumbersome than using the bigger supplied wired remote that comes with the winch.

In the pictures below you will see:
1. All the parts laid out before installation
2. The receiver box mounted to the side of the fenderwell
3. The antenna with magnetic base sitting on top of the ARB bumper which I may move to under the hood later
4. The cable stored inside of the bumper on top of the winch
5. A front shot showing the plug plugged into the winches solenoid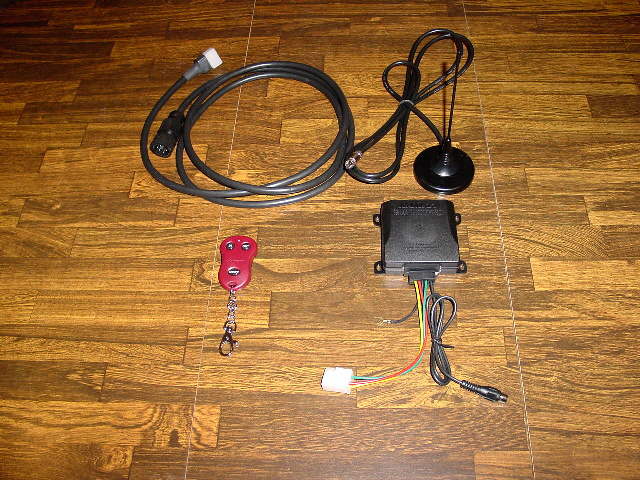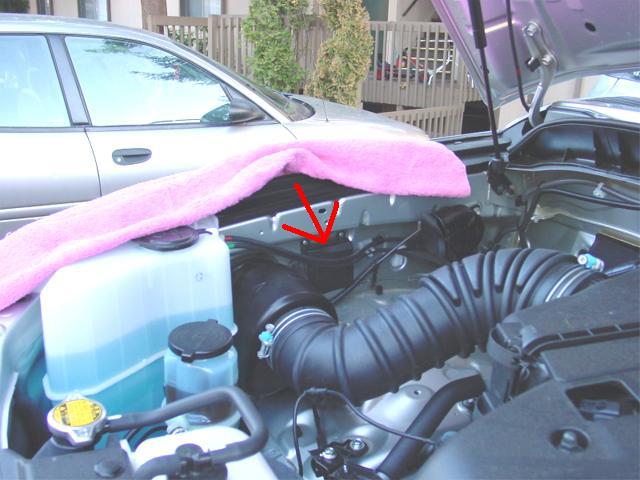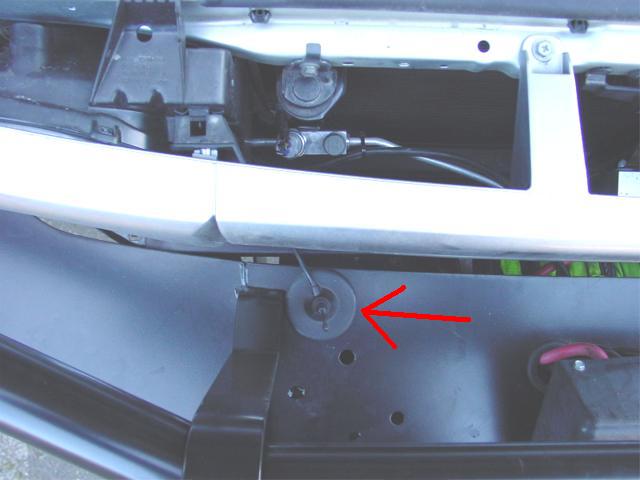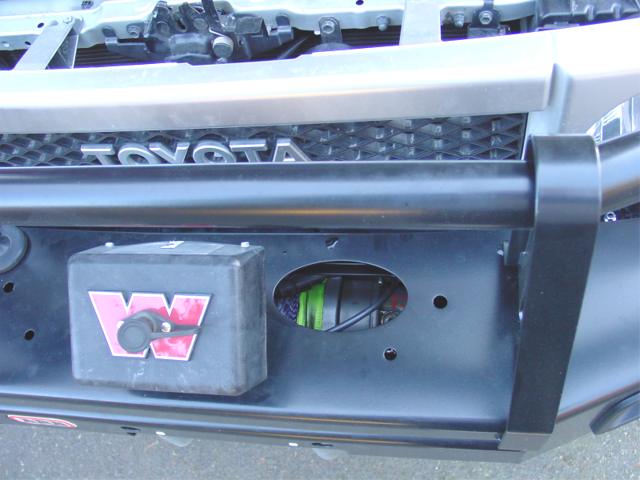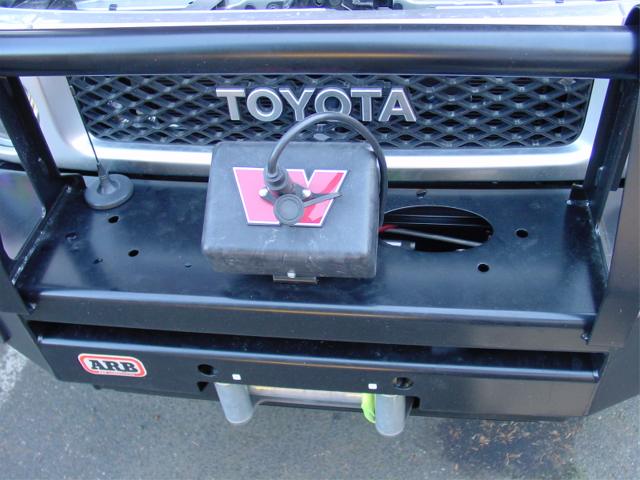 Parts used and technical links:
Ramsey Wireless Remote winch control with video
More from Ramsey
A good installation and test from Rockcrawlers site
Ramsey's installation guide in PDF format
A short video I made of rescuing a stuck FJ Cruiser
The above rescue video will work better if you right click and save it, then view it.
---
Kilby License Plate Mount
Installed 12-16-2006
I had one of these for the ARB bumper on my '91 4Runner.
To be honest with you, I never ran it.

The mount uses Maglites flash light mount clips used to hold their flash lights to things.
The clips bolt to the black metal plate, and your license plate does the same.
Then you push the clips over your roller fairleads to hold it in place.

I did keep it behind the passenger seat just in case I was asked by the law to put it on.
But in the four years I ran the bumper on the 4Runner, not once was I ever looked at for not having a front plate installed.

The new ARB bumper for the FJ Cruiser has two holes that you insert plastic screw hole mounts into so you can mount your stock plate to.
This will clear your fairleads for your winch.
You can see the white plastic inserts in my first photo below above the roller fairleads.
In the next two pics you can see the roller fairlead license plate holder.

The plate will no doubt just reside in the FJ Cruiser until I get pulled over, if I ever do.
Then asked where my plate is, I will let he/she know I have one and install it then.
I think they are pretty laxed around my area about having a front plate on an aftermarket bumper.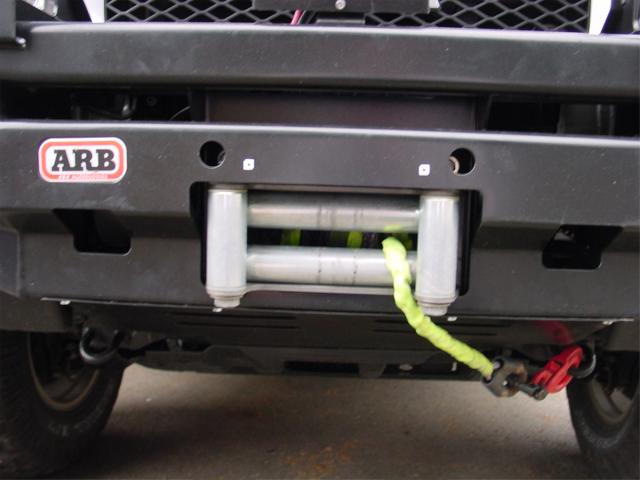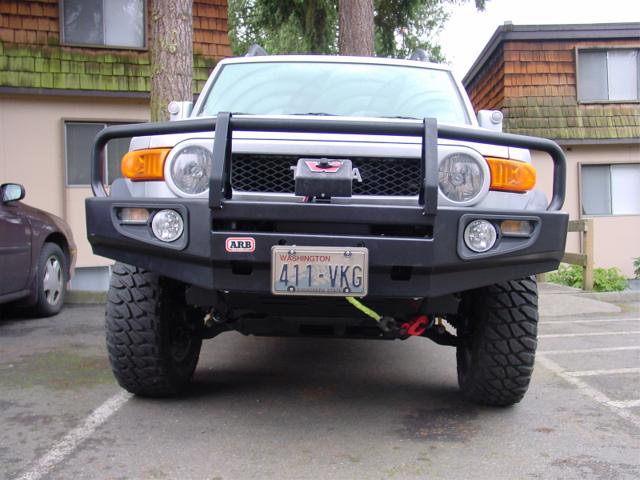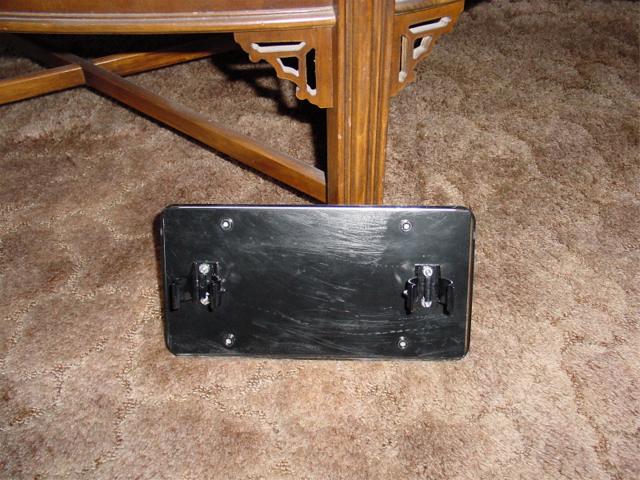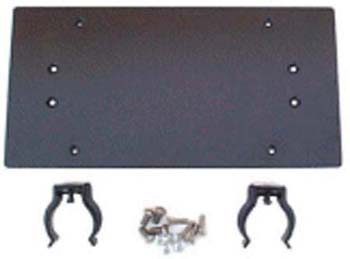 Parts used:
Kilby Enterprises
4Wheeler Supply
---
Ellis Precision Battery Clamp
Installed 1-8-2007
A little bling, a lotta of functionality!
The stock battery clamp is suffice, but Joel (FJoel on YotaTech) who owns Ellis Precision makes custom battery hold down clamps that are pretty beefy, and well, they look great!

Joel can get them anodized in any color you want, and also clear coated.
I opted for a plain one and clear anodized, and had him put YotaTech.com on it.
Pretty slick 'eh?
You simply remove the stock Toyota one and put his on.
You will notice the heavy duty feel of his immediately.

If you would like to order one, you can contact him on YotaTech, and drop him a PM, or check out his website.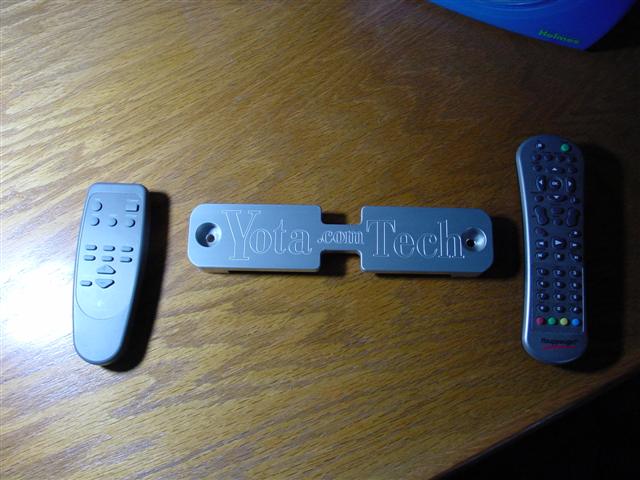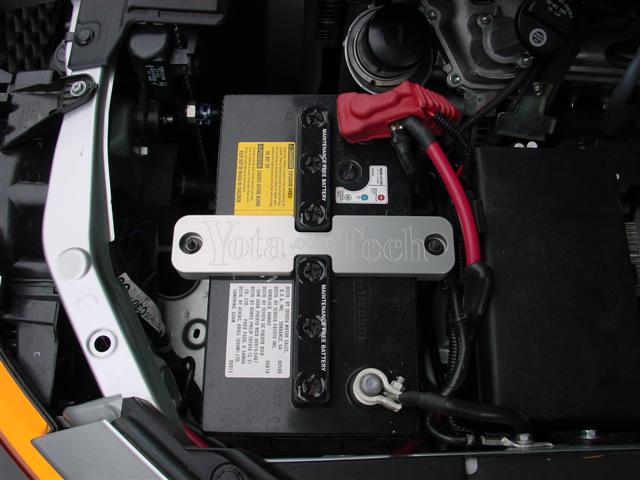 Parts used:
Ellis Precision battery hold down clamp
---
Winchline.com's 5/16" X 100' Viking Trail Line With Winch Safety Thimble
Installed 1-20-2007
I will not go into much detail here, as I have a writeup in the Tech section on YotaTech on the installation of the new winchline.
I was not to happy with the safety hook on my old Masterpull synthetic winchline, as it would often seize up on me.
Did some research on YotaTech, and saw some links to Winchline.com's website.
Very good gear they carry, and I was drawn to the Viking Trail Line with the safety thimble on the end of it as seen in the GIF below.

With the safety thimble you have no line hanging down exposed to the elements, and no hooks either.
The safety thimble gets pulled in tight to your fairlead.
All you have to do when using the winch is put on a 3/4" D ring shackle through the hole in the thimble as shown above.
Secure that around your tree saver strap or to someone's rig you are rescuing.
For more pictures on the installation, please see the links below and read my writeup on YotaTech.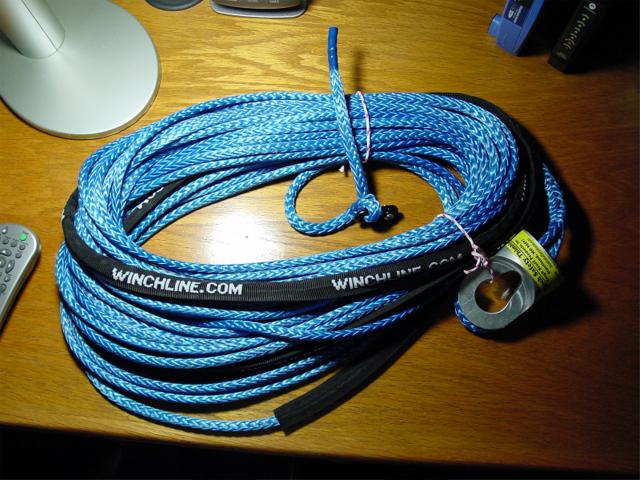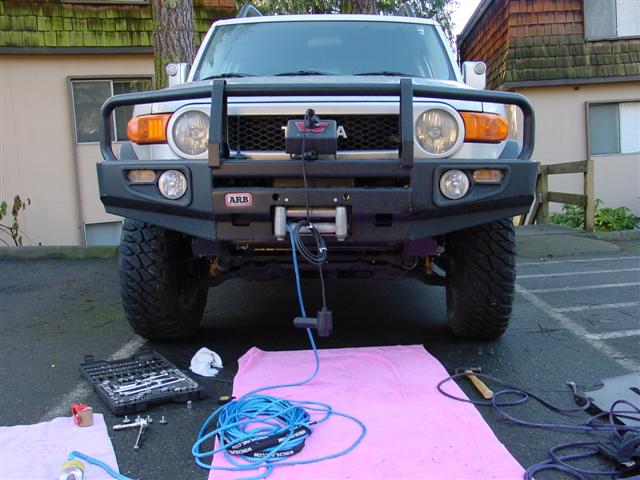 Parts used:
Winchline.com
5/16" X 100' Viking Trail Line with Winch Safety Thimble
Link to article on YotaTech on installation of the new winchline
---
Fourtrek's Dual Axe/Shovel Mount
Installed 1-30-2007
This is Fourtrek's new axe/shovel combo mount.
Hey, I bet ya read earlier here how I made some really cool homemade axe/shovel mounts.
They work great, and they also tuck the two tools up inside the rack for a more aerodynamic and stealthy look.
But they are a lot harder to put up and take down.
I have to use my 4' carwash ladder to put them up there, and if taking them down in the field, I would have to climb up on the left rear tire.

With the new setup, all I do is open the rear door, step up on my Warn shackle mount, then step up again onto the back of the bumper which is also a step, and I am at the perfect height to access the axe or shovel.
Note the aluminum strip in the first picture, it joins two of the Quick Fists mounts together so the set of two can be mounted to one of the round rings that goes onto your roof racks round tubing.

In the second picture is one groady white roof that is normally covered up by the rear door ;)
That is from the pine tree I park under, and also from the rig not having a bath yet this winter.
That crap piles up fast under there.
You can see just the round rings mounted to my rack there.

In the third picture you can see the Quick Fist mounts mounted to the round rings, and also Fourtrek's Hi-Lift mounts towards the right side of the picture.
In the fourth picture the shovel and axe are in the mounts.
Please note that cool YotaTech.com sticker on the rear window too ;)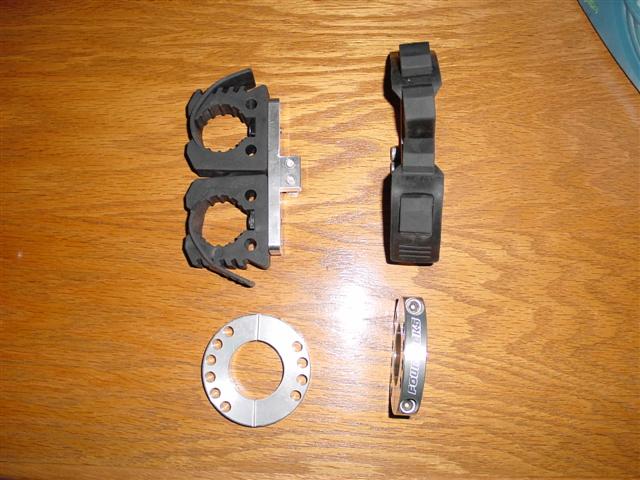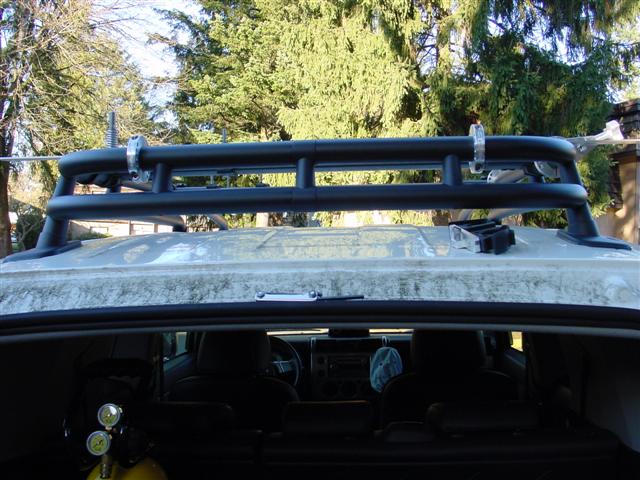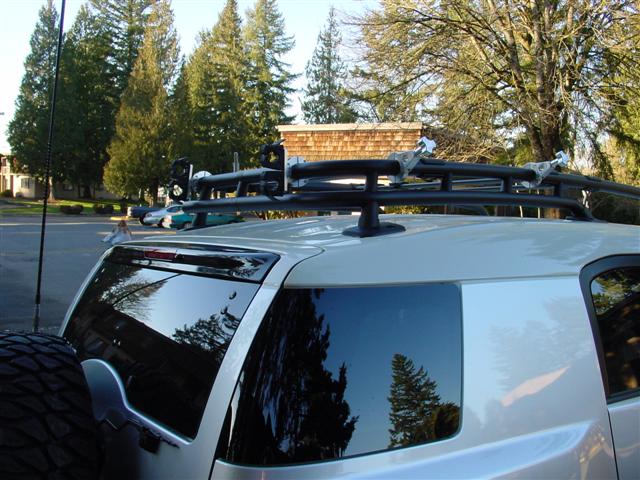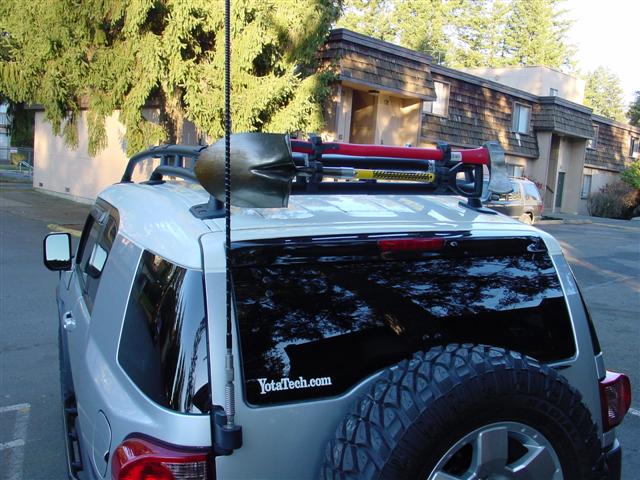 Parts used:
Fourtreks
Axe/shovel combo mounts (Luke will add the rings with the mounts to the shopping cart at a future date so you can get the whole shebang like mine with just one click of your mouse)
1.75" rings for the stock FJ Cruiser rack
Shovel mounts and rings
Axe mounts and rings
Please note that the two latter are identical, Luke just has a shovel and axe separately to show you what they look like.

---
Magnaflow 11226 Muffler
Installed 2-2-2007
I ran a Magnaflow 11225 muffler on my '91 4Runner.
It can be heard on my exhaust page I compiled several years back.
The FJ Cruisers stock exhaust pipe is 2.5", so I contacted my local muffler shop "Auburn Muffler" to see if they had the Magnaflow 11226 which is a 14" can with two 3" extensions at each end, and sized at 2.5".
They did, and were happy to take my money and install one for me ;)
Not that the stock muffler sounded bad, quite the opposite.
It has a nice low tone to it, but not loud enough for my tastes since I was use to hearing my Magnaflow on the old rig.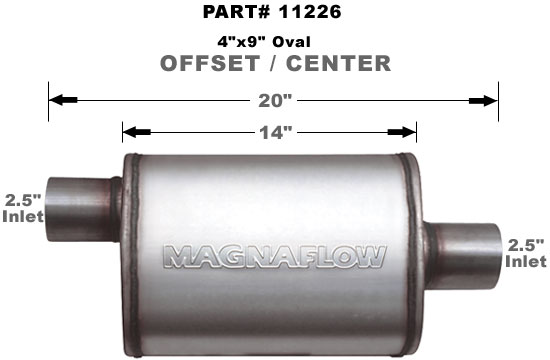 Below is a picture of the stock Toyota muffler and the new Magnaflow 11226.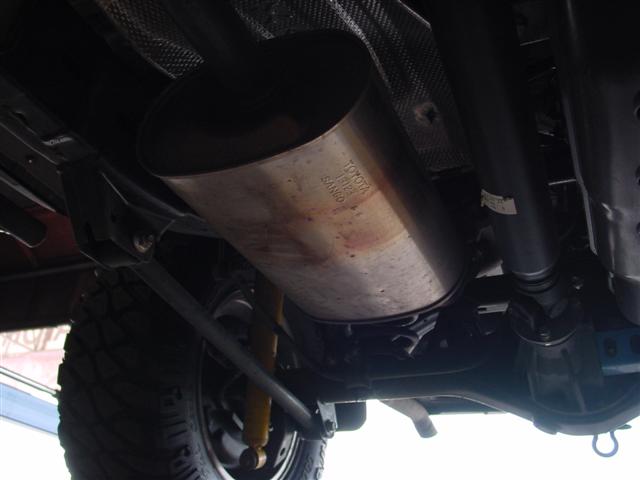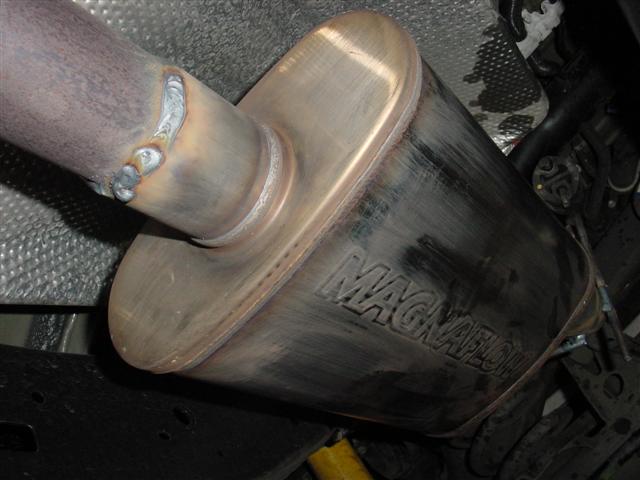 The new Magnaflow muffler is tucked up higher than the more oval shaped Toyota muffler, so this may even help some for ground clearance.
Here are three videos I merged into one with Windows Movie Maker, and it will play full screen if you want.
3.83 MB WMV file.
It should sound a lot better too in 4low going up a hill climb, will get some next time I am off road.
The video does not do the new muffler justice, as it sounds a lot better in person.
I have more low end torque it seems, but without access to a dyno, I can not tell.
I do not think anyone will be disappointed with this muffler if you just want to replace the stock one.
If you do not like anything louder than the stock muffler, then this Magnaflow is not for you!
But I dig it, and already turned a few heads with it tooling around this morning.

Magnaflow also makes a full catback system you can buy from them, but I felt since my tubing is brand new, why replace the whole thing when only the muffler needs to be replaced.
Here is a video on their site that shows the sound of the Magnaflow.
I have no idea though of the can they are using, but the sound is similar.
Parts used:
Magnaflows website
Magnaflow 11226 muffler
---
Pioneer AVIC D3 Stereo
Installed 3-31-2007

My FJ Cruiser came with a 6 CD MP3 capable stereo that lets you hook up an iPod and other music players via auxiliary port.
The FJammer as the stereo is called is not bad, but not loud or clear enough when turned up.
And the iPod support via the auxiliary jack sucked, you still had to do everything via the iPod itself.
That was fixed when I installed the DICE iPod integration kit as seen elsewhere here in my mods section.
However, the FJammer is still a weak system.

I had Cartoys install the new Pioneer AVIC D3 DVD navigation server as they call it.
Yeah, it is called a server, not a stereo.
Believe me, it really serves up the data to you in fine fashion!
It has the usual 3 FM bands for saving presets to, the AM band, CD discs support for MP3, WMA, regular music discs, DivX vids, DVD movies, and iPod support.
You can even get a Bluetooth add-on to use with your cell phone if so equipped with that feature.
It also supports XM and Sirius satellite radio modules that must be added in order to listen to satellite radio.

On the iPod support, you must buy a cable for it, the CDI200.
Once installed, you control the iPod completely via the headunit.
On the screen of the headunit it looks exactly like your iPod.
How cool is that?
The only time you ever have to physically touch your iPod is when you select iPod video playback from the headunits touch screen.
Touch screen you say?
Yeah, I was going to get to that ;)
Most functions are all controlled via the Pioneers LCD screen with your finger.
Very rarely do you have to use the other two buttons labeled Menu and Map.
The headunits LCD screen is a widescreen that supports the 16:9 ratio for widescreen format of DVD movies that are encoded for it.
In other words, no black bars top or bottom on your screen!
Some have complained that the unit only has one disc slot.
To use the navigation feature, you need to leave the DVD in the slot so it can pull the info when you program in new routes.
You can take out the DVD once you start to use the system to navigate for you, as it puts the data into memory.

For me, I will leave the disc in at all times, unless I am going to park somewhere and watch a DVD.
To be honest with you, that will not happen to often, if at all.
Besides, music discs are so stone age.
Even the cavemen have moved upto iPods now, and my iPod Video is the 30 GB one, so I have all of my music CDs ripped to it anyways, and my entire MP3 collection on it.
Who needs discs anymore???
I also had them install the Pioneer backup camera model NDBC2.
The backup camera comes on anytime you put the vehicle into reverse, regardless of what else is showing on your screen.
You can also go into the navi menu under the various map views you can choose from, and select camera.
This will allow you to see full time what is behind you.
Pretty cool feature, and really lets you see the tailgaters.
Also installed was the Swips adaptor so my steering wheel controls would work as before with the new headunit.
Below are some specs of the headunit taken from Cartoys website:
Find the perfect route
The Pioneer AVIC-D3 in-dash navigation system comes with two DVD-ROMs containing a massive Tele Atlas database, enabling the unit to provide a massive network of turn-by-turn routable roads. Within seconds, the unit's extremely fast processor calculates multiple routes and provides directions to destinations via the graphic map interface and voice guidance. In addition, you'll have access to 12-million points of interest throughout the United States and Canada, meaning the nearest gas station, restaurant, or ATM is always only a finger's touch away.

Circumvent congestion
Add the optional XM NavTraffic™* service to the AVIC-D3, and you'll be one step ahead of traffic every time. Using the available GEX-P10XMT XM NavTraffic™ Satellite Radio Tuner, traffic information is provided through a continuous broadcast. The AVIC-D3's intelligent navigation will alert you of traffic jams and provide alternate routes. And with XM's satellite radio service, you'll be able to enjoy a great selection of music, talk, and sports channels with loads of exclusive content. Being aware of traffic has never been easier.

Sharp look. Smooth fit.
In addition to being multifunctional, the AVIC-D3 was designed with ease and style in mind. The unit features a "double-DIN" size that's standard in many vehicles, providing a perfect placement in the dashboard for a fit and finish similar to factory systems. And the integration gets even better with the AVIC-D3's multi-color illumination, which gives you the ability to match the interface to the colors of your dashboard, or your mood.

Best seat in the house
Whether your preferred media is CD, DVD, MP3, or satellite radio, the AVIC-D3 has an array of multimedia options to enjoy in high quality playback. Navigation functions and multimedia playback can be enjoyed simultaneously, thanks to the AVIC-D3's memory navigation, which allows you to load a route, eject the navigation disc and pop in a CD or DVD.

Connect and direct your iPod®
How much music and video can you bring to your AVIC-D3? That depends on how deep your iPod® library is. In addition to the built-in arsenal of multimedia playback options, Pioneer iPod-ready navigation systems like the AVIC-D3 make integrating your iPod® simple with the optional CD-I200 iPod® connector. And control of your iPod® music and video library is quick and seamless via touch screen control of the intuitive graphic menu. Once you try the AVIC-D3's iPod® playback, you'll be using it to play all of the songs, podcasts, and videos you can get your hands on.**

Go wireless with Bluetooth
It's time to put that phone down. Thanks to the optional CD-BTB200 Bluetooth adapter, you can make and receive phone calls hands-free when you sync a compatible Bluetooth-enabled cell phone to your AVIC-D3. Once you're connected, during a call you simply talk into the unit's included microphone while listening through your in-car speakers. To make calling even more convenient, for certain compatible Bluetooth-enabled cell phones you can copy and store your numbers from the cell phone to your AVIC-D3's internal phone book. Once you're set up, you may never have to lay a finger on your cell phone to make a call in your vehicle again.

Display Features * Screen Size/Aspect Ratio 6.5 inch / 16:9
* Pixels 336,960 (1,440 x 234)
* Touch Panel
* Anti-Glare Screen Coating
* Dimmer Control Intelligent
* Picture Adjustment Brightness, Contrast, Color, Hue, Dimmer Settings
* Motorized Display Motorized Open/Close

DVD/CD Player * DVD Video Playback DVD/DVD-R/-RW
* CD Playback CD/CD-R/-RW
* iTunes/DivX/WMA Playback
* ID3 Tag / WMA Text ID3
* CD Text
* Auto Scroll
* MP3 Track List

AM/FM Tuner
* Supertuner Supertuner IIID
* 24-Station/6-Button (18FM/6FM) Presets
* BSM (Best Stations Memory)
* Local Station Setting Selectable (4-Step)

Audio Features
* Built-in Speaker Power MOSFET 50W x 4
* Continuous Power Output 22W x 4
* Equalizer EEQ (3-Band Parametric)
* EQ-EX
* SFEQ (Sound Focus EQ)
* Loudness
* Source Level Adjuster (SLA)
* High-Pass Crossover (HPF) 50/80/125Hz, -12dB/Oct.
* Subwoofer Crossover (LPF) 50/80/125Hz, -18dB/Oct., +/-12dB
* RCA Preouts 3 pair (Front, Rear, Sub/Non-Fading)
* Preout Voltage 2.2V, 1k Ohm

Receiver Features
* IP-Bus System Control
* XM Satellite Ready
* iPod Adapter Ready Yes (Full Control, Multi-Line)
* Multi-CD Control
* DVD Control
* AV-Bus Input
* 1 Composite A/V Input
* Back-Up Camera Input
* Rear-View Camera Mode
* 1 Composite A/V Output
* Bluetooth Capable (Optional CD-BTB200 required)
* Dimensions 2DIN (7" x 4" x 6-1/2")
* 1 Year Warranty
OK, on with a few pictures.
First up shows the iPod support on the headunit.
You can see the click wheel of the iPod on the screen.
It is all done by touching the screen.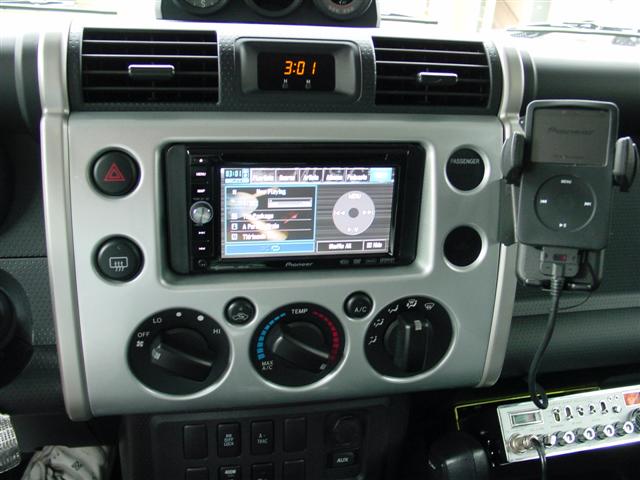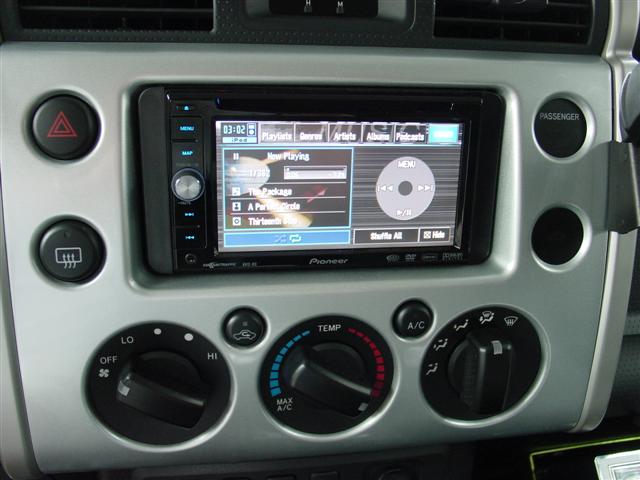 Next up shows what the radio and map screens look like.
Not shown is the many other map screen variations.
You can also show what your vehicle looks like going down the road, and to the right of that is your actual map portion with the street names you are coming up on.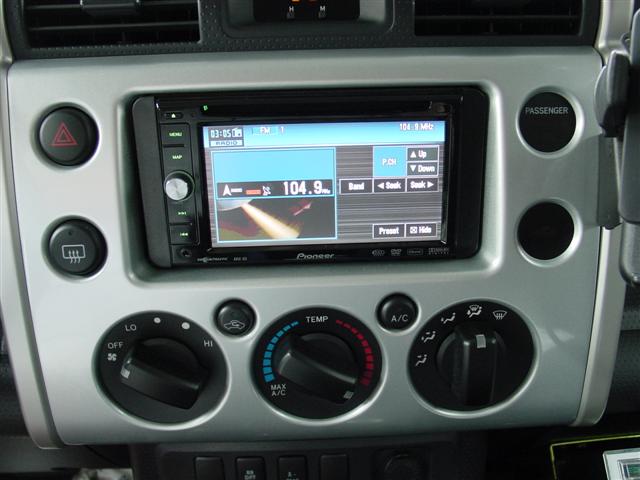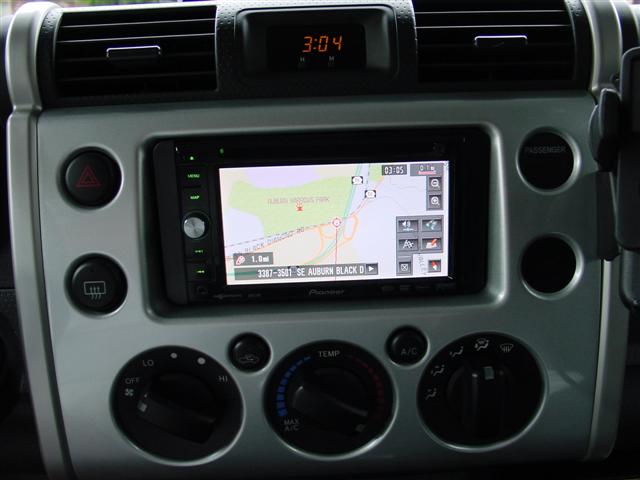 Next up shows the backup camera mounted to the rear bumper just below the spare tire, and a view from what I see from inside the cabin.
The camera although mounted low, is at the perfect spot to see everything behind me.
What you see at the bottom of the LCD screen is my Warn Recovery Shackle.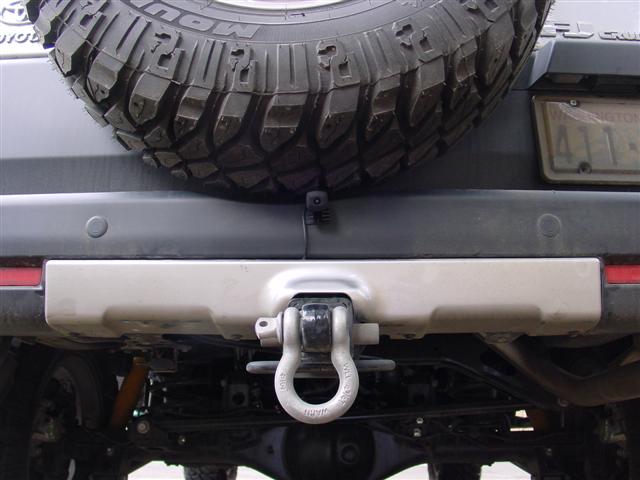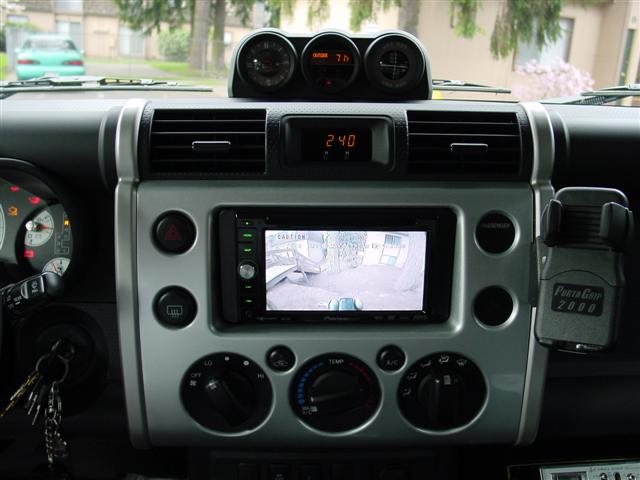 Next up is a picture I saw on another forum of where the GPS antenna is located.
The front right speaker is taken out, the antenna put in, then the speaker put back, and the cover goes back on.
The antenna works prefect there, even when covered up by the speaker grille.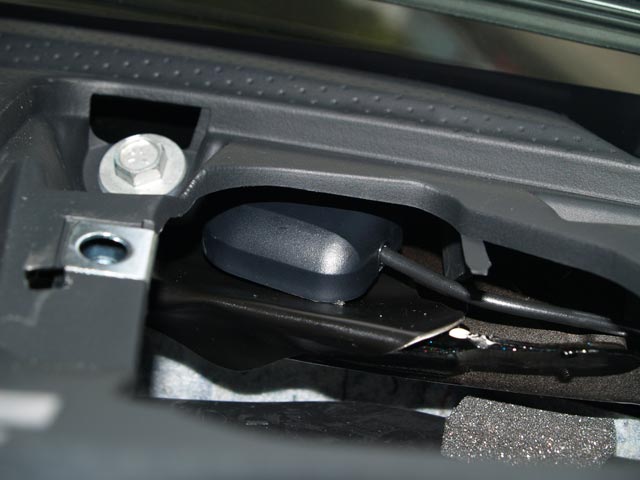 The price is right for a unit like this that can do all it does.
There is even voice commands to tell you where to turn when using the navigation part, just like the Tom Tom units do.
I have used it already a few times to find places, and it is dead on when guiding me.
I probably will not add in an amplifier for the speakers, as the headunit puts out a lot of sound.
However in the future I will have Cartoys add back in my old school Rockford Fosgate 500a2 amp and run dual 10" subs in a custom box made specially for the FJ similar to the picture below.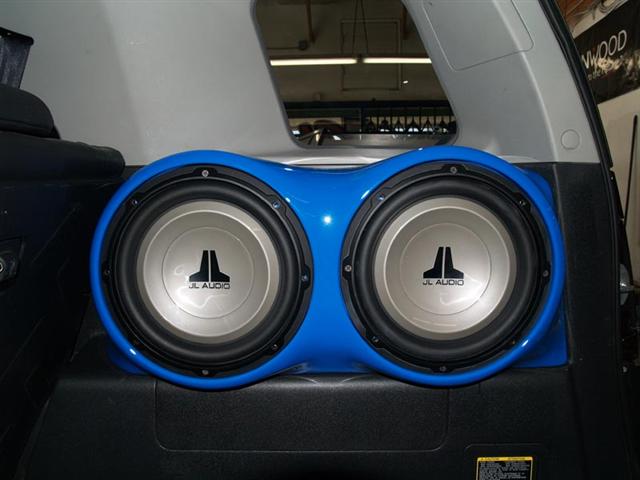 Here are a few additional pictures from Pioneers website showing the detail of the LCD with both the navigation map and the iPod screen.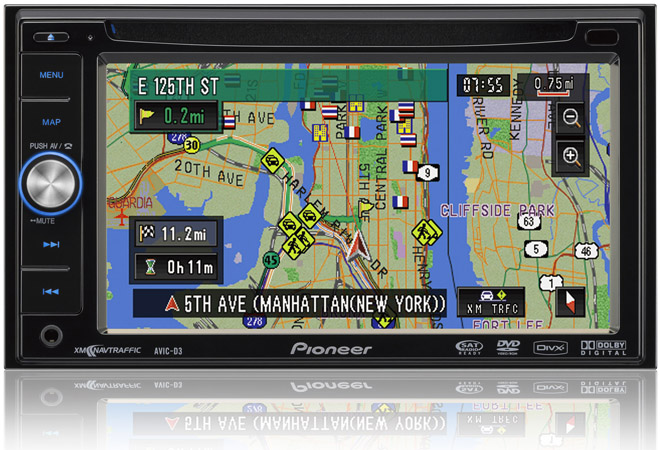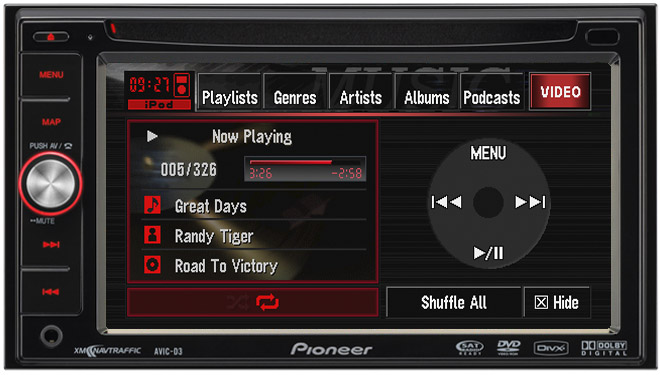 And last but not least, I have a 5.1 MB WMV video I shot after coming back from the installer.
Parts used:
Pioneer AVIC D3 from Pioneers website
Pioneer AVIC D3 headunit from Cartoys
Pioneer NDBC2 backup camera
Pioneer iPod cable CDI200
Swips steering wheel adaptor, no part number, and it was thrown in for me from Cartoys, I am such a good customer of theirs :)
---
ARB Fridge/Freezer
Installed 4-21-2007
I have been wanting a fridge for quite some time.
I hate taking coolers camping and having the ice melt.

I have a nice 3 way fridge (12v, 110v, and propane) that I have sued when camping, but it would suck the battery dry in a few hours.

The ARB fridge (Norcold and Engel brands are the exact same thing) use a swing arm motor design and are very energy efficient.

I ordered an Engel Slide Loc which screws to a surface with 4 to 6 screws, depending on how many you want to use.
I went for 4 this time, but may add the other 2 for extra insurance.

It called for drilling 1/8" holes, piece of cake in the wood top of my cargobox.
Once the first hole was drilled, I put a screw in to keep the Slide Loc was shifting on me.

The Slide Loc is all the way to the right side of the cargobox, which leaves me plenty of room to slide the fridge in around the Powertank, no problems at all.

There is only 1 lock button on the Slide Loc to worry about when you want to disengage the 4 feet on the fridge.
The package comes with 4 new feet.
You simply unbolt the 4 stock feet and put on the 4 new ones that are made to slide into the Slide Loc unit.

I can not lift up the lid all the way, this is a big fridge, 43 qt, but I did not want anything smaller.
I plan on using this for a long time, and want it to be able to hold a weeks worth of food for camping.

This is also a freezer, so when we go on runs this summer, the crowd is going to get treated to some ice cream bars

Here are some pics of the installation.
The first 2 show the Engel Slide Loc, the last 2 show the fridge mounted to the Slide Loc.
The release button is at the back left side, very easy to reach with the fridge mounted.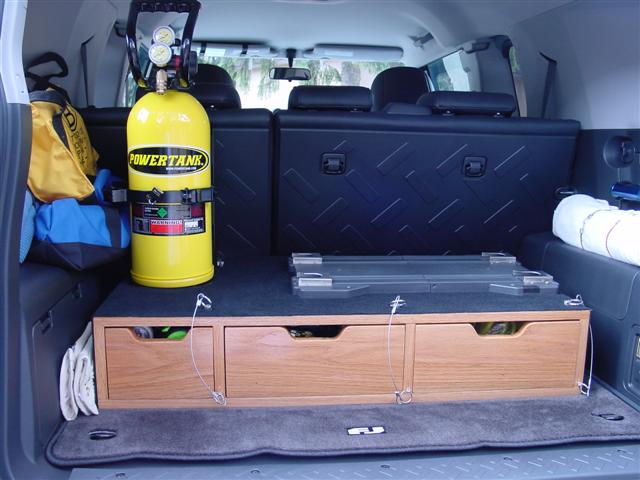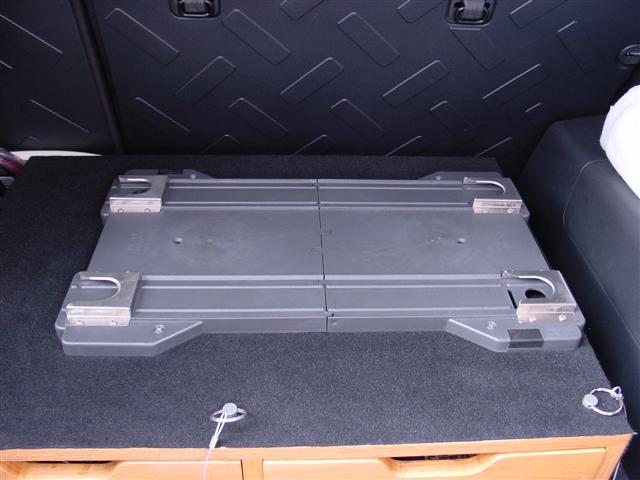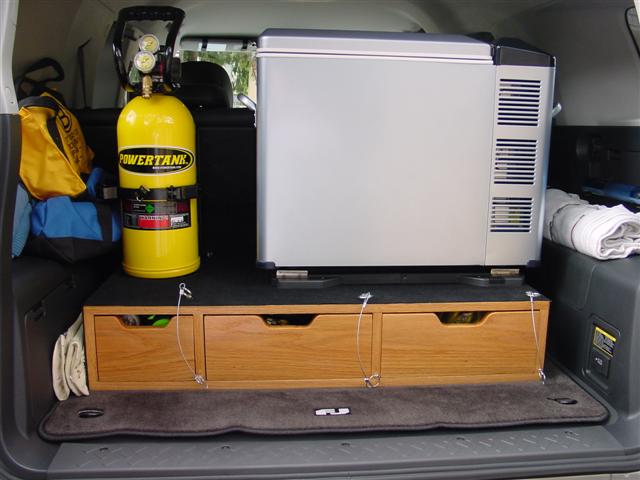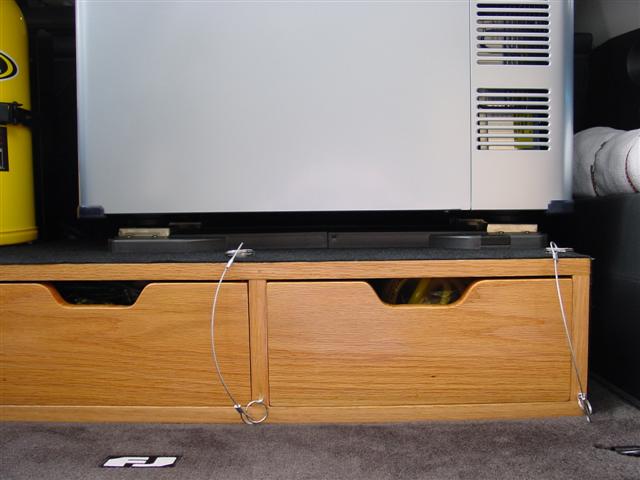 I am currently thinking of moving the fridge to the rear drivers seat after I do some fabbing.
It will let me lift the lid up higher, and free up some cargo room.

Parts used:
ARB fridge/freezer part #MT45FARB Bought from TRD Parts 4U, and will called at ARB Headquarters
Engel Slide Loc
---
Blue Sea Auxiliary Fusebox & Twin 12v Outlets
Installed 4-28-2007
Thanks to member KD7NAC_07FJ (Wayne) for coming down to my home today to help on this project.
Take one Blue Sea 6 gang fusebox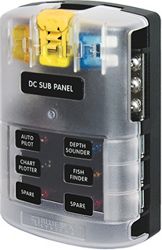 Tie it in with 6 gauge wire from the battery to it, and run 18-Gauge Red & Black 2-Conductor back to twin 12v outlets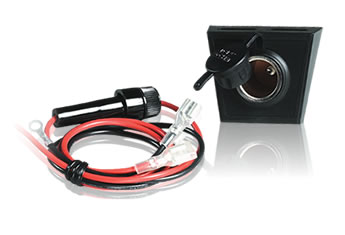 and you have a recipe for adding several circuits easily from inside the right front kick panel.

I will utilize one of the 12v outlets in the back to power my new ARB fridge.

All connections are soldered and have shrink tubing added to them.
Wayne used a small butane torch to solder the connections with.
A lot of perfection went into this.
I would have crimped the ends and called it a day, but Wayne is very experienced at this and went all the way with the solder and shrink tubing, very professional.

The first 2 pictures show a few things torn apart.
You have to remove the floors threshold by grasping it and pulling straight up.
Once removed you can easily take off the passenger side kick panel with a plastic thumbscrew which is all the way forward.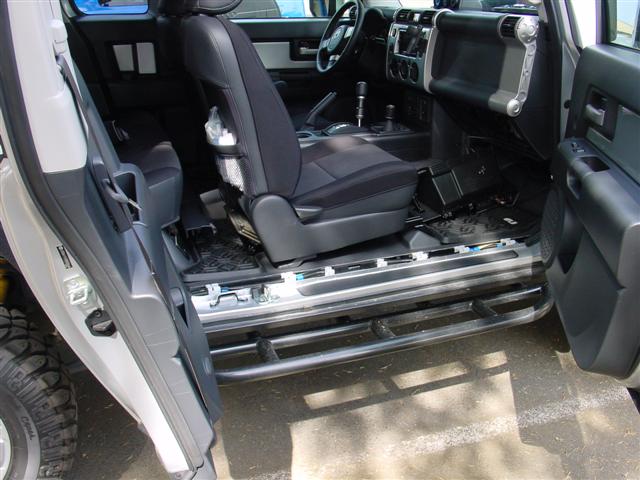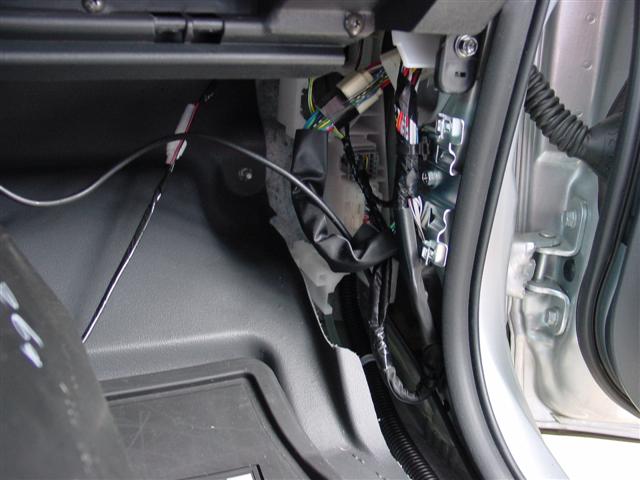 Wayne ended up taking the battery out to gain better access to the wires presently on the battery.
We moved the CB power wire off of the battery and it is wired inside the cabin now with the new fusebox.
You can see in picture 4 a slit inside the read circle which was already there from running the CB wire to the battery.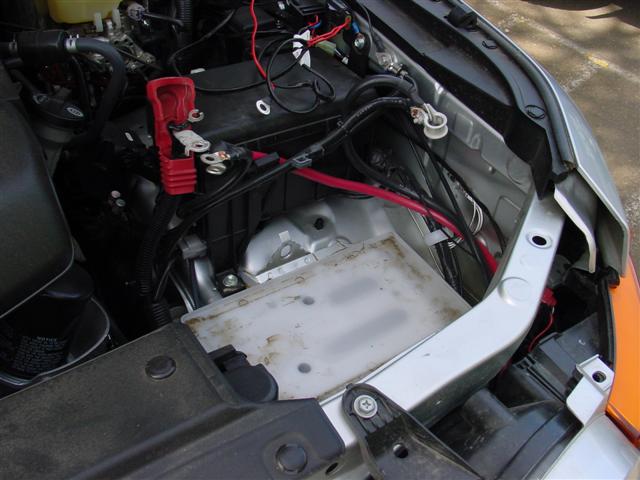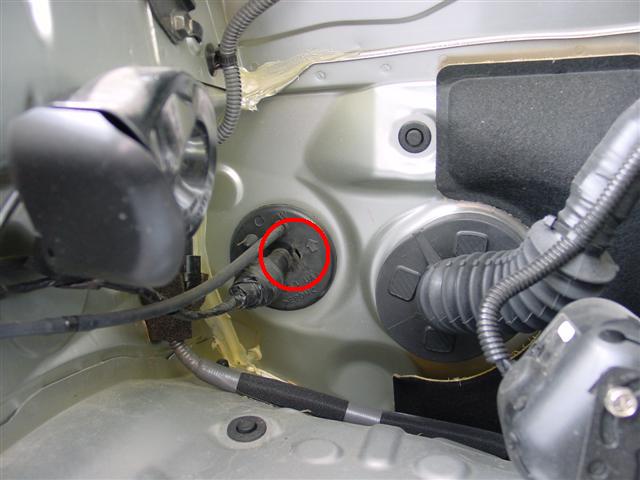 Pictures 5 and 6 show the panel you remove by inserting a small flat tipped screw driver and prying it outwards.
Picture 5 still has the yellow sticker on it with info on the 10v converter outlet.
You remove the yellow tape and use a hole saw sized at 1 3/32" and drill 2 holes.
You can also use a knife and make a small incision since the 12v plug has a "key" on it to hold it tight so it will not spin on you.

Picture 6 shows the twin 12v outlets in place.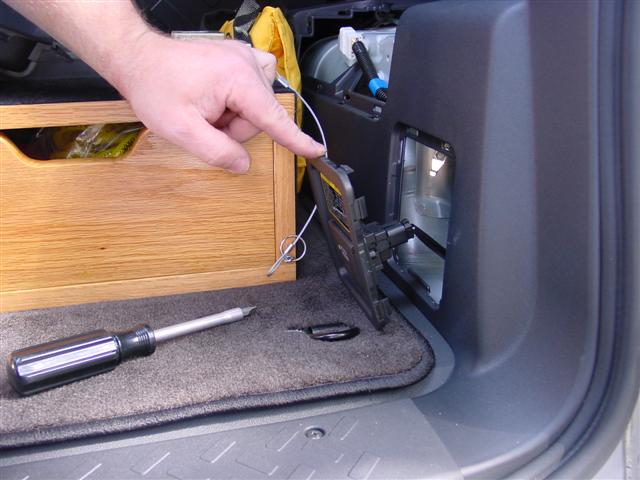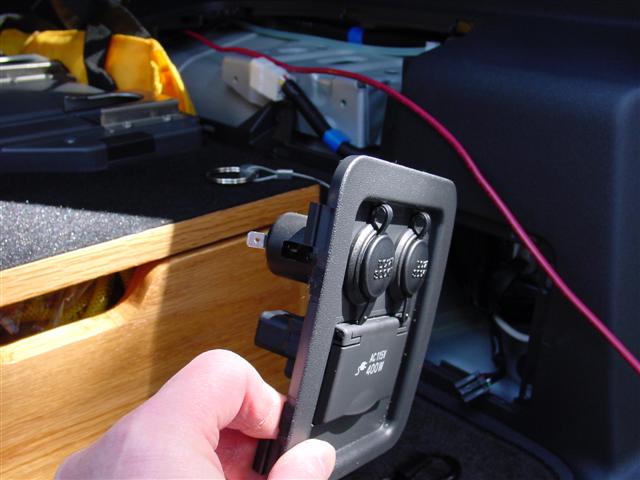 Picture 7 shows the new Blue Sea box mounted in place with white zipties (no need to screw this unit down) and the 18-Gauge Red & Black 2-Conductor wire attached to it.
This fusebox also utilizes a ground, so you can attach the black ground wire to one of the three screws on top, and attach the red power wire to one of the three screws below.
This box is much nicer than the cheap one I used on the 4Runner long ago.
It did not have a grounding circuit.

Picture 8 shows the 6 gauge wire inside of the black wire loom going down to the slit in the firewall.
It is all tired in with zipties to the factory harnesses running along the firewall.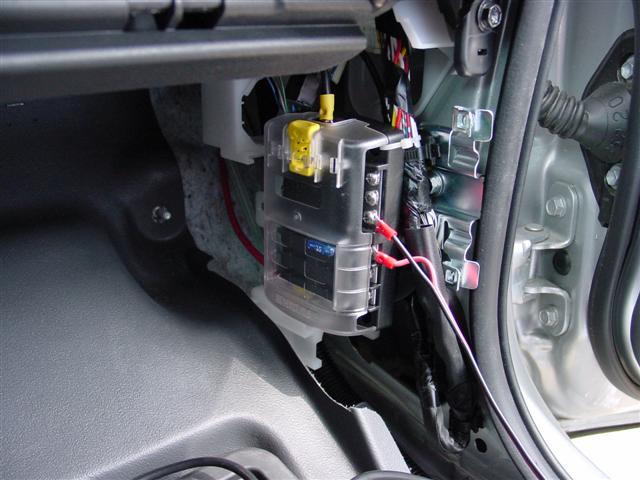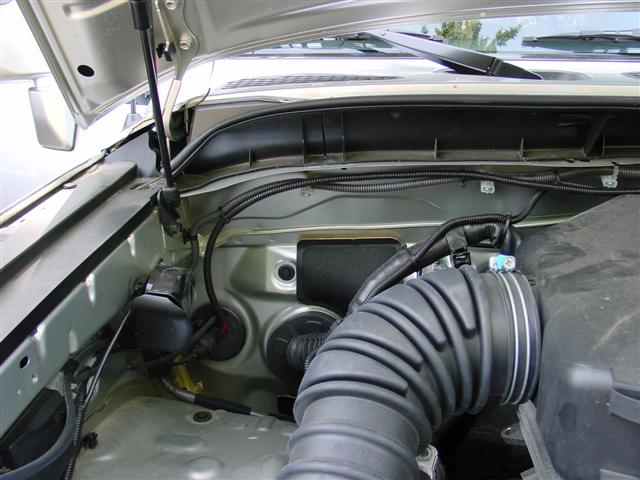 And finally picture 9 shows the twin 12v outlets in place.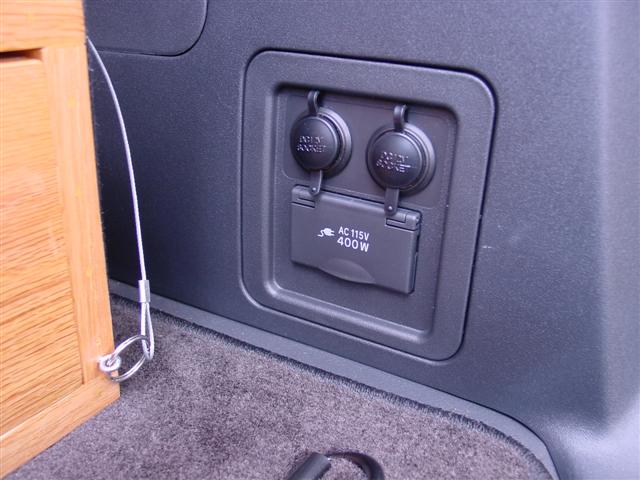 After the battery was put back in place and all the wires were reattached, I carried out the ARB fridge and set it on the ground and plugged it into one of the 12v outlets.

I reached down and rotated the switch and the green light came on the fridge and the sweet sound of a fridge coming to life was like music to my ears

From what I have read, the fridge only draws a maximum of 2.7 amps when set to the highest setting to freeze.
When set to just keep food at the safe temperature to prevent spoilage, it draws much less and can go for 3 days without wearing your battery down.

This project turned out great.
I am pretty decent at wiring projects, and Wayne is much more experienced at what we tackled today.

It turned out really good.
I think I will have to hit him up again when it comes time to do the dual battery setup.
He has that setup and it looks fantastic.

Frozen ice cream bars will be on the menu for this summers runs!
I look forward to getting lots of use from the new ARB fridge and the newly added fusebox and twin 12v outlets back there.
Update 7-21-2007:
On our Greenwater run I brought plenty of ice cream bars to test out in the new setup.
I think the picture below proves the ARB fridge/freezer was a great addition to the trip.
Parts used:
Blue Sea 6 gang fusebox
Radio Shack twin 12v outlets
---
Dick Cepek Mountaincats Sized At 285x70x17, And Pro Comp 7089 Wheels Sized At 17x8
Installed 7-31-2007
I really dig the stock 17" factory alloys, so much I wanted to buy a 2nd set and move up to a 285x70x17" tires, about the same as a 33" tire.

My current Dick Cepek Mountaincat muds are 265x70x17", and they look great, but a little out of place with the OME 3" lift.

With all of my past vehicles I have owned I have always ran two sets of tires.
One set for fall through spring (winter setup) and the best setup for spring through fall.

I have been wanting to get the same tires in the 285 size, but did not want to pay Toyota $340 a piece for the factory alloys.
Great wheel, only factory wheel I have every truly liked that much on any rig.
A little to steep at that price, although I have a few sources to get some used ones.

At the Greenwater run earlier in July I saw an FJ Cruiser (owned by member noworries) with some nice black wheels that made me again want to think about getting an aftermarket wheel.
With some research and getting a hold of the owner gain, I found out they are the Pro Comp 7089s.
He is running a RevTek 3" lift and 295 size tires with no rubbing, so this tells me that Pro Comp did their math and is offering these with zero offset and able to clear the large calipers of the FJ Cruiser.

I was able to score these wheels for $129 a piece from 4WD Parts who owns Pro Comp wheels/tires.
Les Schwab would have had to buy them for $209 a piece since they are a direct competitor of 4WD Parts Warehouse.

You will not find these on the Dick Cepek website, as they are exclusively made for Les Schwab Tires.
Made in the same molds as other Dick Cepek tires with the familiar staggered DC impression on the sidewall.

These tires are also made by Cooper, and are pretty similar in design to the Cooper Discoverer STT tire.

They showed me out in the bay when we turned the wheels/tires lock to lock that they cleared the body mounts and also the calipers.
In getting new wheels for your FJ Cruiser, the important thing to pay attention to is the off set.
Mine are zero.

He asked me if I wanted to step up to a 295 since that is what noworries is running, but I stayed with the 285s.
They look great and 33" is big enough for me.

I did not notice any loss of power at all coming into work on the backway, and also going home on the freeway where I was able to put the throttle down some.

Went with black Gorilla small diameter Tuner lugnuts that take a special adapter/key to take them off with.

I also compared the speedometer to my Pioneer navigation systems GPS which is dead on for MPH, and there is no variance at all after going to the bigger tire.
So when the speedo says I am doing 60 MPH, the GPS reports the same.
After I get these off road, I will get some better pictures.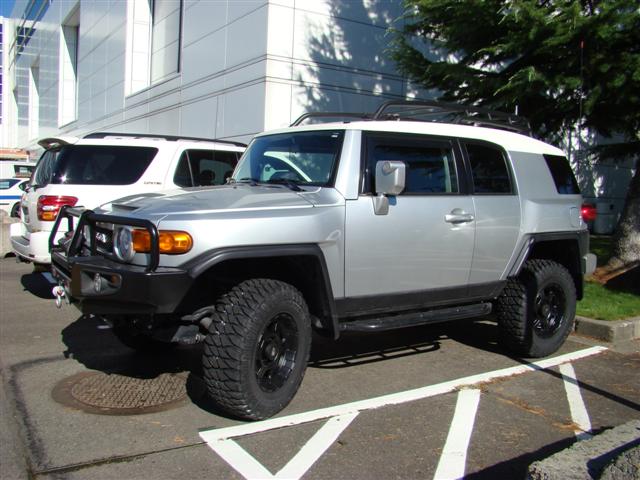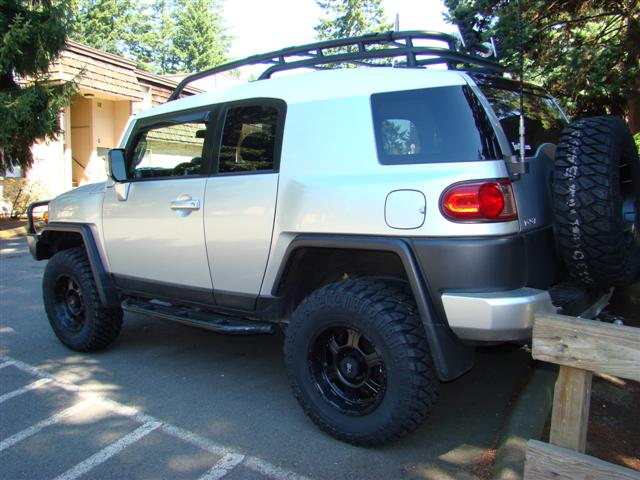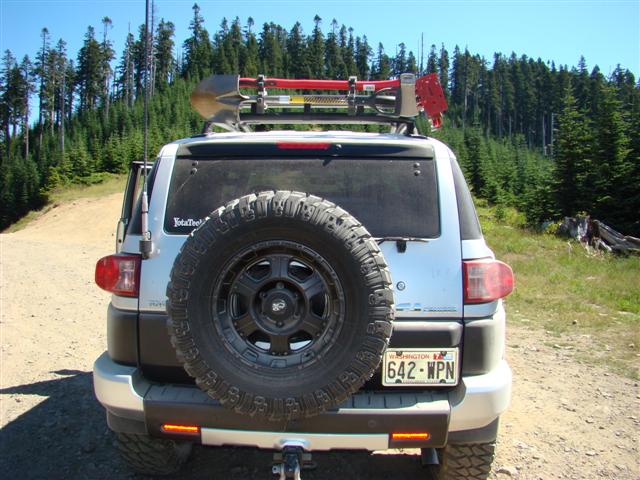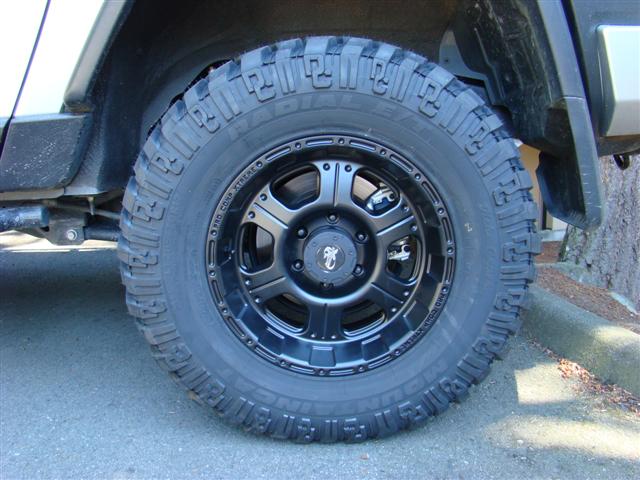 Parts used:
Dick Cepek Mountaincats from Les Schwab Tire Center
Pro Comp 7089 wheels
Gorilla small diameter black chrome lugnuts, 12mm x 1.50 Part # 21138 HT
Gorilla locking lugnuts, a 5 pack (custom ordered for me from Les Schwab) 12mm x 1.50 part # 71631NBC
Other wise, a 4 pack of locking lugs in the above type would be part # 71431NBC
---
Installed new 1 7/8" Fourtreks Rings To Mount The Hi-Lift Jack To The ARB Bumper
Installed 8-24-2007
I ended up taking my Forutreks 1 3/4" rings and Hi-Lift mounts off of the FJs rack.
I can reach the jack just fine there, but I wanted to get the weight off of the roof and try it on the ARB bumper up front like I have seen others do.

I ordered the new rings only from Fourtrek owner Luke, and they arrived a few days later.
Very simple job, I just removed first the mounts from the old rings which were still on the roof rack (no longer though) and installed the new 1 7/8" rings to the ARB bumper.
You can see in the photos below about how far out they are positioned.
If you do yours the same way, the Hi-Lift should slide on very easily.

At first I put down some black electrical tape for protection, do not do this.
When going to work the next day with the jack on to test it, the rings slid downwards a bit, and almost into the bumper.
I redid them without the tape, and I ran the jack for three consecutive days without and movement of the rings at all.
The only thing I have to do now is try to isolate the noise of the jack as it is pretty noisy up front from rattling on uneven roads and railroad tracks.
That can be fixed easily, as it is only the base plate on the jack rattling.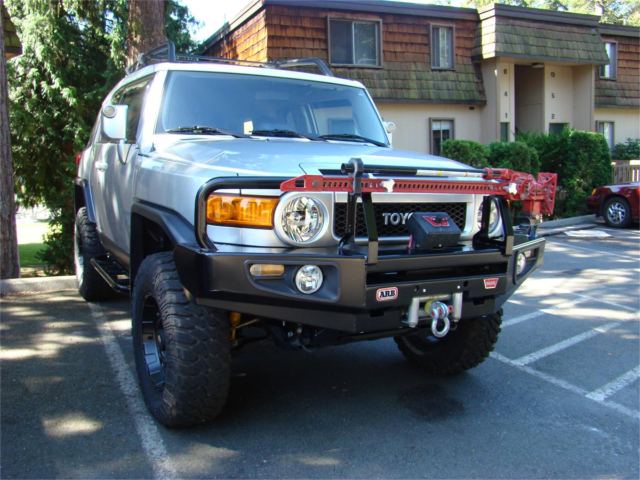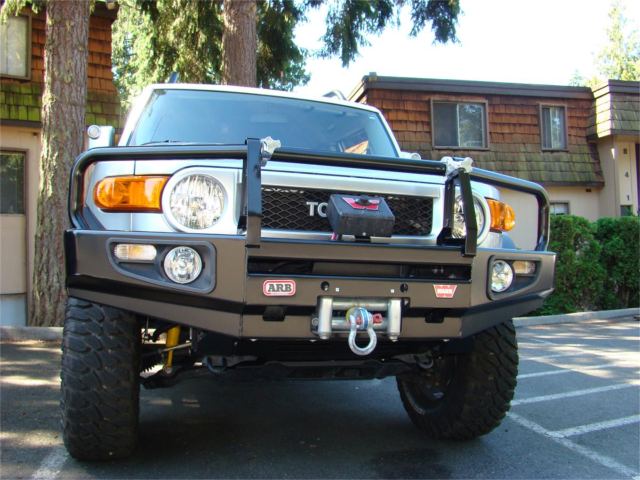 Parts used:
Fourtreks 1 7/8" rings and Hi-Lift mount (Used my old mounts, just ordered new rings)
---
HalGuard HG250R Fire Extinguisher
Installed 9-14-2007
II needed a new fire extinguisher for the rig as my other two bottles are of the dry chemical type, and after much research on the Internet (wonderful invention is it not?) I realized any dry chemical fire extinguisher is not good for your rig!
It corrodes components, ruins wiring, and oh so much more nasty stuff.
Avoid them like the plague.

Do yourself a favor and invest some extra money in a "premium clean agent" fire extinguisher.

The nice thing about the HalGuard system is it is a "premium clean agent" which means it will not corrode like a dry chemical fire extinguisher can.
You can spray this stuff under your hood, under your dash, even your home computer and it is not suppose to short circuit or corrode anything.

Here are a few quotes from their website which I will have links at the end of this entry.

HalGuard is no ordinary fire extinguisher.
It contains an electrically non-conductive "clean" extinguishing agent that rapidly turns into a gas.

* No thermal shock to electronics
* No mess or damage to vehicle or surfaces
* Liquefied gas extinguishes hard-to-reach fires
* Does not impair operator's vision
* EPA approved
* Listed and rated 2B:C by Underwriters Laboratories
* Rechargeable
* Made in U.S.A.
* 2-strap mounting bracket
* 6' - 10' discharge range
* High quality steel cylinders
* All metal valve construction
* Compact, lightweight, easy to use
* One year limited warranty

I drilled 4 holes into my Powertank bracket and bolted the HalGuard mount to it.
I may raise it up to the next higher position, have not decided yet.

I bought this from a reseller, they have many listed on their site.
More than likely you will also get charged a $20 hazardous shipping fee, and it has to come ground.
They do not ship these on aircraft.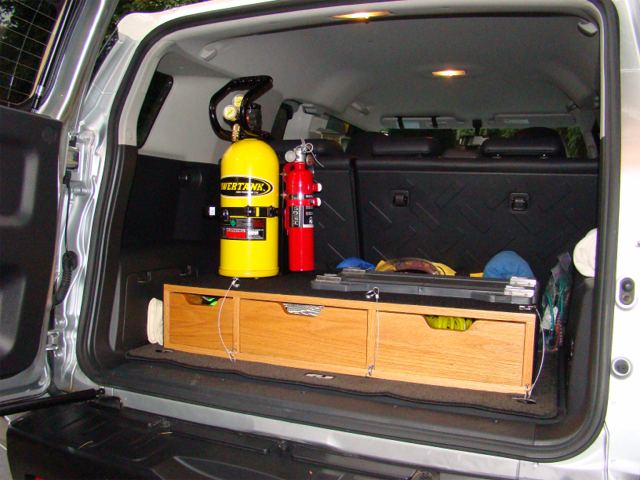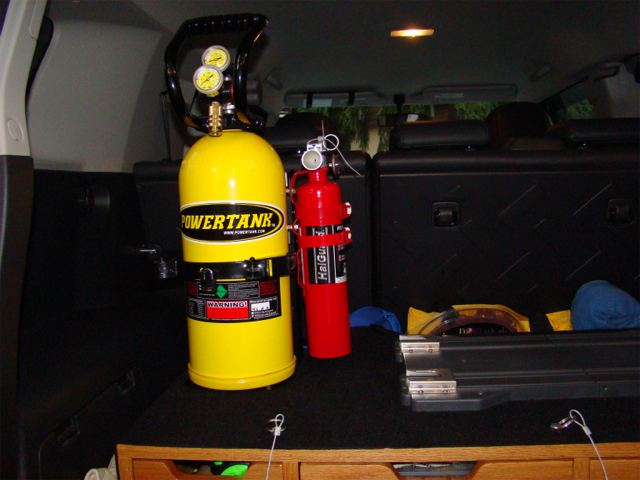 Parts used:
H3R Performance, their website
HalGuard H250R fire extinguisher
---
Kidde Fire Extinguisher
Installed 9-16-2007
This is a continuation of the above entry.
I took my old Kidde BC rated fire extinguisher and laid out the mounting bracket for it on the right rear shelf tray that is below where I have my Maglite mounted.
The tray snaps out very easily, and I only had to to drill two holes into it and mounted up the bracket, then placed the Kidee into it, then snapped the whole thing back into place.
Total time to do this simple but safety oriented mod was about 15 minutes tops.
This fire extinguisher will not be used to put out a fire on the rig, as it is of the dry chemical type, and it will leave residue behind which can corrode wiring and other components on a rig.
This will be used only for fires outside of the rig.
One can never have enough fire extinguishers in their rig.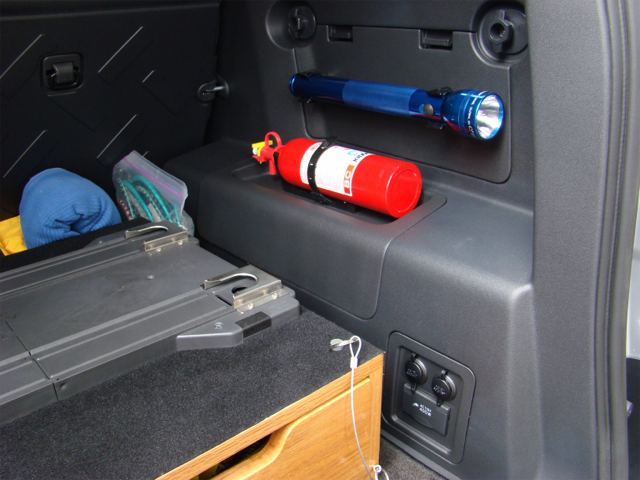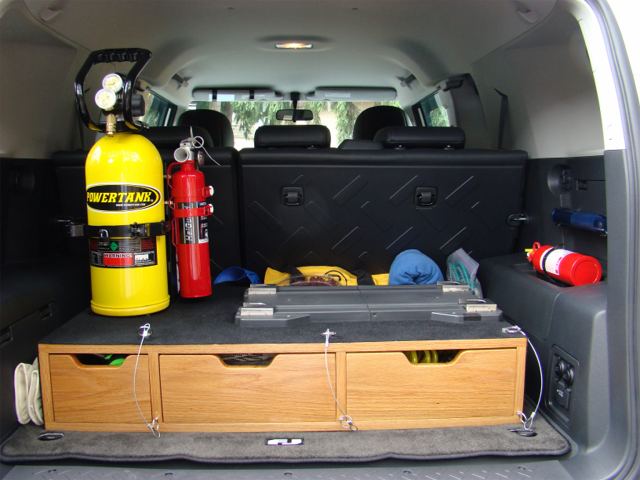 Here is a shot with the ARB fridge in with the new extinguisher, kind of a tight fit ;)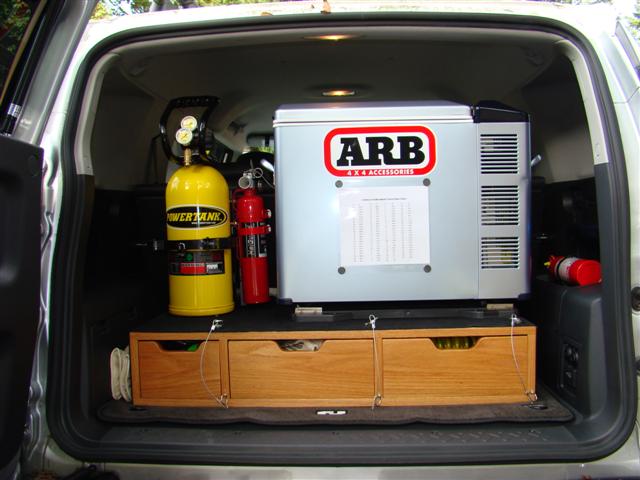 ---
More Mods On The Next Page
---
Please click here to go to back to page 1
Please click here to go to page 3
---
---